As part of ongoing work to maintain its streets, Richardson is recommending nearly $98 million in street and alley reconstruction projects for its upcoming November bond packages.
"The first-ring [Dallas] suburbs, particularly here in North Texas, all began to really develop approximately at the same time, so we all have the same issues," Richardson Deputy City Manager Don Magner said. "If you look at Farmers Branch, Carrollton, Irving, Richardson—we're all dealing with infrastructure that has a useful life of 25 or so years, and much of that infrastructure now is 40-50 years old."
A citywide analysis of Richardson streets conducted by Fugro USA Land Inc. in 2020 showed a nearly 12% decline in the condition of the city's roadways compared to the previous analysis done in 2014.
Assistant Director of Engineering Jim Dulac said the company drove every street in Richardson, including both directions of divided roadways, as part of its assessment.
"It's important that we remember that this is a snapshot of our roadways," Dulac told City Council during a March 15 briefing. "And it's the best assessment that we have as a single citywide network on our overall conditions."
Richardson's annual maintenance program has helped the city keep more streets in good and satisfactory condition, Magner said. But the condition of streets categorized by the assessment as poor or fair have continued to decline since the 2014 analysis. Currently, more than 70% of the city's streets are at least 40 years old.
"[More than] two-thirds of the city was well developed by the time wewere in the late [19]70s," Dulac said.
While Richardson's overall street network remains classified as "satisfactory," Magner said the city has been having less success with preventive maintenance because of the growth of the community.
The 2020 assessment identified $269.3 million in repairs to city streets and alleys. But Richardson has earmarked only about $98 million worth of crucial streets projects to be included in the municipal bond package tentatively set to go before voters this fall, Magner said.
"These projects are too large to tackle in any other way [besides a bond]," he said, noting streets in this condition have not been the focus of prior bond programs or annual maintenance. "If these projects don't get funded via [this] bond program, they will likely have to wait for the next bond program."
Streets in need
To choose streets to recommend for the bond package, Magner said city staff started by looking at the lowest-rated roadways.
"But even that, quite frankly, had us with an inventory of streets that were really beyond what we thought the bond program would be able to incorporate," he said.
The nearly $98 million in work proposed for the bond includes rebuilds on residential and commercial streets as well as high-traffic roadways and alleys. Dulac said some of the more expensive projects will involve multiple-lane divided roadways. Costs for those street repairs also cover large utility, water and sewer lines.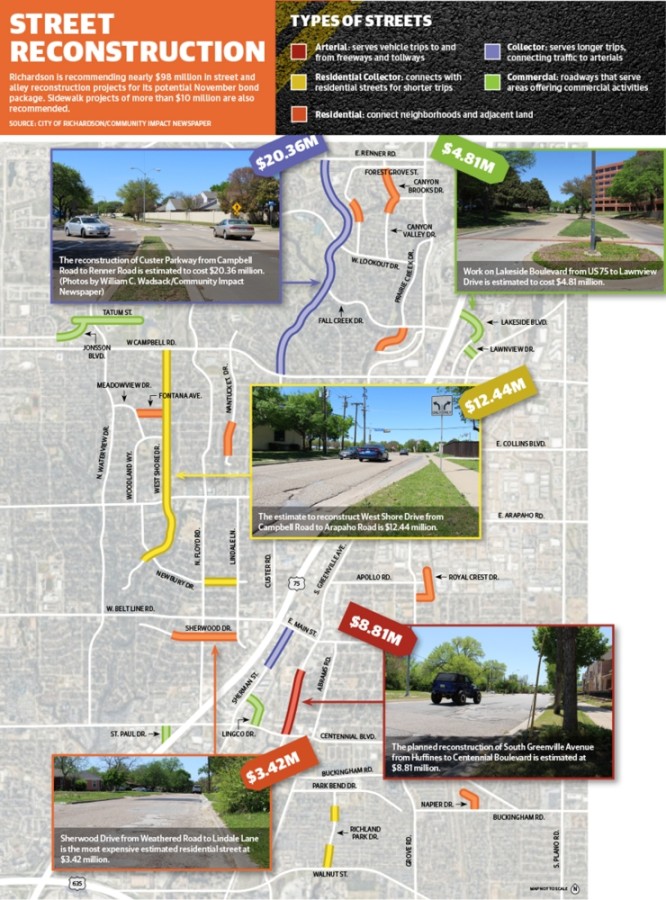 The planned reconstruction of Custer Parkway between Campbell and Renner roads is the highest-priced project being recommended for the bond at more than $20 million. While the residential and commercial street projects being eyed for the bond will not be as expensive as the Custer reconstruction, both types are equally vital to the city, Dulac said.
"This is the first time in [the commercial streets] category that we've had a fairly significant number of streets," Dulac said. "You'll see in some of our corporate areas, we're recommending [projects for] consideration."
The largest price tag in the residential category is the approximately $12 million to redo West Shore Drive from Campbell to Arapaho Road.
The proposed bond projects also include more than $10 million for work on alleys and around $10 million for sidewalk reconstruction throughout the city.
"We have certainly been focused and talked about facilities [previously], but if there is an infrastructure that every community must be attentive to, it is your streets, alleys and sidewalks," City Manager Dan Johnson said during the March 15 council meeting.
The projects being recommended for the bond package will all be complete rebuilds of the streets they are addressing, Magner said.
"The vast majority of the streets are going to be the same [number of lanes and medians] that they are today," he said. "It'll only be that the quality is drastically improved as a result of the rebuild."
While the streets assessment played a part in the recommendations for the bond package, Magner said city staff also looked at things such as traffic volume, drainage, and water and sewer conditions.
"If we're gonna tear it all up, we want to go ahead and replace it and really remedy multiple deficiencies in our infrastructure," Magner said.
Next steps
Beyond the potential bond funds, Richardson staff said there could be federal stimulus money for infrastructure projects in the near future in addition to the possibility of grants from the county level.
"It really will be a multifaceted strategy that we employ to try to address as many streets as we can that don't make the bond program," Magner said.
City Council is looking to confirm the propositions this summer and then considering calling the bond election in August. The bond package is expected to be on the Nov. 2 ballot. As that process continues, city staff will continue pursuing grants. Magner said staff will be flexible enough to "pluck out" any projects that may qualify for other funding.
Richardson's annual maintenance program will take on several future projects that are not included in the bond or do not qualify for funding elsewhere, Magner said.
"Over the next five years, we'll have approximately $27 million in annual maintenance funds," he said. "We'll be working in the field deploying those projects while we're deploying the bond program projects. ... Some [projects] may have to wait to the next bond program because of their size and their magnitude, but we'll be getting a number of others completed during this period of time as well."Outgoing Council Members Steve Mitchell and Mark Solomon both praised staff's plans to address the city's infrastructure needs. While these projects could create a lot of construction in the city, Mitchell said he knows many residents are ready for that. Solomon pointed out that as a transportation hub, it is critical that Richardson keep its infrastructure "moving in the right direction."
"Just like there's no way you can redo your home at one time, typically you've got to take it out, bite by bite," he said during council's April 5 meeting. "I think that's what we're doing here today. And we're doing that as a continuing thing."