Ever since crews converted former cattle fields off the Dallas North Tollway into a hub of sprawling offices and upscale retail stores, the Legacy West development has been held up as an example of Plano's economic
renaissance
.
But the $3 billion mixed-use project has not escaped the disruption caused by the new coronavirus, which has prompted governments to place broad restrictions on economic activity and unleashed a blistering round of layoffs across the country that are being felt throughout Plano.
The Texas Workforce Commission said 82 employees were let go at Legacy West last week, the first major batch of Plano job losses to show up in the state's mass layoff reporting system.
A spokesperson for the ownership group behind Legacy West's core retail property said the 82 layoffs were not employees of the property management company. It was unclear whether the state's reported layoffs were from the property's various restaurants and stores.
What is clear, however, is that the businesses that make up the development were heavily impacted. Thirty-five Legacy West businesses are known to have closed, at least temporarily, since governments began to impose restrictions to slow the spread of the virus. Thirteen others at the property have had to limit their hours or offerings.
Sudden shock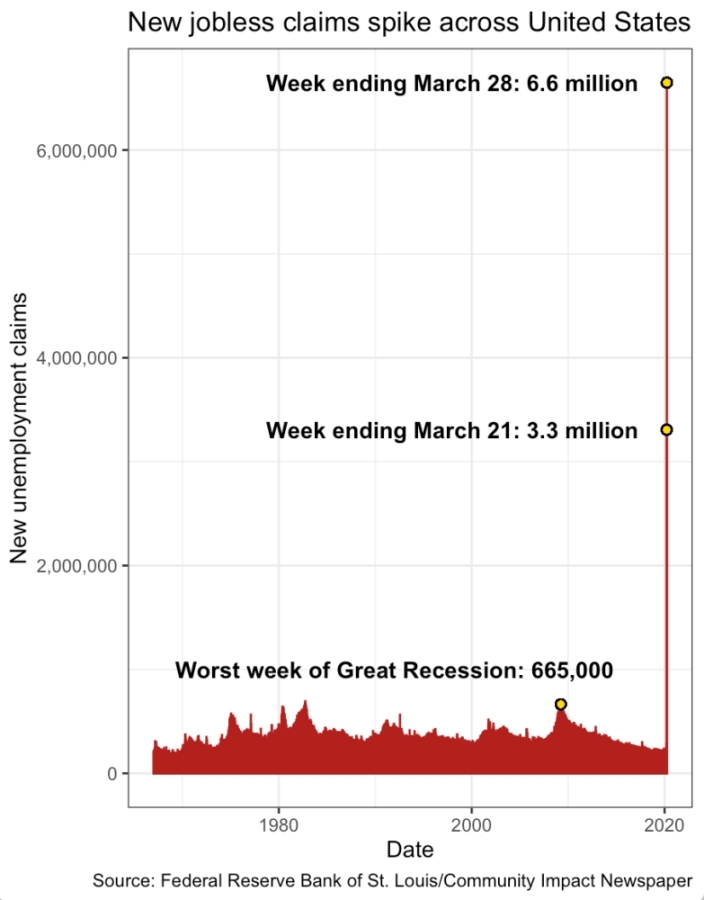 The pace at which businesses have moved to slash their workforces across the country has been unprecedented.
Nearly 10 million Americans have filed for unemployment benefits in the last two weeks alone, exceeding the number of applications in the first six months of the Great Recession, according to unemployment data from the Federal Reserve Bank of St. Louis.
The number of jobless claims filed last week was 10 times higher than any one week during the Great Recession, which lasted from late 2007 to mid-2009.
As the federal and state data started to come in, the city of Plano's finance department was already bracing for a significant loss of revenue.
"The pandemic most likely is going to bring on an economic recession," Budget Director Karen Rhodes-Whitley told council members March 30. "We're already seeing some of this."
The city is currently expecting at least a 10% drop in sales tax revenue. Half of its hotel tax revenue could be lost, as could millions in property taxes in future years, although this number is a lagging indicator and difficult to project, Rhodes-Whitley said.
Small business struggles
The Legacy West layoffs may have been the first big wave of Plano job losses reported to the Texas Workforce Commission, but countless businesses in the city have been hit hard by the new economic reality.
A broad range of retail stores now fall under the category of nonessential business, as defined by Gov. Greg Abbott in
an executive order
earlier this week.
Even restaurants, which are allowed to operate as essential businesses, have had to close off their dine-in areas to customers. Some have closed altogether.
Still, hundreds of restaurants are trying to hang on amid the restrictions and losses of revenue. At least
170 restaurants in Plano
are still open and offering some form of takeout, drive-thru or delivery services, according to a
Community Impact Newspaper
analysis. That number is almost certainly a significant undercount.
Restaurant owners in Plano have
expressed uncertainty
about how sustainable these measures are to keep their businesses afloat.
Jason Graman, managing partner and creator of Plano's Fork and Fire restaurant, said carryout or delivery can account for less than 10% of a casual dining establishment's business in good economic times. An abrupt shift to 100% is not sustainable, he said.
"If we tighten up fast and quick, the belabored little step—the next little step and the next little step—the little steps are meaningless," Graman said. "But at some point in time, it's just not viable or realistic that we can go, you know, 60 days or 90 days doing this."
Even restaurants built more around a carryout concept are not equipped to weather the complete, sudden loss of their dine-in crowd.
Scotty P's, for instance, had an established takeout system that was a significant portion of its business, but takeout only accounted for roughly 30% of its income prior to the onset of the current crisis, owner Scott Pontikes said.
Liesbeth Powers contributed to this report.