Frequent commuters of Collin McKinney Parkway might have noticed a fire engine-red, 1956 Chevy truck parked in front of Teresa's House, an assisted living and memory care facility in Craig Ranch.
About a dozen people in matching red shirts gathered around the truck last week with clothes hampers, doughnuts and coffee, waiting for drivers to drop off pajamas.
Pajamas for Seniors, a McKinney-based nonprofit, hosted a Grandparents Day Drive at Teresa's House on Sept. 10 in honor of Grandparents Day, which fell on Sept. 12 this year.
Executive Director Jo Alch founded the nonprofit in 2018 with the mission of collecting pajamas to distribute to low-income senior citizens in nursing homes, hospitals and assisted-living facilities.
The nonprofit accepts pajamas and monetary donations year round, and it hosts donation drives throughout the year. This was the second year a drive-thru event took place at Teresa's House in celebration of Grandparents Day.
"It's really about dignity, love [and] community," said Alch, a registered nurse. "Letting people know that somebody cares about you and you're not forgotten in that hospital bed."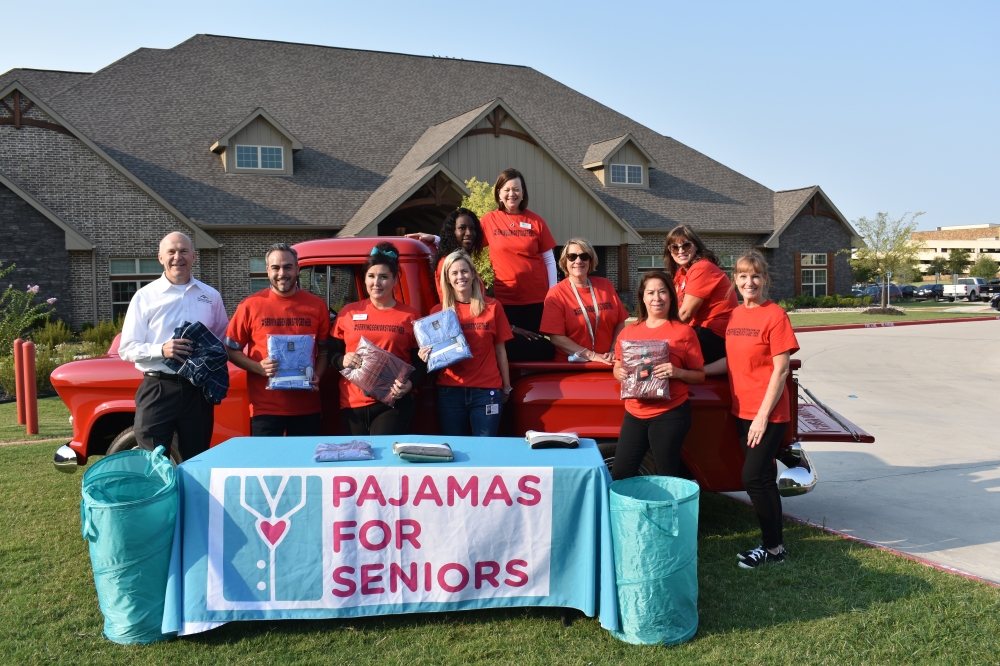 From the outside, most passersby might not suspect that Teresa's House is a senior care facility, said co-founder Godwin G. Dixon. The inside is also designed to feel like a home so that residents are as comfortable as possible. The entire Teresa's House care team is licensed and certified, which is not a requirement for assisted-living homes.
Alch, who lives in McKinney, recognized that most senior home residents do not receive the level of care that Teresa's House provides.
"There may be a beautiful building like [Teresa's House], and then a few blocks away is [a low-income area]," Alch said.
About 6.9% of McKinney residents live in poverty, according to July 2020 U.S. census data. That is a little more than 13,400 people.
Part of Pajamas for Seniors' mission is ensuring that the recipients of donations are treated with respect. Alch said that many seniors might not be able to speak up and say that a hospital gown is uncomfortable or inconveniencing in some way.
She added that high-priority sizes are 2X through 7X. Usually, people donate small, medium and large pajamas, so staff buys the larger sizes with monetary donations, which can be sent via the nonprofit's
website
.
Looking ahead
Pajamas for Seniors' next initiative is called the Gran Jam program, which pairs senior home residents with volunteers who would like to adopt a grandparent.
Alch's friend Connie Miserak inspired the program. Miserak has had an adopted grandmother—whom she calls Gran Jan, short for Janet—for 24 years. The two met while Gran Jan taught Miserak's children in their church's preschool class.
Gran Jan, now 96, does not walk well, but "her mind is so sharp," Miserak said.
Miserak, who volunteered at the Grandparents Day Drive with her vintage Chevy, said she visits Gran Jan at an assisted-living home in Dallas as often as she can to listen to her "great stories."
It has been difficult to launch the program—named Gran Jam to match the nonprofit's pajama theme—because of the pandemic, Alch said, but she hopes to show seniors that people care beyond donating pajamas.
More than half the residents in U.S. nursing homes have no close relatives, and over 60% never have visitors, according to data from the National Center for Health Statistics.
"[People] just assume, 'They're in a community; they're being taken care of,'" Alch said. "[Staff have] got 20 people they're taking care of, so they don't have time to do the one-on-one."
Pajamas for Seniors will host more drives in and around the Dallas area this year. As new donation drives are scheduled, they will be added to the nonprofit's
event page
.