The city of McKinney is making strides in its goal to remedy a lack of affordable housing, but officials say there is still more to do.
The McKinney City Council recently heard a presentation about efforts to make the city a more affordable place for current and new residents to live. The data from the presentation builds on the findings of a housing needs assessment completed by Root Policy Research in 2020.
While a general rule of thumb is that housing costs should not be more than about 30% of a household's annual income, the study showed that almost half the renters in McKinney use more than 30% of their income to cover housing costs. Data showed the city needs more places for people earning lower wages to live.
The study identified four top housing needs in McKinney: more affordable rentals for residents earning less than $35,000; starter homes and workforce housing priced at or below $200,000; increased housing product diversity; and strategic redevelopment and community improvements.
"[The data] helps inform the decisions that the council makes," said Janay Tieken, McKinney's Housing and Community Development manager. "Then we get to start creating and implementing."
Affordable housing has been a council priority since early 2019, Mayor George Fuller said. McKinney has jobs that need to be filled in places such as restaurants and entertainment venues. McKinney is less likely to fill those positions if potential employees cannot afford to live where they work, Fuller said."There are so many service businesses that require a labor pool to be able to function and operate. ... It's always a concern if you can't house your service workers," he said.
While the city continues to offer rental assistance, and rehabilitation and reconstruction programs for eligible income earners, officials are looking for opportunities to do more.
Top housing needs
Tieken and city officials pointed to the need for some creative housing solutions to add density, and not just through apartments.
"Multifamily is not the strategy. It's just a part of the strategy," Fuller said. "It's one component."
While creative solutions can include apartment complexes, they can also include townhomes, duplexes and other options that tend to be more affordable because they can fit more units on less land, Fuller and Tieken said.
"The land is really what makes housing so expensive," Tieken said.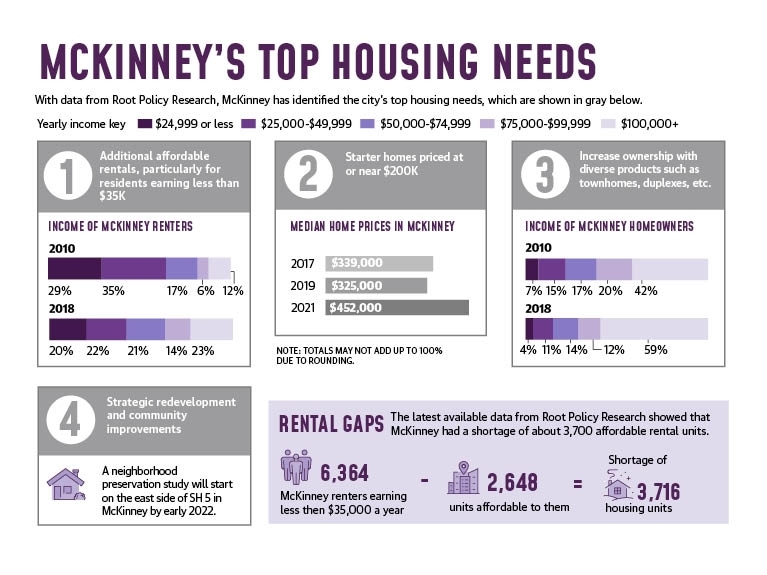 A new development code will assist with this issue, she said. The city is creating one now that will allow more flexibility for developers with setbacks and lot sizes to help build these types of products, Tieken said. The new code should be ready next summer. It could also include some allowances for accessory dwellings, or backyard cottages, which would help with housing needs, said Celeste Cox, CEO of Habitat for Humanity of Collin County.
"If somebody already has a lot and a house on it, they can add an additional housing unit at the back of their lot, so that would help increase the availability of housing," Cox said.
Cox has seen firsthand the need for affordable housing in McKinney and surrounding areas. Her organization gets hundreds of applications for Habitat homes and home repairs each year. The application numbers only increased during COVID-19, she said.
"There's just nothing being built under $300,000, and the appraised values keep going up," she said.
Projects coming online
A new program the city started this year uses public funds to decrease the cost of single-family homes. Using $200,000 from the Community Development Block Grant Program, the city plans to purchase existing vacant lots, or infill lots, and develop those lots to create an affordable product to sell to income-eligible buyers.
"With the new code, we'll have the flexibility to develop smaller lot sizes or different ... products," Tieken said.
Another initiative is a public-private partnership the city entered through the McKinney Housing Finance Corp. and the NRP Group. This project constructs a new 205-unit residential apartment community called The Independence located at Collin McKinney Parkway and Test Drive.
The Independence is set to open its first building in February. It will offer apartments to qualifying residents at a rent price below the market rate. Qualifying residents earn 50%-70% of the area median income. With the median at $89,000 for a family of four, residents qualifying for the project would need to earn between $44,500 and $62,300, said Nick Walsh, a developer with the NRP Group.
The Independence is designed to target middle-income residents who struggle to afford housing in McKinney, Walsh said. The project is administered and run by the Texas Department of Housing and Community Affairs.
"These are folks that are already your clerk at the grocery store; they're already your waiter when you go out to eat," Walsh said. "It's just the folks that are already in your community, already serving the community."
The city is not the only entity looking at creative solutions for affordable housing. Habitat for Humanity's Cotton Groves project broke ground in 2020. The first homes are expected to be ready in early 2022, Cox said.
The 2.75-acre community has homes made from shipping containers and is located on the southeast corner of Bumpas and Fitzhugh streets. It will offer 35 units for qualifying low- to moderate-income families to purchase. Residents' monthly payments will cost no more than 30% of their household's gross monthly income.
"Our architect was tasked with getting as many units on that property as possible because the need is so great, and containers are very compact; you can get them in really tight," Cox said.
Neighborhood preservation
While efforts to strategically redevelop housing options are meant for the entire city, Tieken and her team are focused on the east side of McKinney, which is facing redevelopment with projects such as the relocation and expansion of Tupps Brewery and the new City Hall. The east side of the city is where most of the affordable housing is, so McKinney is readying to start a neighborhood preservation study for this area, Tieken said.
"We want to improve the neighborhood, we want property values to rise, all of that, but we want people to remain in their homes," she said. "[The study] will give us some tools to do that."
Justin Beller serves District 1 on the McKinney City Council. He previously served on the McKinney Housing Authority board as well as the McKinney Housing Finance Corp. board. His council district will be where the neighborhood preservation study takes place. The goal is to evaluate the housing stock on this side of McKinney and ensure the city has the programs to maintain that stock while also allowing the neighborhoods to improve, he said.
"I don't think a preservation study is all about how we maintain what exists today," Beller said. "It's about how we provide the resources so that the people who live in this community are able to stay and to maximize their benefit."
Without opportunities for affordable housing, the city becomes unsustainable, he said. The goal for any city, Beller said, should be to achieve a balanced housing supply.
"We need housing that fits various income levels and lifestyles," Beller said. "And we need that balance throughout our city."