Riley Glover graduated this spring from McKinney North High School as a certified personal trainer with a certification in Introduction to Physical Therapy. The COVID-19 pandemic helped open her eyes to the needs in the field, she said, and with her new certifications, she plans to go to medical school after graduating from college.
"[The pandemic] proved just how important the health care system is, so being a part of something that's important and makes such an impact on all of our communities is inspiring," Glover said.
This past school year, McKinney ISD's Career & Technical Education Program has allowed students to study for 12 different certifications in health care, per the district website, despite setbacks from the pandemic.
Many students who gain this experience while still in high school find it can help them more firmly decide on a career path, according to Aly Deal, McKinney North High School CTE department chair. Students can also start working immediately in their field to help pay their way through college, she said.
Before the pandemic, students spent time at local hospitals and nursing homes, Deal said. The certified nurse assistant track previously required this experience. For this year the state changed the requirement, and students were able to earn their experience through lab simulations instead. This way, students are still able to learn and do what they would be required to if they were in one of these careers. Next year they expect to return to work in the community.
"We really try to help them explore careers and find pathways," Deal said. "Exploration is really important for them to try to figure out what path they want to take after high school."
Providing a pathway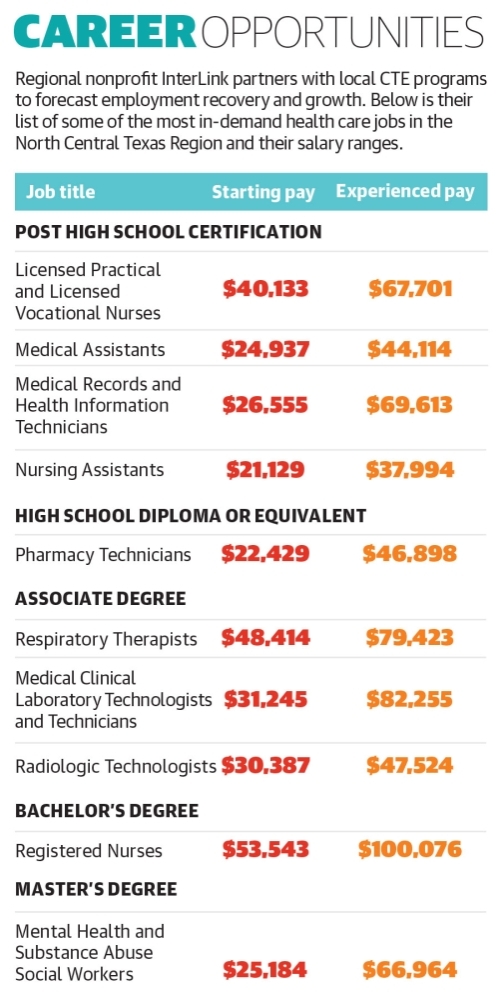 MISD's CTE program offers 30 programs of study, which, in addition to health science, includes information technology, human services, architecture and construction and business management and administration. High school students can take introductory classes starting their freshman year and sign up for advanced courses with the CTE program as soon as their junior year.
The district partners with Collin College to offer dual credit opportunities within the CTE programs. Dual-credit classes allow students to take classes during high school that also count as college credit. Some classes are taught at MISD high school campuses; others are taught at the Collin College Technical Campus in Allen.
The college's Health Professions Program is what MISD students in the health and science track take to earn dual-credit classes. The college's program has more than tripled in student size over the last four years, department director Juli Westcott said.
The department offers five academic tracks for students pursuing certificates and/or occupational skills awards. Westcott explained students can often finish some of these programs within a semester while waiting to get into a registered nurse program or some other health care program.
"I see it as the foundation for their future—the doorway to their careers," Westcott said. "I really like to get people that think they want to do health care, but [are] not sure. This is a good 'let's dip your toe in the water' [program]."
The certified nurse assistant track is the department's most popular program, with nearly 500 students, Westcott said. However, as demand has grown for phlebotomy technicians in the workforce, she said that track has led to students getting offered jobs. Westcott said the field sees a "fairly high turnover" rate if people are not well trained. She also noted it is an important skill for people going into fields such as nursing and paramedicine.
"You're not going to have as much time as you think you would in nursing school to learn how to draw blood well," Westcott said.
Gaining experience
Each certification offered at MISD has its own set of requirements. Students can do more than one certification if their schedule allows. For instance, students can spend their fall semester earning their certification as a nursing assistant. The first part of the course is lectures, and then students take what they have learned and apply it to real patients, or as was the case with the 2020-21 school year, in simulated labs. Most students who complete this certification are juniors, said Janet Sweet, the certified nurse assistant program director at McKinney North.
Her students usually go on to study in the patient care technician program and graduate with two medical certifications, Sweet said.
"When they go to college or nursing school, they're going to be way advanced from their peers, having patient interaction and hands-on learning," she said. "Most of the time, you don't put your hands on patients until your junior year [of college]."
Students across different campuses have a chance to bond through the lab simulations, said junior Sahmara Wallace, who completed the spring with her nurse assistant certification.
"Even though we weren't allowed to go to the nursing homes because of COVID, we were still able to work together to solve problems in our lab. That was really fun," she said.
Some of these certifications allow students to land an entry-level health care job right out of high school, said Todd Young, the senior director for career and technical education at MISD.
"We tell kids, 'Go work in a nursing home. They'll pay for you to get your nursing degree. And then go work for a hospital. They'll help pay for you to become a doctor,'" Young said.
Some students who are taking dual credit classes at Collin College can eliminate a whole year's worth of expenses, he said.
Glover, along with her classmates Katie Gimlin and Ethan Wesloki, got into the CTE program after they realized they enjoyed the health science courses in high school. They were able to go into physical therapy clinics and interact with patients this spring.
"You can sit down and memorize a notebook all day long, but until you actually get out into the real world is when this stuff sticks," said Wesloki, who will be a senior this fall.
Jimmy Armentrout, a physical therapist at Baylor Scott & White Rehab of McKinney-Redbud, enjoys having students come to his office because it gives them an advantage in their competitive medical schools and prevents them from "floundering" in higher education, he said.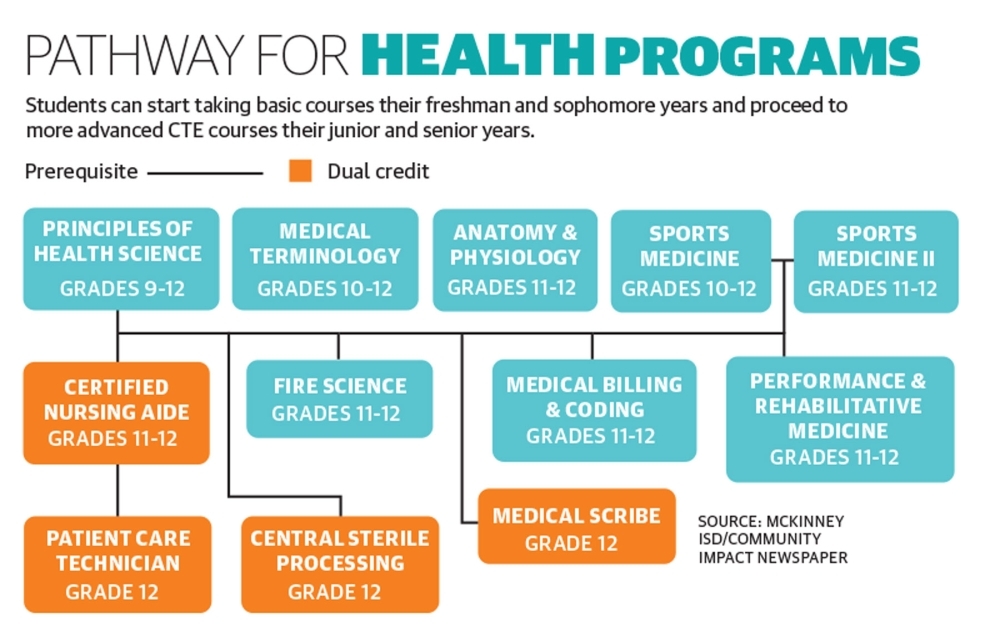 "I can tell somebody what the physical therapy profession is actually like, but to actually see it in action is a whole different thing," he said. "It's an invaluable experience."
Deal pointed out that many students are familiar only with what they have seen on "Grey's Anatomy" or at their pediatrician's office. They may be surprised to learn about the different careers in medicine they can go into, she said. Gimlin, who will enter her senior year as a certified person trainer and has a certification in physical therapy, appreciated this as well.
"I feel like being opened up to all these different aspects of medicine puts you ahead," Gimlin said. "We just have more knowledge."
Benefits of certifications
Both Gimlin and Wesloki agreed that although the pandemic set back their CTE programs slightly, it showed them the importance of health care.
"You get to help people come back to how our lives normally were and help them kind of get back to the way things were," Wesloki said. "It's just something that inspired me to come help others."
With the dual credit classes they took, the students plan to take advantage of the fact that they can graduate college in three years instead of the usual four. They can also use their certifications to get jobs and work through college.
The students said they believe they have already gotten a head start on their professional careers, despite the fact that they are still in high school and expressed confidence in being able to chase down their future goals.
"You can't know what you like until you go and try it," Glover said. "It gives you the experience to know what you enjoy and if it's a good fit for you."