The number of people in McKinney and Collin County without insurance is likely to increase due to the coronavirus pandemic, a new report analyzing the economic opportunity in Collin County shows.
A new federally qualified health center aims to combat this growing issue in McKinney.
The Family Health Center at Virginia Parkway is preparing to open a new, larger facility near downtown McKinney to provide primary care services in underserved areas and to patients who are uninsured and underinsured.
The number of people in McKinney and Collin County without insurance is likely to increase due to the coronavirus pandemic, a new report analyzing the economic opportunity in Collin County shows.
In October, the nonprofit Communities Foundation of Texas released the results of a study conducted by public policy nonprofit Every Texan. It outlines Collin County's economic status and includes a two-page addendum that gauges the effects of the COVID-19 pandemic on county residents, including health insurance coverage.
Going into the pandemic, most people in Collin County with health insurance received coverage through their employers, the study shows. But with the rise in unemployment observed this spring, more people are going to be left without insurance, said Ann Beeson, who stepped down as CEO of Every Texan shortly after the report was released.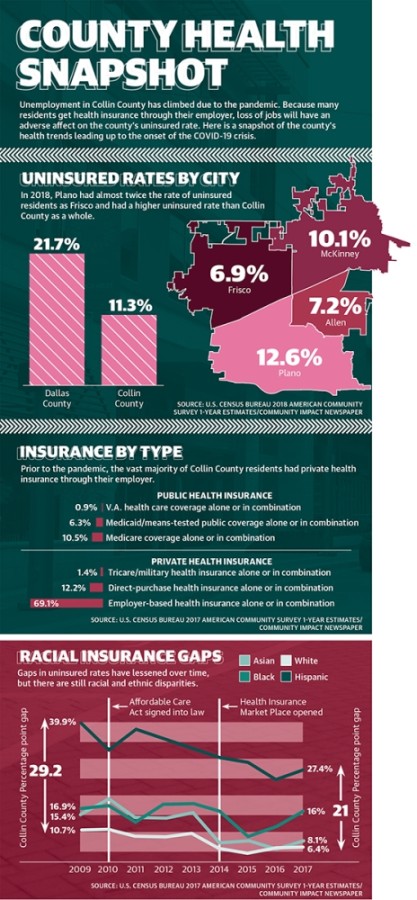 People without insurance are hesitant to seek medical care, including preventive care and treatment for chronic conditions, which can lead to emergency visits, the study shows.
McKinney's new Family Health Center at Virginia Parkway can help meet this need. When it opens in late 2020 or early 2021, it will provide even more services than it currently does in its temporary location on Medical Center Drive.
McKinney City Manager Paul Grimes called the new health center "a transformative project."
"That is a great way to provide health care security to our residents who maybe don't have great insurance or are worried about their insurance," Grimes said. "That is truly a community health center."
There are two other local nonprofit health centers in addition to the Family Health Center. The Hope Clinic of McKinney and the Community Health Clinic in McKinney both provide health care exclusively to residents without insurance in McKinney and Collin County.
"They are unsung heroes," Grimes said. "They don't turn anybody away."
Rising uninsured rates
Going into the pandemic, Collin County's uninsured rate was 11%. This means that roughly 100,000 residents in Collin County's total population were already uninsured, data shows.
In addition, weekly unemployment claims in Collin County from March through Oct. 17 totaled 99,934. The highest single point came the week of April 4, when the number of claims was 11,808, This was eight times higher than the number of claims filed for the same week in 2019, data shows.
"If 100,000 claimants who filed for unemployment since March lost their health insurance along with their jobs (versus switching to a spouse's plan), this will mean that Collin County's uninsured population will have doubled since 2018 in just six months," the study said.
Since the onset of the pandemic, the Community Health Clinic in McKinney has experienced an increase in the number of patients it serves, Executive Director Jackie Rakowski said.
"We have seen a huge surge of patients who were unemployed, so they were only getting unemployment income ... and lost their insurance and still [needed] their medication," Rakowski said. "We've had plenty of patients in that lobby crying because they never thought they'd be in this situation—to need a charity clinic."
The Hope Clinic in McKinney saw an increased number of patients over the summer as well, which Executive Director Melissa Willmarth attributed to people losing jobs or benefits that they had in the past.
"Lower-income workers have been the most affected by COVID because theirs are the jobs that are at higher risk," she said. "It's definitely that impact of still not getting as much consistent work and therefore struggling even more to pay for care."
There are also more people now who do have insurance but cannot afford to use it, due to high deductibles or out-of-pocket costs, former Cigna Healthcare President LaMonte Thomas said.
Collaboration between nonprofits, hospital systems and other stakeholders in the community is the first step in bridging those gaps, Thomas said.
"A lot of the cost of uncompensated care that is given to people with no insurance when they go into an emergency room, ... employers are going to have to bear that cost," he said. "Unless we do something at the policy level, we will fall into a gap that is impossible to get out of."
A new center for health care
Family Health Center at Virginia Parkway will provide services five days a week, including primary care, dental care, OB/GYN services and referrals for basic need fulfillment, which can include rental assistance and food pantry connections.
Willmarth said the federally qualified clinic is opening its new building at a good time.
"We're going to see a greater increase not only because COVID is going to continue into next year, but with the growth of McKinney, there will be an increase in patients," Willmarth said.
Valerie Lengel, marketing consultant for Family Health Center, said the clinic will especially help patients on the east side of McKinney.
"The goal was to be able to provide increased access to health care for all residents of McKinney, but specifically to our east side residents, who, basically, are affected more by health disparities," she said.
Family Health Center at Virginia Parkway is a federally qualified health center, which means that it receives funds from the government to provide primary care services in underserved areas. Costs associated with care are on a sliding fee scale, and the clinic operates under a government board.
The new location will be more than triple the size of the current building, which is approximately 6,800 square feet, and will have double the number of providers, Lengel said.
"I am so incredibly thankful we had a presence in McKinney, and that the new ... clinic's opening is imminent," said Allen Patterson, the health center's CEO, in an email. "The former has been a game changer for the community, and the latter will soon dramatically improve upon that success."
Importance of treatment
Lengel pointed out, as did Rakowski and Willmarth, that many patients have chronic health issues, such as diabetes, hypertension and high cholesterol. It is important for people to continue receiving medications for these ailments regardless of whether they have insurance, Lengel said.
"Without those ongoing medications, it affects everything," Rakowski said. "It affects their mental health; it affects them being able to continue to work if they're not feeling well."
These clinics and the Family Health Center at Virginia Parkway are working to help educate patients on the importance of being seen regularly by a physician, Lengel said.
This effort includes connecting patients to critical resources, such as Community Lifeline Center, to help with food access and rental assistance.
"Especially during this time where families are experiencing job loss and having housing issues—that's been an important component of, just, all-around holistic care for our patients," she said.
Additional reporting by Liesbeth Powers