With the ongoing coronavirus pandemic, people are slow in returning to their doctors.
On March 22, Gov. Greg Abbott postponed all nonemergency procedures and elective surgeries with an executive order; he said it was necessary to free up equipment and allow doctors to focus on treating coronavirus patients. The order sidelined many health care providers, including dentists and physicians, until their services were allowed to resume in phases through April and May.
Across the board, many people are still avoiding in-person visits to reduce their risk of exposure to COVID-19. Patient visits to health care providers have declined by nearly 60% since March due to COVID-19, according to
national research
from Harvard University and health care technology company Phreesia. Behavioral health practices throughout the nation saw a 30% decrease in patient visits in early April. Other offices, such as dermatology and surgery, experienced about a 75% decrease in visits.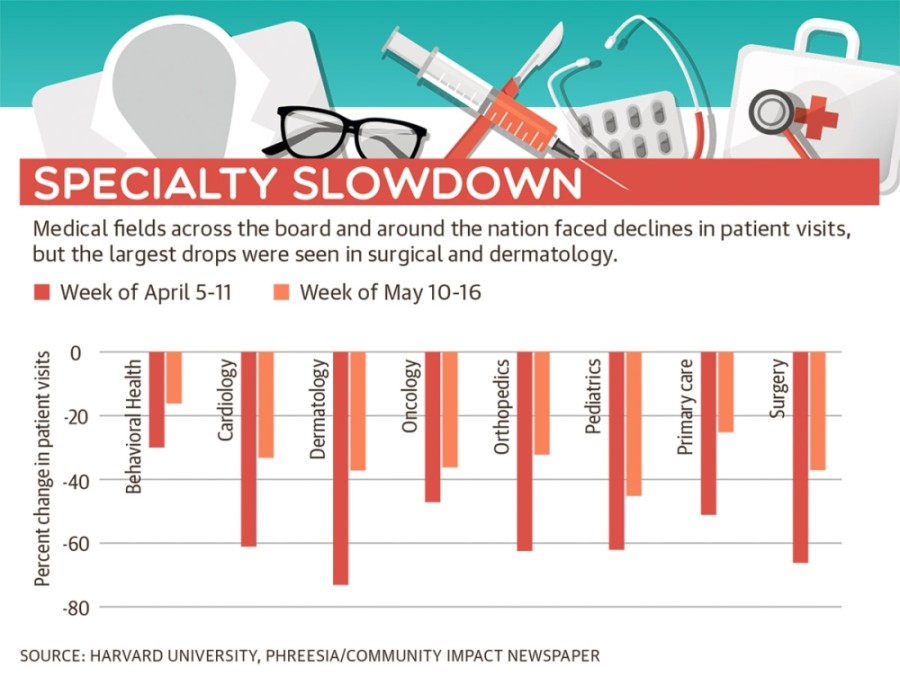 This decline has led
Baylor Scott & White Health to announce
it will lay off 1,200 employees and furlough an undetermined number more across its health care system as it responds to a "drastic drop in visits."
Dr. Brent Morgan, a neurosurgeon at
Baylor Scott & White Medical Center—McKinney
, said putting off preventative care could have long-term negative health effects.
"If you're a patient, ... you might say, 'I don't need to go in for elective care, so I'm just going to delay it,'" he said. "Who knows what kind of downstream health effects that can have?"
Patients 'disappear' amid pandemic
When the coronavirus reached Texas in March, McKinney health care providers experienced a sudden decrease in patient visits, even if they were still offering services.
Dr. Jennifer Zomnir with
Zomnir Family Medicine
said her office shut down to in-person visits even before Abbott's orders came through. She said this was part of her efforts to help flatten the curve.
While she still made services available through in-home visits and phone calls, Zomnir said her office received no preventive patient visits.
Preventative visits have started to return since her office reopened in May, Zomnir said. She said she is giving her patients the option to delay appointments to help them feel safe if the issue is not urgent, she said.
Other areas, such as dentists, had no choice but to delay services excluding emergency procedures until at least May 1. Dr. Sam Patel of
Sam Patel D.D.S
. in McKinney said he waited a few more days to reopen to ensure he was able to keep staff and patients safe.
His office has seen an uptick in the number of patients returning since he reopened, but it has yet to reach "normal" levels, Patel said.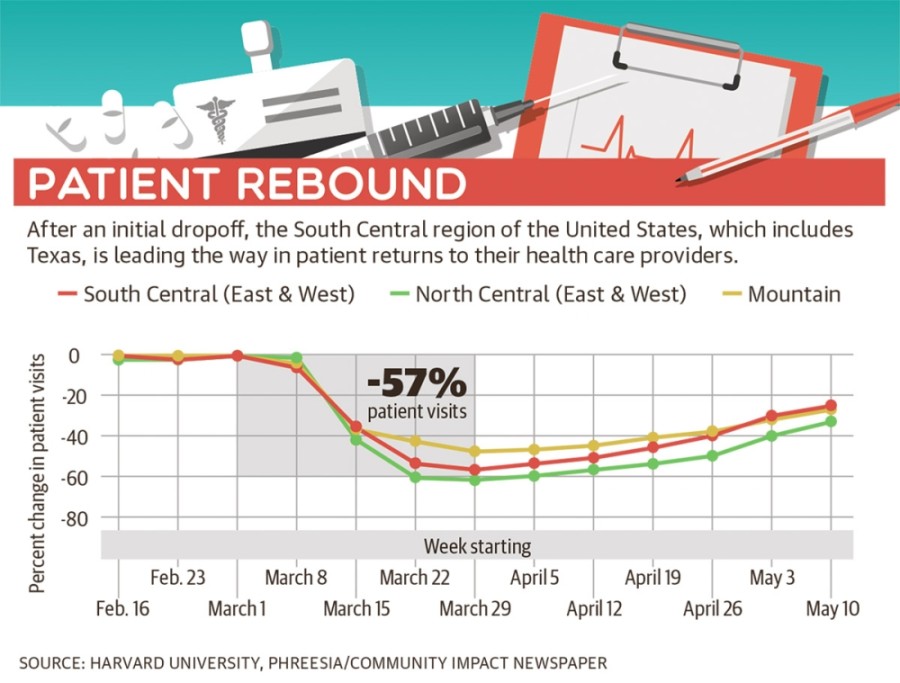 Some offices that remained open still saw an economic hit. Chiropractic care was considered an essential service, but that did not stop patients from putting off their care.
"It was definitely a very dramatic change right off the bat," said chiropractor Tyler Rottinghaus of
ChiroConcepts of McKinney
.
Paul Queen, owner of
Straight Up Chiropractic
in McKinney, said many of his clients were initially apprehensive as the coronavirus spread, which affected his practice.
"A lot of people that were just coming in for basic wellness care pretty much disappeared," he said.
Declining patient visits affected revenue typically generated by regular appointments,
according to the Texas Medical Association
. This led health care providers to seek federal financial relief.
"Fortunately, we did qualify for the [Paycheck Protection Plan]," Rottinghaus said. "That helped keep us afloat during the period of time when we were just not seeing the same volume that we did previously."
But Queen, who has only one employee, said the PPP loan was not especially helpful. Items such as rent and advertising are a major part of his expenses, and he could have used assistance with that had it been available, he said.
"There really wasn't a lot of help out there," Queen said.
Taking precautions
As health care offices return to full service levels, many are taking precautions and reassuring patients of new safety measures while encouraging them to seek preventive care.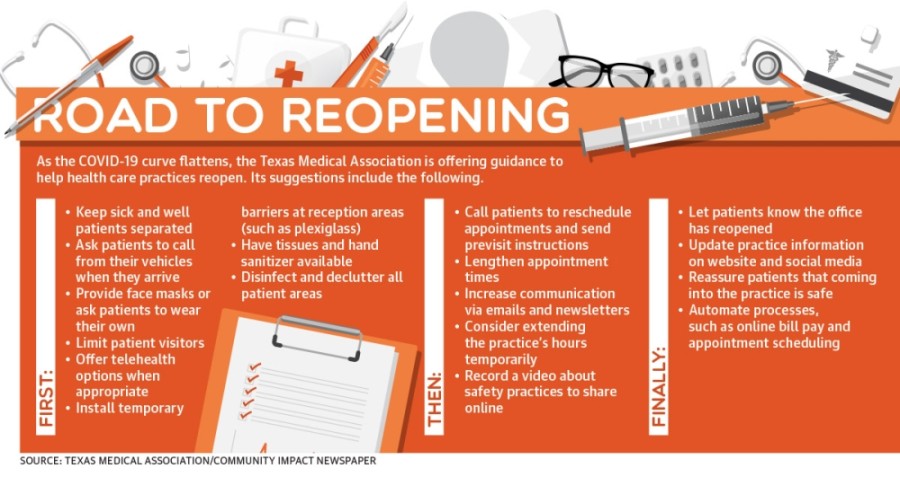 "We are committed to educating our communities about the many ways we are working to safeguard their health and well-being from COVID-19," Dr. Jeffrey Kerr, chief medical officer for Baylor Scott & White Medical Center—McKinney, said in an email. "New measures and protections are in place across our hospitals, surgery centers and clinics in accordance with CDC guidance and recommendations by our clinical experts."
Other hospitals, such as
Medical City McKinney
and
Methodist McKinney Hospital
, are also adapting to meet people's needs during the pandemic. They are screening anyone who comes through the door and requiring everyone in the building to wear a mask, officials said.
Telemedicine has also taken on a more important role for some practices in recent months. As patients might not be comfortable coming to an appointment in person, this provides an option to communicate without any risk involved, Morgan said.
"We're making sure they have availability to be seen, and that doesn't mean that they have to just wait until they can feel comfortable coming into the office," Morgan said.
Chiropractic care presents some challenges for telemedicine, Rottinghaus said.
"From the chiropractic standpoint, unfortunately, there's not really a whole lot that can replicate the hands-on portion of the adjustment," he said.
Dental work also relies on in-person X-rays and the ability to clearly see a patient's situation, Patel said. Most of his clients prefer to come to his office, and for that purpose, he has implemented safety precautions.
"We physically call the patients and review our [COVID-19] checklist with them for the safety of the entire office and existing patients," Patel said. "On top of that, when they would come in, we would review the same checklist with them and take their temperature."
Zomnir's practice also installed new policies to protect patients, she said. Everything is disinfected before and after each patient, and Zomnir dons multiple layers of protective equipment when seeing patients, she said.
Rottinghaus said some of the extra sanitary efforts he has made will probably stay around to ensure his practice is healthy and protected.
"Even after this starts to die down, we will continue to incorporate some of the different measures that we've done to make the environment as comfortable and as safe to our patients as we possibly can," he said.