State data released in late May on COVID-19 cases in assisted living facilities contained somber news: At least 19 people in Collin County senior living facilities who tested positive for the virus have died.
The county has reported seven COVID-19-related deaths of residents in three different facilities as of May 25: Grand Brook Memory Care in McKinney, North Park Health and Rehabilitation Center in McKinney and Life Care Center of Plano. The Oxford Grand Assisted Living & Memory Care in McKinney reported 12 residents with COVID-19 had died as of May 25. In addition, 10 employees have tested positive at this facility.
"One of the biggest challenges for senior housing is that our population is so fragile with underlying health conditions," Coryanne Graham, vice president of marketing and brand for The Oxford Grand, said in an email. "Every senior living company is doing all they can."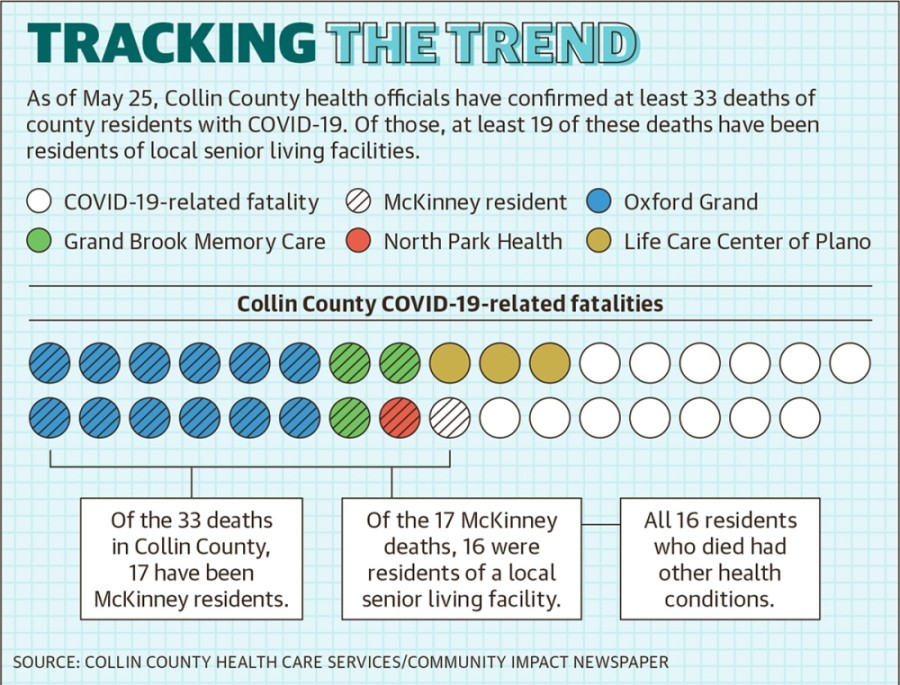 Older adults and people with severe underlying medical conditions, such as lung disease or diabetes, are at higher risk of contracting complications from COVID-19, according to the Centers for Disease Control and Prevention.
Of the 33 deaths tied to COVID-19 cases in Collin County, 29 involved people age 60 and older.
In March Gov. Greg Abbott ordered the suspension of visitations and restricted guest access to senior living facilities. Even while announcing his plans to reopen Texas, Abbott said assisted living facilities and nursing homes must remain closed to visitors unless for emergency situations.
Local facilities have also canceled all large-group gatherings and are taking additional steps to protect residents, officials said. This includes having everyone wear masks, cleaning high-touch points regularly, taking temperatures, asking screening questions and using technology, such as UV lights, to help kill bacteria.
Suspected cases of COVID-19 and virus-related deaths are required to be reported to the Texas Health and Human Services Commission and the local health department. The commission investigates every long-term care facility with one or more reported case of COVID-19, the agency's assistant press officer Danielle Pestrikoff said.
"If a death occurs and the cause of death is COVID-19 related, we would likely have an open investigation into that facility for the reported positive case," she said in an email. "If not, one would be initiated."
State investigations regarding the deaths at the four Collin County facilities are ongoing, Pestrikoff said.
Abbott announced May 11 that all Texas nursing home residents and staff members would be tested for COVID-19, something McKinney Mayor George Fuller said his city had been asking for.
"Let's be proactive, not reactive, after the deaths," Fuller said.
Local fire departments are partnering with health authorities to provide testing in nursing homes. Costs associated with providing these tests are eligible for state reimbursement. But to test every nursing home resident and staff member in Texas just once could cost more than $29 million, according to the American Health Care Association, which bases its calculation on a cost of $150 per test.
Officials with Grand Brook Memory Care and The Oxford Grand said it was too soon to tell what testing requirements their facilities would have to meet to follow Abbott's orders. North Park Health and Rehabilitation did not return
Community Impact Newspaper's
request for comment.
Chad Anderson, president of Constant Care Management Company, which manages all nine of the Grand Brook Memory Care facilities, said it was unclear to him what would happen if a staff member or resident refused testing.
"We're working closely with the state departments and local health departments and ... trying to do the best job we can," Anderson said.
Seeking help
With the economy at a standstill, many industries have halted hiring; however, the nursing home and long-term care industry has increased efforts to bring workers in the door.
As of May 9, the industry had 46 job openings across the Dallas-Fort Worth area, up from 31 postings just two weeks prior, according to data provided by Workforce Solutions North Central Texas, an arm of the Texas Workforce Commission.
Long-term care facilities often face staffing shortages because of competitive job markets, according to the Texas Department of Health and Human Services. But these facilities face more challenges now as employees could be exposed to the virus and unable to report to work.
Anderson said the problem of finding staff long predates the pandemic.
"It's always been difficult to find the right people who are willing to do this kind of work," Anderson said.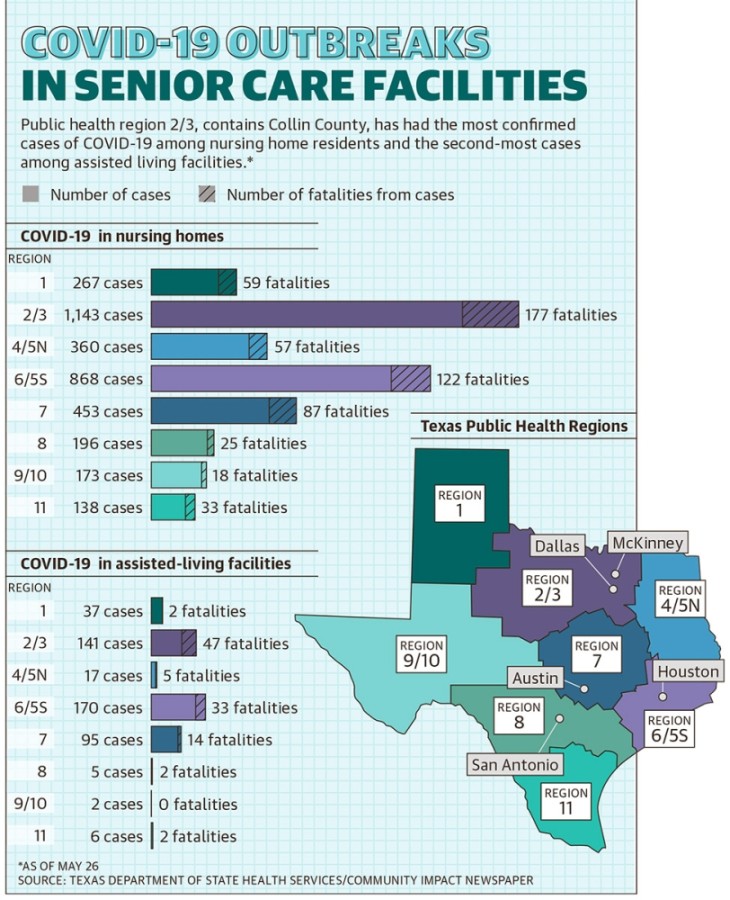 Staff at facilities are also working hard to help keep residents safe and to ensure that they are engaged and connected, said Renee Thornton, the community director of the Emerald Cottages independent living facility in McKinney, which has not had any COVID-19 cases. Thornton also sits on the Senior Services Alliance board with the McKinney Chamber of Commerce, which connects senior-focused businesses in the area to help better serve the older population.
Many low-paid long-term care employees work at multiple living facilities, Tracie Harrison, a professor of nursing at The University of Texas at Austin, said in an interview with
Community Impact Newspaper's
reporting partner, T
he Texas Tribune
. But many facilities have asked their employees to work at only one location to help limit the risk of spreading the virus between facilities, which comes at a cost to workers, Graham said.
"It does put an added strain on buildings like ours ... and on the caregivers themselves, who depend on multiple jobs to make ends meet," Graham said in an email.
According to the U.S. Bureau of Labor Statistics, home health and personal care aides had an average hourly pay of $11.57, according to the bureau.
Anderson said Grand Brook officials are working with employees to give them any extra hours they might need to offset limits on their jobs.
Procuring protection
Facilities are also dealing with a heightened risk for senior care workers when COVID-19 cases have been confirmed, Anderson said. One of the biggest challenges to his business is obtaining personal protective equipment for staff and caretakers, he said.
"That's a big thing to get your employees to come to work is assuring them that, 'Yes, we have all the proper equipment for you to use while you're doing your job,'" he said.
PPE is usually given to hospitals and first responders before it goes to senior living facilities, so it can be difficult to get what they need, he said.
The city of McKinney has been working to send its senior living facilities any extra supplies, Fuller said. The city has also been advocating that its nursing homes and assisted living facilities get personal protective equipment sooner, Fuller said.
"There are some barriers we have, in that they're a state facility [with a] state-regulated license, so there needs to be a certain protocol to happen," Fuller said. "We've been assisting with PPE where we can."
As more businesses reopen and people return to previous activities, Thornton said most senior living facilities will probably take a cautious approach even once the state order against visitations is lifted.
"There are so many unknowns with having such a high-risk population of residents, ... and I think [the residents] are all respecting that as well," she said.