McKinney officials said the coronavirus pandemic and its anticipated effect on city operations played a pivotal role the development of the city's fiscal year 2020-21 budget.
The annual budget outlines how residents' tax dollars and revenue from other sources are allocated. It provides funding for city necessities, such as the McKinney Police Department, McKinney Fire Department and maintenance of roads, water lines and sewers, as well as amenities, such as McKinney's two libraries and the operation of city parks.
When COVID-19 arrived in March, McKinney officials tightened the city's metaphorical belt and began making sharp conservative estimates for how its bottom line would be affected. In May, Chief Financial Officer Mark Holloway projected an estimated loss for FY 2019-20 of $7 million, including a worst-case scenario of a $4 million loss in sales tax revenue.
However, McKinney's year-over-year sales tax revenue for the month of May dipped by only about 1%, and the other months saw gains as compared with the same months in the previous year.
"I told City Council: I've never been happier to be wrong and to stand up in front of a group of people and tell [them] how wrong I was," Holloway said.
Despite the strong sales tax revenue the city has seen during the last six months, McKinney officials said the FY 2020-21 budget was definitively shaped by the pandemic.
An effective mission
The higher-than-expected revenue from sales tax since the pandemic began helped the city reach one of its goals for the FY 2020-21 budget.
For the first time ever, the city adopted a no-new-revenue tax rate, which means that McKinney plans to collect the same amount of revenue this year from existing properties as it did last year, despite increases in property values. That means the city is lowering its property tax rate for the fifth year in a row.
Mayor George Fuller said this has been one of his goals for some time.
"I've been saying for the last year that this year, we're going to have a no-new-revenue tax rate," he said.
In addition to Fuller having pitched the no-new-revenue rate "every week," he credited the decreased tax rate to the dedication and planning of the city's financial staff.
"The staff has done a great job of planning and budgeting in the previous year," he said.
While revenue from property taxes and sales taxes is expected to be up, Holloway said McKinney has seen declines over the last year in other revenue sources, such as franchise fees and building permits. Those changes, along with the uncertainty about the future of the pandemic, led McKinney officials not to add many new items to the budget this year, Holloway said.
"While we've cut the tax rate over the last six to seven years—down from close to 59 cents to the close to 50-cent number that you see today, it's been gradual," Holloway said. "We've been moving towards that number for several years."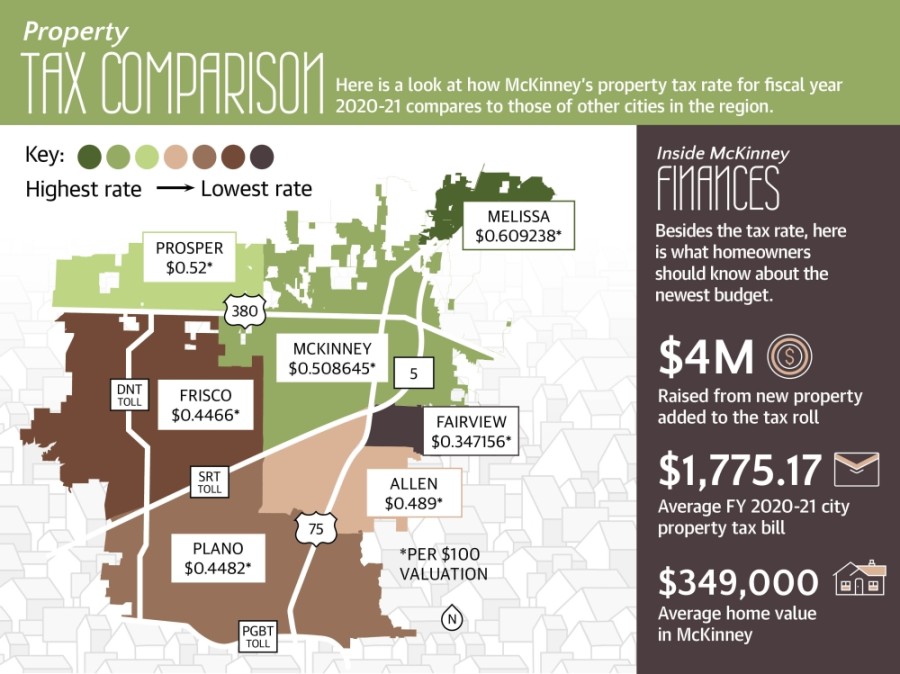 Strong sales tax base
Sales tax revenue makes up about 17% of the city's general fund, which covers the basic maintenance and operations of the city. Sales taxes also fund the McKinney Economic Development Corp. and McKinney Community Development Corp. McKinney posted double-digit sales tax revenue increases during the months of June through September, with the most recent round of revenue coming in up 17% compared with the same month a year ago. Neighboring large cities, such as Frisco and Plano, have not reported numbers that high, with each only seeing a rise in sales tax revenue in August.
Across the state, sales tax revenue for September 2020 was 6.1% lower than it was in September 2019.
"The COVID-19 pandemic and low price of crude oil continue to weigh on the Texas economy and sales tax revenue," Texas Comptroller Glenn Hegar said in an October news release. "State sales tax receipts from all major sectors, other than retail trade, were down compared with the same month last year."
McKinney's secret weapon, Fuller said, is its strong commercial business tax base.
"With that increase in our commercial business tax base, we've increased our commercial retail business tax base, which generates retail tax dollars," Fuller said.
Tourism has traditionally helped McKinney's economy, as visitors from other communities paying sales taxes in the city helps ease the tax burden placed on McKinney homeowners.
Visit McKinney Executive Director Dee-dee Guerra said the local tourism industry has been affected "tremendously" by the pandemic. Guerra said Visit McKinney has started to see an uptick in visitors as some people begin to feel safe enough to travel, though travelers are still being budget-conscious.
"People are ready to get out and about, and we're ready to welcome them," Guerra said. "We have high hopes [for next year]. We're hoping to see the numbers go up."
Due to the unexpected nature of the pandemic and in order to remain conservative with estimates, Holloway said he used sales tax from FY2018-19 to project a 3.5% increase in sales tax revenue for the new fiscal year.
"I'm not projecting our sales taxes for fiscal year [2020-21] based off of what I've seen in [the year] yet," Holloway said. "We'll probably do that a little bit closer to Jan. 1. I was trying to project some sort of conservative revenue number to allow us to build a flexible budget on."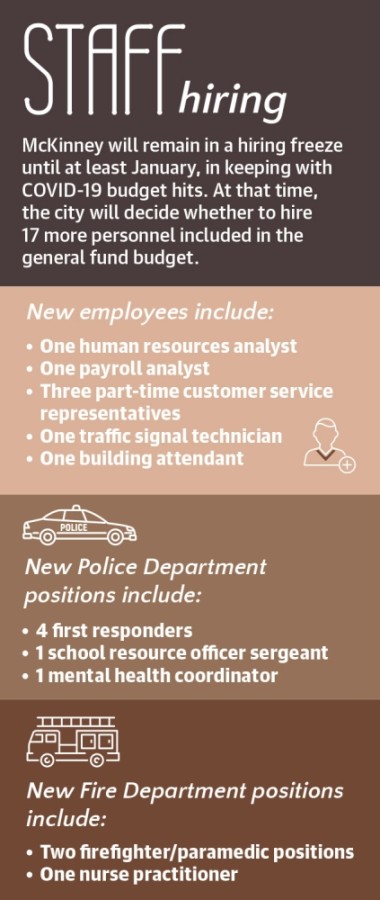 Holloway explained McKinney started seeing gains in sales tax revenue in October 2019 after Hegar began providing cities with sales tax revenue from online orders placed by residents. Because of that, Holloway said he expects McKinney's sales tax revenue to remain at a higher level than it was before that change.
"You're going to see a leveling out," he said. "I think that [FY 2019-20] was kind of an anomaly for us just because of the new way that sales taxes are being collected."
Adding positions
About 47% of the city's general fund budget is allocated to fire and police funding. Among the 17 new full-time personnel to be hired this year, six are being added to the police department, and three are added to the fire department. This includes a mental health coordinator for the police department.
The budget also includes a cost-of-living adjustment of 1.5% for all general government employees. In addition, sworn personnel will receive raises.
While the projected increase in FY 2020-21 sales tax revenue is less than what McKinney has seen during the last six months, Holloway said that was done intentionally to keep the budget conservative.
"If things turn around and our sales taxes start to decline, especially to the end of this year, we would still be able to balance our budget by having some of the hiring freezes and things that we implemented already," he said. "If things remain strong, we will go ahead and open up our hiring and possibly even talk with council about adding some other things back into the budget."