The redevelopment of east McKinney was the topic of discussion during a reinvestment zone presentation Sept. 22.
The city is in the process of analyzing the parking for the east side and how it can best meet the expected redevelopment in the area.
McKinney's historic downtown area on the west side of Hwy. 5 contains more than 2,000 parking spaces in public lots, public garages and on the street. On the east side of Hwy. 5, there are only 53 public lot parking spaces and "very few on-street spaces," according to the presentation.
Below is a map of a number of proposed transportation projects that would improve parking and pedestrian access to the east side of Hwy. 5. The area in blue marked "Parking" relates to a property the city is working to purchase along Dungan Street to construct a public parking lot.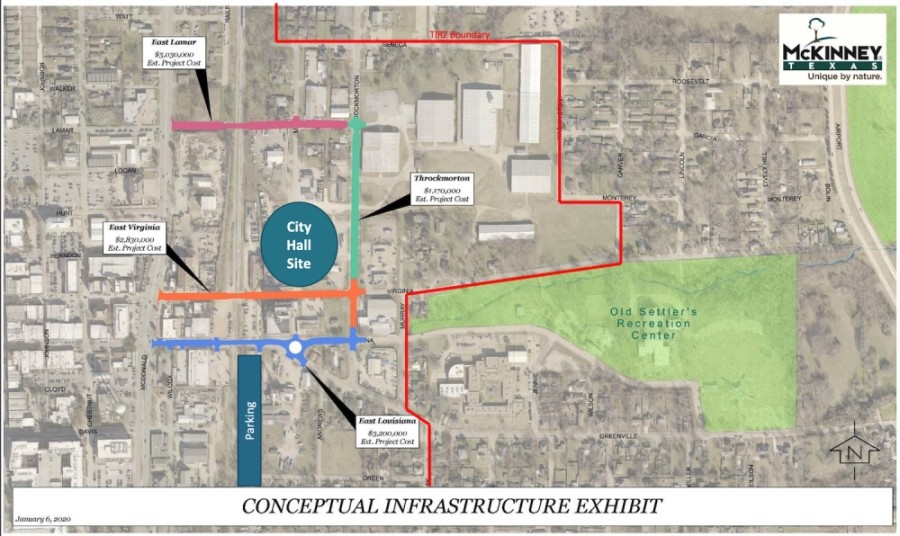 During the presentation, city staff looked for support for the use of tax increment reinvestment zone funds to pay for the project, including the potential relocation of the current tenants of the site. A TIRZ captures any growth in property tax value in a certain area of a city and puts the revenue generated from that value into a separate fund, which the city can use for projects within that area.
No official action was taken during the presentation. The proposed items will be brought back to the TIRZ 1 board for approval when the cost of each item is known.