For the first time in its seven-decade history, the AT&T Byron Nelson golf tournament will be played outside Dallas County, as the city of McKinney will play host at TPC Craig Ranch. The competition starts May 13.
The move to McKinney is one that David Craig, the master developer of Craig Ranch and the founder of its golf club, said he always predicted.
"When we hired Tom Weiskopf to design TPC Craig Ranch, I made it very clear that my vision was that this golf course would someday host the Byron Nelson," Craig said. "It took a little longer than I thought. Seventeen years later, it has become a reality."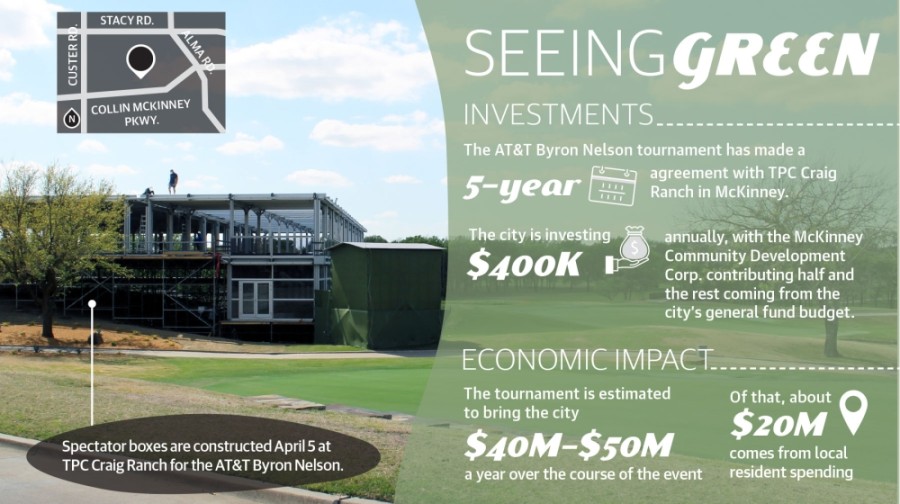 Securing the tournament is something Byron Nelson officials have credited to support from Craig Ranch and the city of McKinney. The tournament will create an estimated economic benefit of between $40 million-$50 million annually.
The Byron Nelson is a weeklong event with four days of competition designed to celebrate the sport of golf, officials said. The televised event serves as a stop on the Professional Golfers' Association Tour. In addition to drawing international attention to McKinney, the tournament is set to bring visitors and business opportunities.
"When visitors come to the city and spend money at our local restaurants and hotels, they are infusing new 'outside' money into our economy, which helps save tax dollars for each community household," Visit McKinney Executive Director Dee-dee Guerra said in an email.
Bringing in the Byron Nelson
In January 2020, the PGA Tour and the Salesmanship Club announced that the Byron Nelson would leave the Trinity Forest Golf Club in Dallas. As golf officials began looking to move the tournament back to TPC Four Seasons in Irving's Las Colinas area, the announcement triggered a series of conversations among McKinney officials—namely, Brian Loughmiller, former McKinney mayor and current McKinney Economic Development Corp. board president; McKinney City Council Member Rick Franklin; and Craig. They each knew people who would be involved in securing the tournament for TPC Craig Ranch, they said.
In March, Loughmiller, Franklin and Craig held what they called a "The Rainy Day Meeting," with McKinney Mayor George Fuller, City Manager Paul Grimes and other key officials present.
"It was like magic, instantly," Craig said. "The room was full of familiar faces. Everyone knew one another."
Shortly after the 2020 Byron Nelson was canceled due to COVID-19, officials announced they would hold the tournament in McKinney in 2021.
Tournament Director Jon Drago called holding the event in McKinney "refreshing."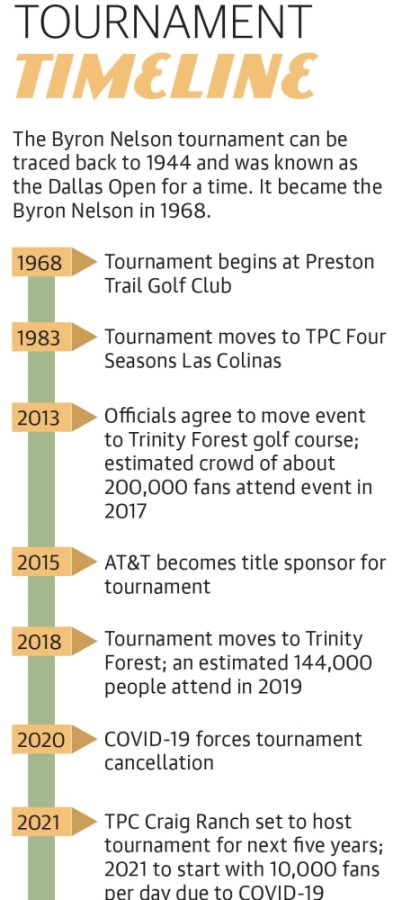 "There's a clear energy for sure around the whole community," Drago said. "The support and the excitement—that's what motivates us. That's what drives us. We feel like we're already a part of the city."
The Byron Nelson has opened an office at Craig Ranch to stay active and engaged in the community even when it is not tournament season, Drago said.
"The whole Collin County community ... showed us that they can handle it and that they were going to be wonderful hosts and that they would do what it took to help us get it done, and so far, they really have," said Jeff Walter, the 2021 AT&T Byron Nelson tournament volunteer chair.
Tournament preparations
Tom Weiskopf, a 16-time PGA Tour winner and noted golf course architect, brought "the purest approach to golf course design" when TPC Craig Ranch was initially designed, according to Craig. This included having nothing encroaching on the course perimeter and using the topography of the land to avoid unneeded excavation, Craig said.
"[Weiskopf] designed the course in a stadium configuration to accommodate large crowds of spectators, anticipating one day we would host a significant event," Craig said.
TPC Craig Ranch has seen a few tweaks made to officially prepare it for the Byron Nelson since the tournament was approved to host fans in March. Floors have gone down, tent structures have gone up, and generators and fiber line for scoring have been installed, Drago said. Other measures, Walter said, have included creating corporate hospitality venues, set up as tented pavilions, around Hole 17 and its surroundings, with food, beverages and some indoor, air-conditioned spaces. This will help to create an electric atmosphere during the final round of the tournament, he said.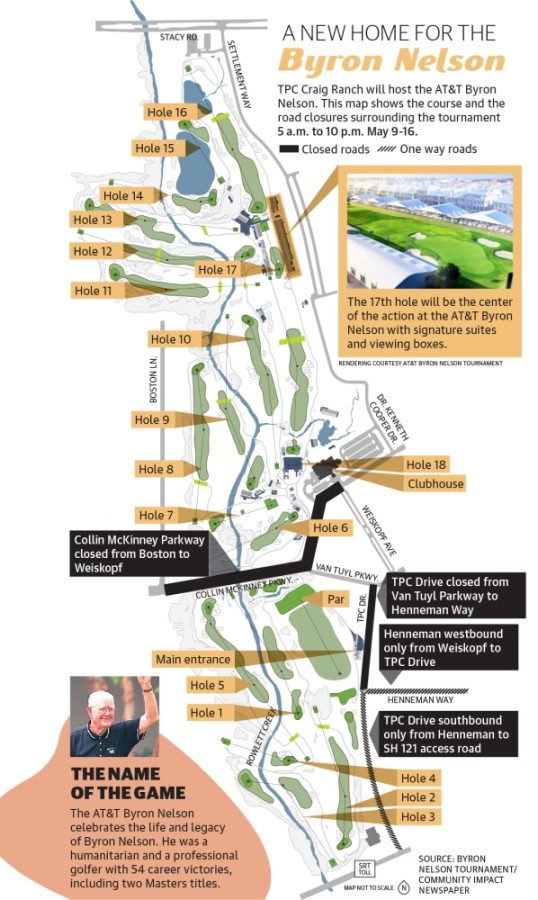 Planning during the pandemic came with additional challenges. Golf Board Chair John Jenkins said Walter and his team had to plan three different tournaments in accordance with different potential pandemic scenarios. In a typical year, it would not be strange for the tournament to host about 200,000 people over the course of the week, Drago said. Past years have also featured concerts to attract even more people and create a party-like atmosphere for the whole community, not just the golf fans.
In early March, the tournament was given permission to host 10,000 fans a day, which helps serve as a baseline, Jenkins said. That number could increase come tournament time as more people become vaccinated.
"Now, we're contingency planning on bringing those numbers up," he said. "So what we've found in the last two years is flexibility is really a key attribute for everybody involved in the planning side of it."
Additional COVID-19 precautions include no-contact tickets, a prohibition of cash payments and enforcement of mask wearing, Drago said. New technology has been employed, such as a security gate that allows people to go through without removing items from their bags or pockets. This helps reduce touch points, Drago said.
The presence of fewer fans and events this year may end up affecting how much money the tournament raises. The Byron Nelson's primary purpose is to raise funds for the Momentous Institute, an organization that works to build and repair social and emotional health with children, families and communities. Over 53 years, $167 million has been raised for the nonprofit, which is operated by the Salesmanship Club.
The city of McKinney's commitment has already been so strong, Drago said, that the tournament has been able to fully fund its programs with the institute this year, even with only 10,000 expected fans. The program is expected to grow as the tournament's presence in McKinney grows: Drago said he expects the 10,000 fans will be about 20% of what the tournament could eventually host at Craig Ranch.
"The opportunities are just endless," Drago said. "We want to grow this tournament at the same pace that McKinney and Collin County are growing, and we want to be a part of that fabric for a really long time."
Driving revenue
Mayor Fuller said the tournament is an international event that will aid McKinney in gaining televised recognition.
"It's great to see our community attract the kind of star-studded attention it deserves," Fuller said in a Twitter post.
While the Byron Nelson has not conducted an official study since its 2013 tournament, estimates from 2008 and 2013 events pegged the event's annual economic impact at just over $40 million, Drago said.
A smaller version of that study conducted by the Dallas Convention & Visitors Bureau in 2018 showed a $12 million boost from hotel room stays alone, he said.
The tournament not only brings televised coverage but also 150-plus professional golfers and everyone who travels with them, as well as the PGA Tour itself, which will boost business for restaurants and hotels in the area, Jenkins said.
"It's like any other big event, and there is definitely a hard dollars-and-cents impact on the community itself," he said. "That's what's so much fun about really having partnerships like this is [that] there isn't an 'I win, you lose' proposition. It's very much a win-win for everybody involved."