The Collin College system is looking to expand its academic offerings with a new baccalaureate program in construction management.
Collin College has offered training and workforce development for both traditional and nontraditional students at 11 locations throughout the county for almost four decades. Historically, attendees have sought associate degrees, certificates and dual credit courses.
Last year, Collin College launched its Bachelor of Science in Nursing and Bachelor of Applied Technology in Cybersecurity programs. These were the college's first baccalaureate degrees after the Texas Legislature passed Senate Bill 2118 in 2017. That law granted community colleges the option to offer up to three bachelor's degrees in nursing, applied nursing, applied science and applied technology.
Up next is a bachelor's degree in construction management, which Collin College's board of trustees approved last spring. This will be the school's third baccalaureate program if approvals are granted by regional accreditation agencies.
Officials at the college note the affordability of the new degrees as a benefit for students on a budget. At the school's in-district rate, students can earn a bachelor's degree in cybersecurity for less than $10,000. Residents in the nursing program can complete the degree for less than $13,000. For most public, four-year universities in the state, that would equate to only about two semesters' worth of tuition.
"We have to offer the baccalaureate degree at the same tuition rate and same structure as our existing programs," said Abe Johnson, Collin College's senior vice president of campus operations. "So, these baccalaureate programs are very, very affordable."
Steps for approval
Gov. Greg Abbott signed Texas House Bill 3348 in June, which amended a law relating to the number of bachelor's degrees community colleges may offer. The bill allowed Collin College to add two more degrees, which have yet to be determined, bringing the total to five.
The next step for the proposed construction management degree is presenting the request to the Texas Higher Education Coordinating Board, the highest authority on post-secondary education in the state. Representatives from the board review the request and allow institutions that offer similar programs to raise support or concerns.
Sherry Schumann, executive vice president of Collin College, said the response time from the THECB varies.
Once the THECB accepts a program, college officials send an application to the Southern Association of Colleges and Schools Commission on Colleges, the accreditation body for higher education institutions in southern states.
Schumann said she suspects that many colleges are submitting applications after the passage of the bill, which would slow the approval process.
"That's why we're hesitant to say [the degree] will start at [a certain] time, because their job is to do the review once we submit it according to the deadlines," she said.
A proven talent pipeline
If Collin College receives approval for a bachelor's degree in construction management, it will build on the courses already offered. Currently, students can pursue an Associate of Applied Science in Construction Management and two certifications in the field.
Mario Sinacola & Sons, a Frisco-based construction company, recruits employees from McKinney and other Collin County cities. Anthony Phillips, vice president of human resources, said job seekers with bachelor's degrees have significant advantages over non-degreed individuals.
"We do a lot of excavating and operating heavy equipment," Phillips said. "We do have project managers that oversee those construction projects, so anyone that's applied themselves to get that discipline is a value because that means that they understand the context of what we do."
Phillips and other company executives visited the college earlier this year to get acquainted with students and faculty.
"We've already placed individuals from their construction program into our workforce," Phillips said. "We hope that we'll just continue to build upon that relationship and have a feeder pipeline from full education to internships."
Mario Sinacola & Sons hosts internships each summer. Phillips said two-thirds of interns are typically hired as full-time employees.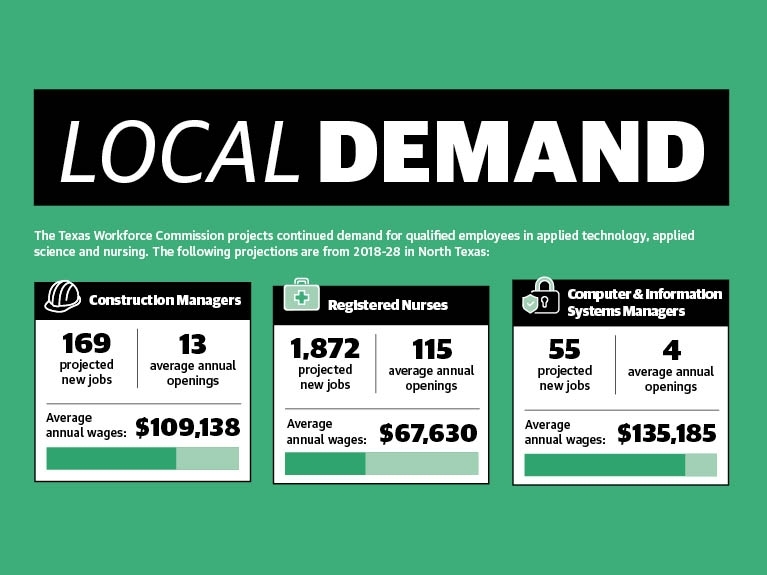 Baccalaureate program success
Like many other industries, "construction is in a war for talent," Phillips said. This workforce demand is what led to the expansion of degree options at community colleges.
Many hospitals hire nurses with bachelor's degrees because it helps them reach Magnet status, an accreditation achieved by maintaining a high standard of care, said Dr. Betty Veasy, director of nursing at Collin College.
Hospitals seeking Magnet status will hire nurses with an associate degree less often than those with a bachelor's degree. Nurses usually have a timeframe to earn a bachelor's degree as an employment contingency, Veasy added.
Students seeking a Bachelor of Science in Nursing at Collin College must already have a registered nurse license. This provides a convenient transition for students who are already in the school's associate degree programs.
The Bachelor of Applied Technology in Cybersecurity is structured similarly. Students must already have an associate degree in cybersecurity.
The cybersecurity bachelor's degree program had 20 students in its inaugural semester in May of 2020. In its second semester, the number grew to 51. This semester, 91 students are enrolled, which surpasses the number that officials gave the program to keep it stable in the long term.
Cybersecurity Director Ervin Frenzel attributes the growth to the quality of instructors. Faculty are experts in industries, including banking, insurance and the military, Frenzel said.
"We have people with Ph.D.s in computer science encryption, and that's a rarity already because there's only so many people who go down that path," Frenzel said.
When college officials conduct surveys for potential new degrees, they request community input, including from surrounding school districts, Schumann said. Part of the information-gathering process includes looking at what high schools offer as career and technical education credits.
Like the college's established programs, future baccalaureate degrees at Collin College will focus on workforce experience, a quality officials attribute to the success of their curriculum.
"[Degrees are] more based on applied type of knowledge rather than theoretical knowledge," Johnson said. "[Students] come out with the level of hands-on experience that potentially other places may not be able to offer."
William C. Wadsack contributed to this report.