Collin College will have several learning options—and a mask-wearing requirement—for students and staff returning this fall.
When COVID-19 made its way into the North Texas area in March, all classes at Collin College abruptly transitioned to an online format. The college moved about 33,000 students in 4,000 different courses online in less than a week, officials said. Now, the college is looking ahead to Aug. 24, when classes start for the fall semester.
"Safety and flexibility are the key considerations for fall," said Toni Jenkins, senior vice president of campus operations for Collin College.
This fall, the community college will offer on-site and remote learning options as well as combinations of the two. Students will be able to choose from various options at the time of registration, which opened July 24 for fall, according to college spokespeople.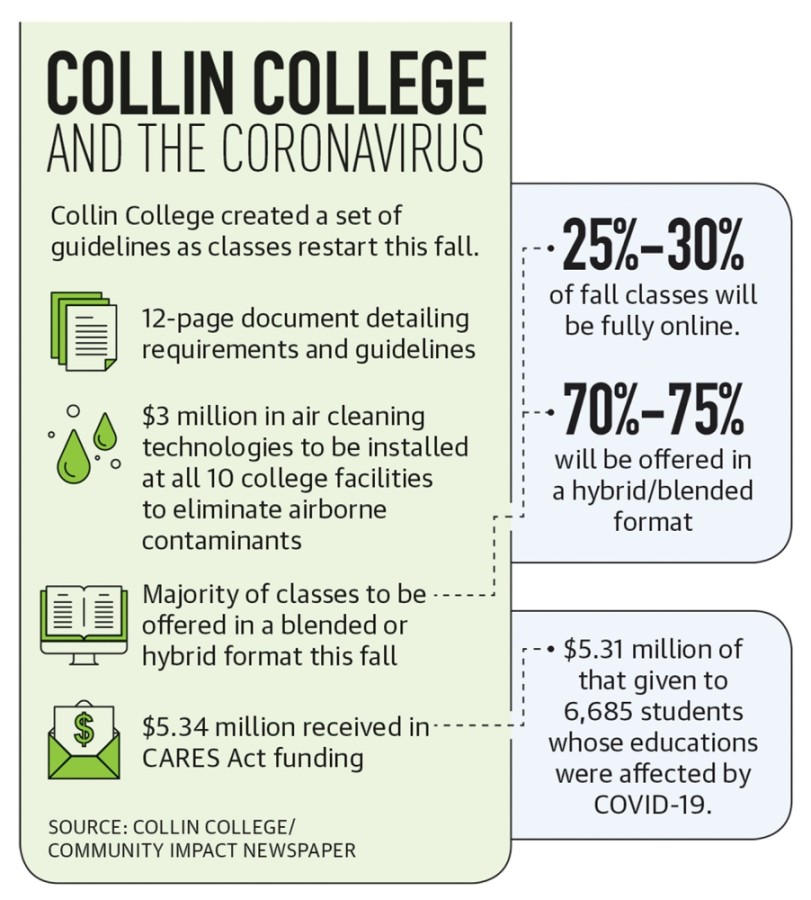 Students who need to complete coursework or labs have continued to attend classes at the college despite the rising number of COVID-19 cases in recent weeks in Collin County, officials said. Over the summer, the college experienced more than an 11% increase in enrollment for summer classes as compared to summer 2019, or a 15.9% increase over the last five years. While student enrollment has been increasing each year at Collin College for several years, officials said they are not yet sure how the pandemic will affect enrollment numbers for the fall semester.
McKinney resident Liz Biesemeier said she is registered for four classes at Collin College this fall, three of which will be online. She said she feels safer taking classes online and would like to have her fourth class moved to an online format if possible. However, she said she is willing to take the class in person to continue her education.
"I'm not going to put my life on hold completely just because of something that's out of my control," Biesemeier said.
Challenges to address
As the college looked at bringing students back, Jenkins said there were several challenges to consider.
For instance, Collin College has established partnerships for dual-credit classes with multiple school districts in the surrounding area, including McKinney ISD. Last fall, 781 MISD students were enrolled in dual-credit classes, according to college documents.
Most school districts are still tailoring their plans for the upcoming school year due to the COVID-19 pandemic, which has made coordinating with these districts more difficult, Jenkins said.
In addition, the college is opening new facilities. Its new $177 million Collin College Technical Campus in Allen, which opens this fall, will offer McKinney ISD students the opportunity to earn certifications and a year of credit in one of 10 technical career areas by the time they graduate high school with dual credit classes.
The surrounding communities are looking forward to these developments, so it is important that these projects stay on track for the upcoming year, Jenkins said.
The most important thing to ensure in this upcoming semester is that students have choices to the fullest extent possible, she said.
"We're very committed to reopening this fall but doing so in the safest possible way," Jenkins said.
Plan for fall semester
Masks will be required in all public areas of the college as well as in spaces where physical distancing is not possible, according to the college's fall restart plan.
While the school will have a limited number of masks available, students, faculty and staff will be expected to bring their own masks to college, per the plan.
According to the district's fall restart plan, the blended classes will provide for the flexibility needed for classes to move into an online-only format again, officials said.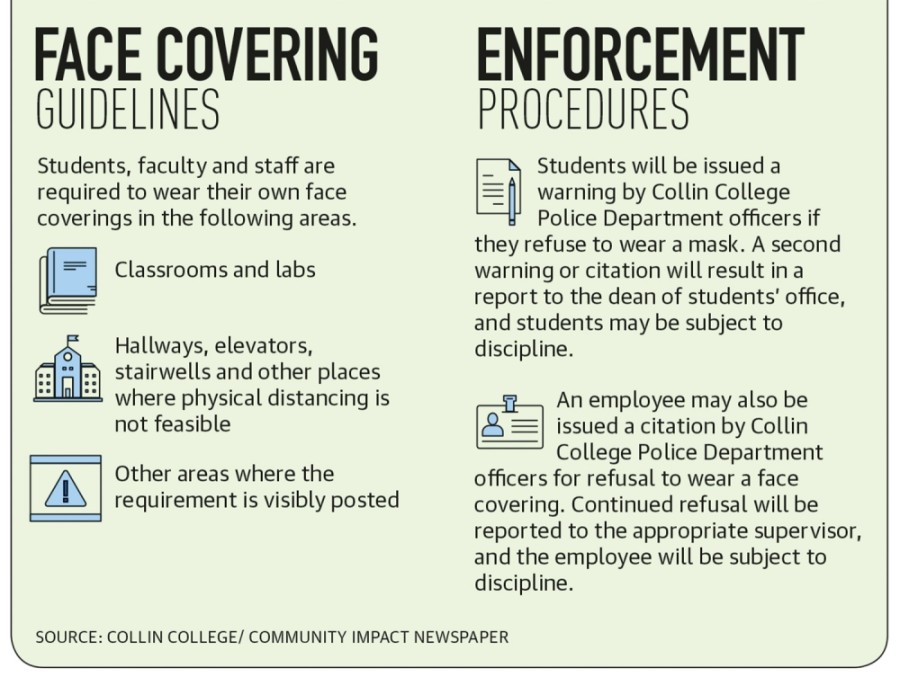 This could be needed for students who could be asymptomatic and need to isolate or self-quarantine, per college documents.
Collin College has identified select areas at its campuses, including nursing or health care labs, to perform temperature screenings. Other areas may host screenings in the fall if deemed necessary. The college has also expanded its contracted cleaning services to high-traffic areas and restrooms on campuses.
According to the reopening plan, students and employees will be expected to self-screen before arriving on campus. They should be able to certify that they are not actively infected with the virus; do not have a fever, cough, or other symptoms of COVID-19; and have not been in close contact with anyone known or suspected to have tested positive for COVID-19 in the previous 14 days.
If a student or employee is exposed to COVID-19 while on campus, the college will notify all affected individuals and may take additional action, including a short-term closure of the affected campus.
Some faculty members at Collin College are concerned about teaching in person. A
13-page resolution
posted on the college's website from its Faculty Council—a standing, 28-member committee that represent faculty members in college matters—highlights concerns from some instructors regarding the hybrid and in-person models. These concerns include the risk of infection in an indoor setting versus outdoor setting and the expectation that faculty teach in person.
College leadership addressed this resolution at a special meeting July 23 and documented its responses online. One concern regarding the recommendation to move most courses online is that many students have reported that they do not learn effectively in an online format. In addition, not all students have access to the technology resources needed for online classes, according to the document.
The college is also allowing faculty to state a preference on how they teach if faculty members need accommodations.
The July 23 meeting also implemented additional measures for students and faculty, such as a pilot telehealth benefits program for students, adjunct faculty and part-time staff; a paid sick leave plan for adjunct faculty; and merit pay for faculty completing spring face-to-face labs and clinicals. Also, a new air cleaning technology has been set up at all 10 of the college's facilities to help eliminate airborne contaminants.
"[These programs] all demonstrate our full commitment to protecting the health and safety of our dedicated faculty, staff, and students," District President Neil Matkin said in a news release.