While nonessential businesses were shuttered through much of April due to the coronavirus pandemic, the city of McKinney collected more sales tax revenue from this month than expected.
The city of McKinney's sales tax payments for June, which reflect sales from April, totaled $5.25 million, up about 12% from what the city collected in June 2019, according to data from the state.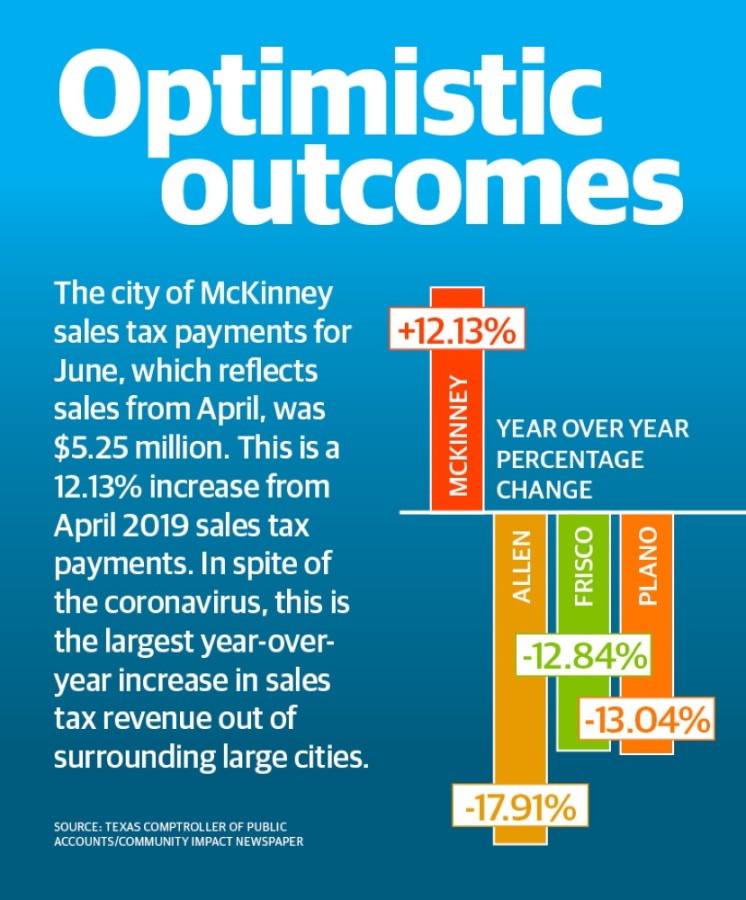 Sales tax payments from the previous month, which reflect sales from March, were down 1.1% year over year, according to state data.
"Clearly, we were expecting to receive a year-over-year decrease for this month," said Mark Holloway, the chief financial officer for the city. "We're cautiously optimistic about our numbers for the rest of the year. But sales tax during these times can be volatile, so we're going to remain very conservative with our projections."
It was "surprising" to see McKinney's numbers be as different as they were from sister cities, such as Plano and Frisco, Holloway said. Because of that, his department will maintain a cautious approach and watch to see if this is an actual trend in the city, he said.
When the pandemic hit, Holloway said there was an expectation the city's revenue was going to be "horribly affected." He projected a $3.8 million shortfall in general fund sales tax from what was budgeted.
To help combat this, the city implemented a hiring freeze and part-time furloughs. In spite of the jump in sales tax revenue, Holloway said these contingency plans will remain in effect until the city has some more information.
It is unclear what is contributing to the increase in sales tax revenue, Holloway said. The city has not yet received the confidentiality report that shows the makeup of the sales tax revenue income numbers, he said. However, sales tax revenue for the city had been trending strongly year to date, he said.
In addition, this year the Texas comptroller's office began to include online retail sales with sales tax allocations this year, and that might also be contributing to McKinney higher collections, Holloway said.
"We think that is helping to drive our numbers, but we don't know the makeup of this particular month yet," he said. "It'll be at least a month before we do know what's in those numbers."
The department is working to dig a little deeper into these numbers and will talk to the McKinney City Council at the upcoming meeting June 16 to provide an update, Holloway said.
"We're still going to be very cautious overall throughout the summer," he said. "The onus will be on us to continue to monitor sales tax and our other revenues and try to do the best we can for the rest of this fiscal year."