McKinney is moving forward with efforts to breathe new life into the city's historic east side.
The area directly across Highway 5 on East Louisiana Street holds the remnants of McKinney's industrial era, with old flour mills, railroad tracks and a grain elevator. In January, city staff introduced redevelopment project plans and upcoming public outreach efforts.
The goal of the eight projects proposed for this location, which include a new City Hall and road work, is to better blend the city of McKinney's east and west sides through a redevelopment that will unfold over the next three to five years, officials said.
"We think it's going to be a huge benefit for the people who live [on the east side]," Assistant City Manager Barry Shelton said. "We can build a front door for those folks and maybe something that their neighborhood can make use of."
Shelton said this is the biggest project he has seen during his time with the city.
"This has potential to impact not only the people who live in the district, and hopefully in a positive way, but also just the way people look at East McKinney," he said.
Upcoming projects
The January East McKinney update described the projects the communications and outreach team will share as they progress. This included the relocation and expansion of Tupps Brewery, the new municipal complex, the neighborhood preservation study and five road projects.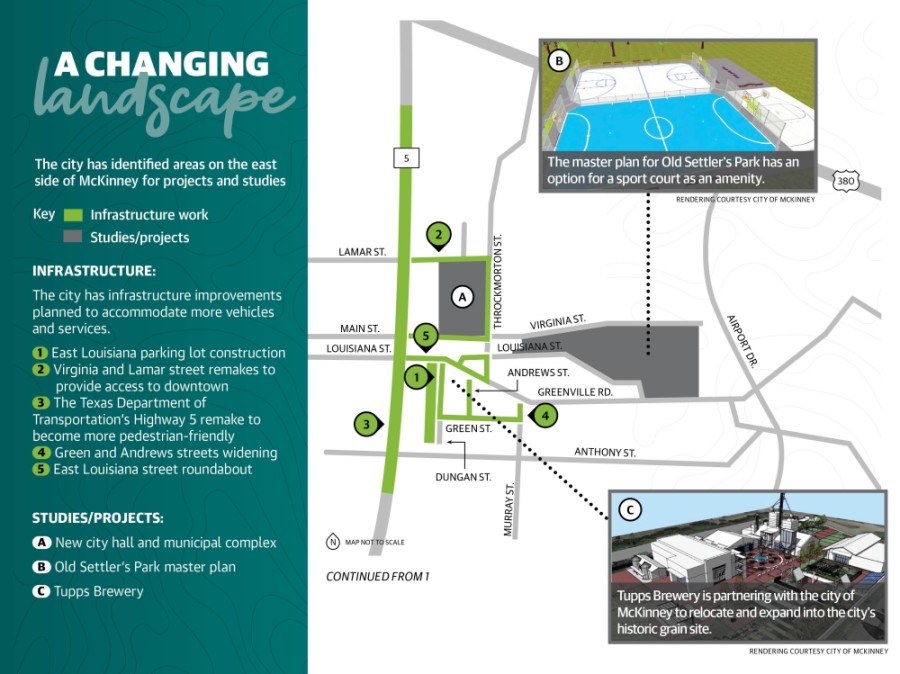 A new city hall has been in the books since about 2006, Shelton said. The city offices out of a former bank building in downtown McKinney and has its operations spread out in about eight buildings it owns and leases. There is not currently enough space to house all the city's services under one roof, Shelton said.
To help remedy this, in 2019 voters approved a $50 million bond for the construction of a new municipal complex. The city is currently looking to build it on 13 acres in the former area of Big Bass Towing, at Main and Virginia streets, Shelton said. The space will also host Municipal Court parking and open spaces, he said.
"Right now we're so dispersed it's difficult for citizens and other customers or developers to understand where to go and who to talk to, so that'll be one benefit," Shelton said.
Another project for this area has been called a "catalyst"—the relocation and expansion of Tupps Brewery.
Over the summer Tupps partnered with the McKinney Community Development Corp. for an $11 million grant. This will allow the corporation to renovate the city's historic grain site at the corner of Greenville Road and Dungan Street across from The Mill at East McKinney. Tupps will then be able to expand its operations into the leased space as well as develop more entertainment options, such as an event lawn and silo shops.
Adjacent to Tupps will be the East Louisiana parking lot, which will begin construction in 2021 as well. Having enough parking allows the city to build a dense development pattern, similar to what McKinney did in its current downtown, Shelton said.
"We can get somewhere around 200 parking spaces on the property," Shelton said. "There's a lot of historic buildings ... that could redevelop with shops or restaurants, but they don't have enough parking in the area."
Parking works hand-in-hand with an upcoming Texas Department of Transportation project, which will reconstruct about seven miles of Highway 5 into a four-lane divided roadway with sidewalks and pedestrian crossings. This project is expected to begin in 2023 and be completed in 2026 for $138 million, according to a TxDOT presentation.
A tale of two downtowns
When many of McKinney's industrial companies went out of business, growth and development shifted to the west of Highway 5, Shelton said. The west side of McKinney has grocery stores, shopping centers and major employers, but East McKinney lacks many of these amenities.
Residents there have told the city they've felt forgotten, Shelton said. But improvements could come at a cost, and residents are aware of that as well. In recent Council meetings these residents voiced that they would not be able to afford higher property taxes that come with the area's planned improvements.
While the city's goal is to reinvigorate this area and provide a nice place for residents to live, it is a balancing act, Mayor George Fuller said.
"We are committed to protecting current residents from escalating property taxes that may otherwise drive residents out of the community as new and high value development occurs," Fuller said in an email. "It is all a fragile balance, but done successfully, will provide a great enhancement for the current and future residents of McKinney."
To that effort, city staff will launch a study to measure the effects these projects will have on the existing neighborhoods.
"We want to make sure that we understand what we can do to mitigate any negative impacts," Shelton said.
This includes examining state law regarding neighborhood protections and researching examples from other cities, such as Austin, that have paved the way in creating affordable neighborhoods, Shelton said.
In addition to quarterly updates at City Council, staff is looking at virtual and in-person meetings with east side residents on a regular basis.
Angela Richardson-Woods is the new interim council member for District 1, which covers McKinney's east side. She said she would like to have a subcommittee of residents from the district provide context and insight as developers come into these historic neighborhoods. She also plans to meet with residents and hear their concerns.
"With this community being unique by nature, we are also unique by culture," Richardson-Woods said, citing McKinney's brand and tagline. "We have so much diversity that is rich."
Richardson-Woods comes to City Council after having served on the McKinney Community Development Corp. board. She now has a front-row seat to seeing the vision for the east side come to life, she said.
"Hopefully it will give the feel that it's not a broken section of the community," she said. "It will all flow."
A look ahead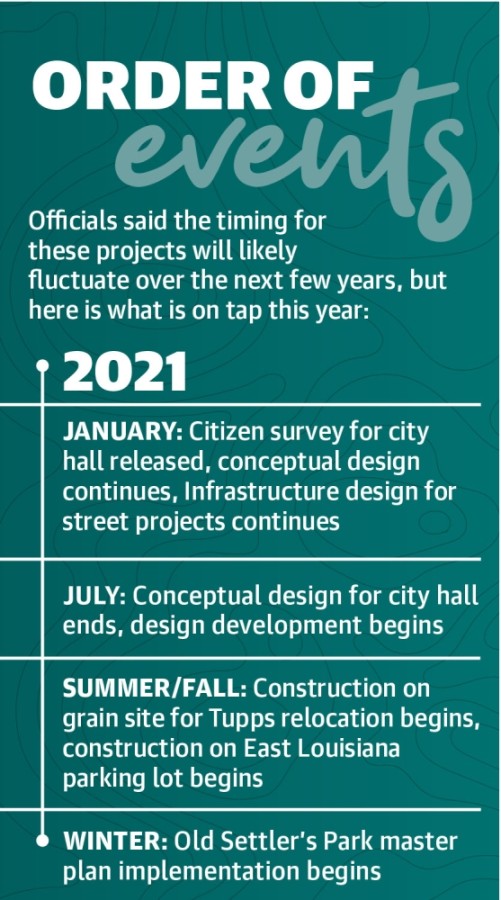 As these projects move forward, regular updates will be made on a city-curated webpage, which can be found at
www.mckinneytexas.org/eastside
. The website will serve as a central location where residents and stakeholders can check into the projects and provide comments.
There will also be engagement opportunities for the public, such as the ongoing survey for what amenities the new city hall should provide.
Upcoming outreach meetings will have a goal of engaging residents who might not have Internet access or who cannot easily navigate a web page, Shelton said.
City staff stressed their goal to engage the residents and preserve the history and culture that exists on the east side while also moving forward with key redevelopment projects.
"There are a lot of exciting things happening, but a building is not going to go up tomorrow," Assistant City Manager Kim Flom said. A lot of these projects are at their beginning stages, so we're at the perfect time to make sure we have that umbrella to communicate."