Rich Whitaker spent the majority of his day May 8 answering the phone.
"We've had 127 requests online that I'm trying to go through, and we've had voicemails that I haven't been able to get to, and then we have new clients that are still calling," the owner of 209 Salon in McKinney said. "I can't get off the phone."
It is not a bad way to be welcomed back, he said.
Whitaker said he is used to having a steady stream of clients schedule appointments. But that all changed about two months ago, as stay-at-home orders from the coronavirus pandemic required nonessential businesses statewide to close. Whitaker said 209 Salon was closed for seven weeks.
As part of Texas' phased reopening,
Gov. Greg Abbott has allowed barbershops and salons across Texas to reopen
May 8 as long as they follow social distancing and sanitation regulations.
Abbott's recommendations, for which compliance is "strongly recommended," according to protocols issued by his office, include limiting the number of clients, offering less complex and time-consuming services, checking customers' temperatures, and always having both employees and customers wear face coverings.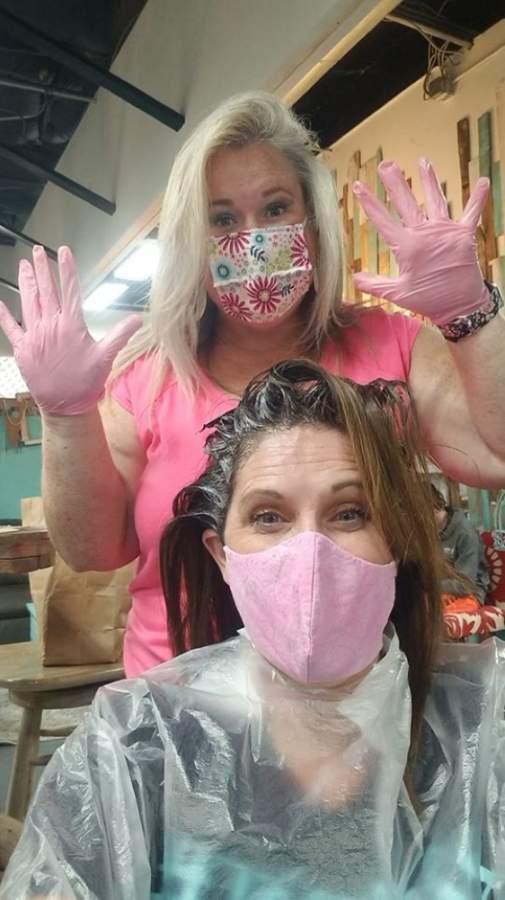 Courtney Warnell said her McKinney business, Southern Sisters Salon and Boutique, has followed many of these hygiene practices, such as discarding gloves after use, since before the virus. Her salon reopened May 8 as well and is requiring customers to wash their hands as they come in. High touch-point areas, such as magazines and the coffee station, have been removed, she said.
"It's kind of sad because we are Southern here, and we like to feed and water our guests," Warnell said.
Just after midnight on May 8, the lights at Southern Sisters Salon and Boutique were on, and the McKinney hair salon was servicing its first customer.
"I have not worked in 54 days, so believe me when I tell you I could not wait to be back," Warnell said.
Business on the first day has been strong, she said, with customers being supportive and excited to return.
"We have had so many people call and so many people walk in," Warnell said. "It's so exciting to talk to people and to hear how happy people are to be out."
There are other salons in McKinney that also reopened May 8, such as Balayage Bar & Boutique and All About U. These businesses are following state guidelines by providing hand sanitizer, wearing masks and limiting the number of people in the salon at any one time.
Kristen Markiewicz, the owner of All About U, said she has received positive feedback from her clients about making sure they feel safe and comfortable when they come in for an appointment.
"I just put in the protocols pretending, for example, that I am a client and coming to get my hair done," she said. "I would want to make sure that the place that I'm going to is actually doing all these things and taking the precautions."
Since customers are required to wear masks in the salon, everyone is made aware of this requirement ahead of their appointment time. Masks are also available for purchase at the salon, she said.
"We'll see as the weeks go by, and what the CDC and [the Texas Department of Licensing and Regulation], what the guidelines are," Markiewicz said "We're just following all the guidelines. And I think the people feel really, really safe."