Guidepost Montessori at Eldorado has reopened to offer "Emergency Care for Essential Workers" at a reduced cost in McKinney.
The program serves children from 8 weeks to 6 years old in groups of eight or nine children in each classroom. Children receive daily health screenings, and classrooms have been reorganized according to social distancing guidelines, according to an April 13 release.
More than 30 Guidepost Montessori schools have reopened across the country, including
Guidepost Montessori at Eldorado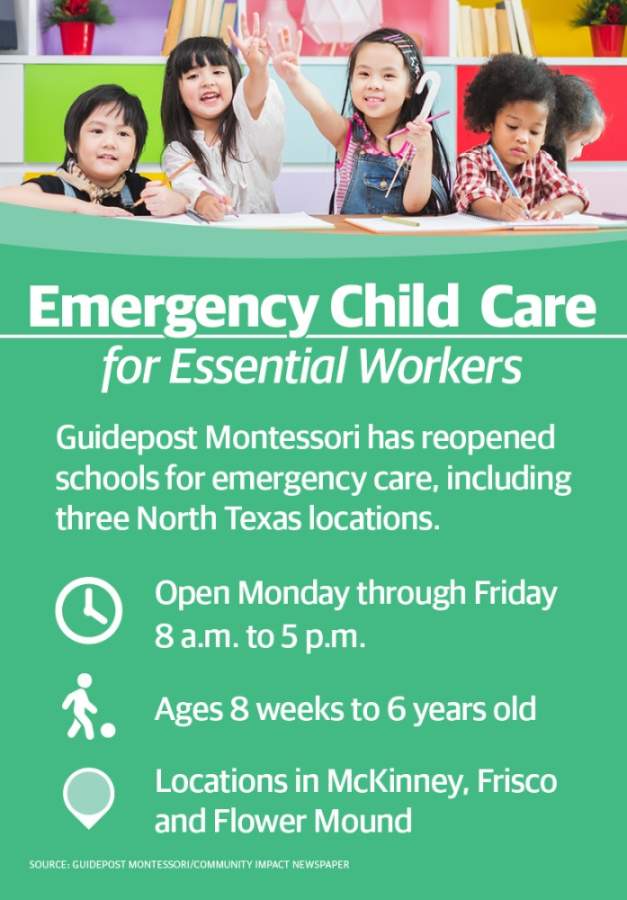 The program is open to all families working in essential industries, regardless of prior enrollment, according to the release. Essential fields include public health and safety, food and agriculture, transportation and logistics, military services, manufacturing and distribution, engineering, public works and infrastructure and communications and information technology.
The emergency care is being made available at a significantly discounted tuition, the release said.
"Our country is and will increasingly be challenged by an emerging crisis in child care capacity," said Ray Girn, CEO of Higher Ground Education and Founder of Guidepost Montessori, in the release.
More information can be found at the school's Emergency Care for Essential Workers
website
or by calling Guidepost Montessori at Eldorado at 972-427-4018.
The program is also available at North Texas locations
Guidepost Montessori at Stonebriar
and
Guidepost Montessori at Flower Mound
.