It was a winding road that led Chris Sykes to take over his family's jewelry business, he said. Sykes studied theater in college, and later on, he worked in the building industry before deciding to pursue something else.
"I came to be interested in the jewelry store around 35 years old. ... It was everything that I wanted to do on a more mature adult level," Sykes said. "It was precious metals. It was still art; it was still gold and beauty."
Sykes started at the family's Plano store, gaining experience and knowledge, before buying the McKinney store, My Diamond Shoppe, from his stepfather around 2015.
In his store, Sykes helps shoppers find pendants, earrings, bracelets, rings and more made with gold, silver, gemstones and other precious metals. A workspace in the back allows Sykes to clean, polish and alter jewelry.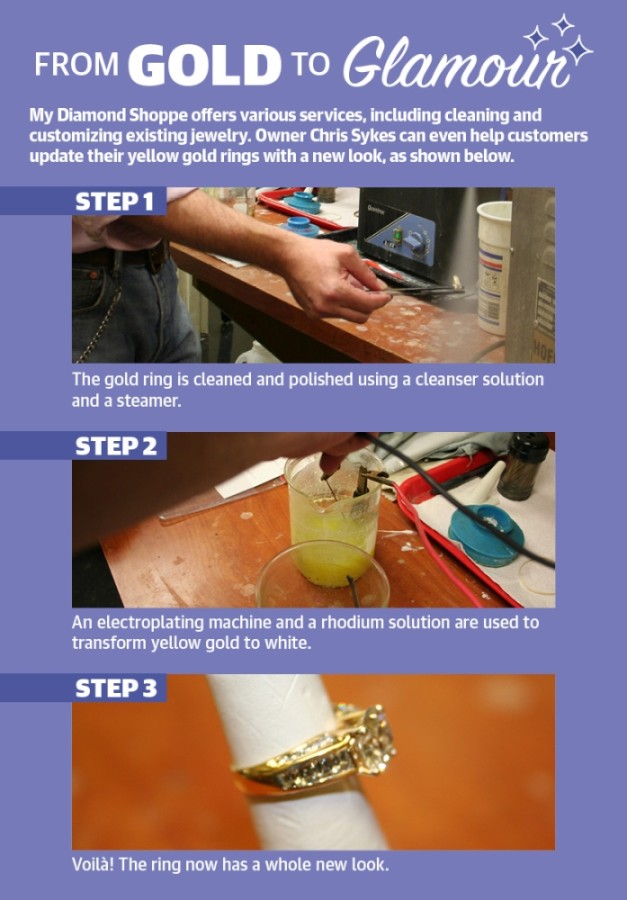 My Diamond Shoppe also offers appraisals, watch repair and old jewelry buying and resale.
Like many other businesses, My Diamond Shoppe had to temporarily close amid the COVID-19 pandemic this spring. Sykes said the store reopened gradually after receiving calls and emails and increasing its online presence.
"We started taking appointments, and it grew from there," he said.
The summer months are usually slower for the jewelry business, Sykes said, but following the pandemic, he noticed more people coming in for gifts as well as for custom jewelry designs.
"It was as if going through all this, people were making their purchases count, so we had some unexpected buys," he said.
While some classic jewelry trends never go out of style, such as diamonds and white gold, people are increasingly looking to buy things that have more personality, Sykes said.
"A lot of people these days, in my opinion—they love an imperfection," he said. "They love a little grease spot in the corner of that design. That's a very personal choice. The quality of those characteristics makes it more unique than anything."
If shoppers cannot find exactly what they are looking for, Sykes said, they can commission custom pieces or bring old family jewelry to be recrafted.
"Repurposing is the most fun because I'm actually fixing and making something to send back out into the world," Sykes said.
It also means a lot to the families, he said, as these items usually have a special meaning. They represent something tangible to hold onto, which is a big part of what drew him to this profession, he said.
"[Jewelry] has a lot of history and science to it all at the same time," Sykes said. "There's a lot of mystery in it."
Additional reporting by Miranda Jaimes
My Diamond Shoppe
6150 W. Eldorado Parkway, Ste. 190, McKinney
972-369-0111
www.mydiamondshoppe.com
Hours: Tue.-Fri. 10 a.m.-6 p.m., Sat. 10 a.m.-5 p.m., closed Sun.-Mon.