Prospective homebuyers in Lewisville, Flower Mound and Highland Village are facing a historically tight market with low levels of supply and skyrocketing sales prices.
As of May, there was 0.5 months worth of housing inventory in Lewisville, Flower Mound and Highland Village, down from 1.1 months in May 2020, according to data provided by the Greater Lewisville Association of Realtors. A healthy market is one that has six months worth of homes available to buy, according to the Texas Real Estate Research Center.
A lack of supply is behind the surge in home costs year over year, with May data showing median sales prices in Lewisville, Flower Mound and Highland Village up by about $36,000, $81,000 and $139,000, respectively.
Despite these challenges, real estate experts hold out hope that inventory levels will go up as seller confidence is restored and issues around the building supply chain are resolved.
"We do expect the market to slow down," said Jim Gaines, an economist with the Texas Real Estate Research Center. "The dominoes have to fall in the right order and at the right time—and that's being disrupted a little bit."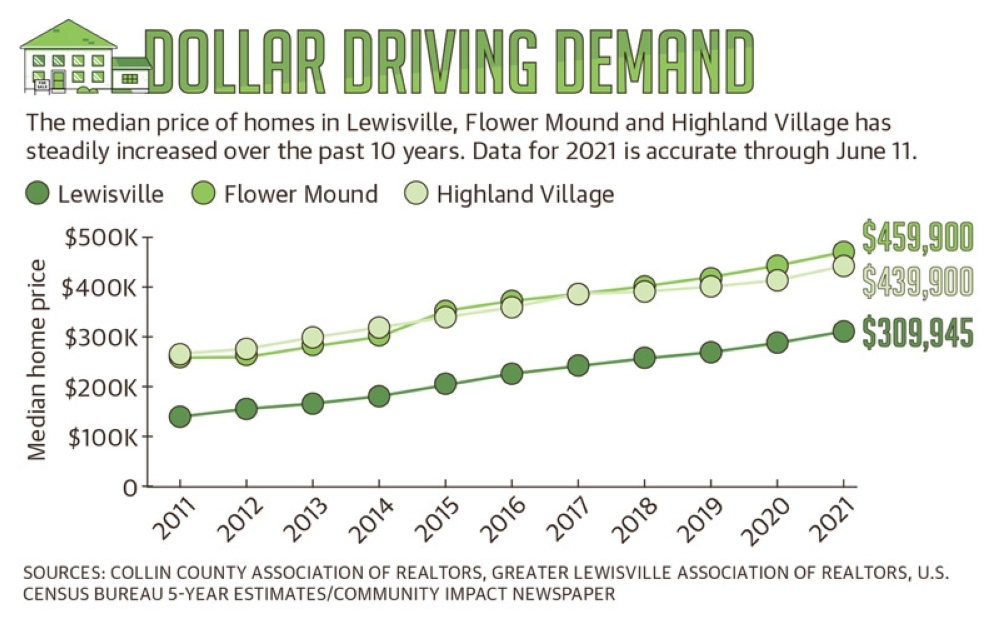 Effect on first-time homebuyers
High levels of demand mean most homes are selling for above asking price. But the bank will only approve a loan for what a home is worth, said Lisa-Marie Thompson, a Flower Mound-based loan officer with Primary Residential Mortgage Inc. Many first-time homebuyers do not have the cash on hand to make up the difference, she said.
"This isn't a market that is feasible for them," she said. "It's almost impossible."
As a result, millennials and other first-time homebuyers in the Lewisville, Flower Mound and Highland Village area are flocking to nearby cities, such as Hurst, Euless and Bedford. These areas have a greater supply of homes listed at lower price points, said Audra Smolinski, broker and president of Lewisville-based Loves Realty.
"The people that are in apartments in Lewisville can't afford to live in Lewisville," Smolinski said. "Our home prices have doubled since 2011. So whenever you talk about a Lewisvillian owning a home, you're talking about them moving outside of Lewisville."
Renita Mosby rented in Lewisville for five years before deciding to buy her first home. With help from Smolinski, Mosby began her search in December but was quickly priced out of the market.
"People were going $40 [thousand], $50 [thousand], $60 [thousand above asking], cash offers," Mosby said. "All kinds of crazy stuff was happening."
Two months later, Mosby bought a new-build home for her and her son 30 miles northeast in Celina.
"Why pay $400,000 for something that was built in 2001 when I could go to a new development farther north and have a brand new home?" she said. "So that's what I decided to do."
Resolving issues of supply
Skyrocketing prices are not the only thing preventing first-time homebuyers from entering the market. Baby boomers and other older residents are aging in place, which is curtailing resale inventory, Ebby Halliday President and CEO Chris Kelly said.
"What we have found is that people are living longer, they're healthier, and they're staying in their homes longer," Kelly said. "So there wasn't this natural migration out of homes ... that would have created a supply as millennials grew into the homebuying age."
The prevalence of investors buying single-family homes as rental properties is also responsible for low levels of supply, according to Brenda Taylor, a Realtor with RE/MAX and president of the Greater Lewisville Association of Realtors.
"One of the sad consequences of this market is that investors have taken over," she said. "First-time homebuyers can't compete."
Taylor said real estate advocacy group Texas Realtors is working with state legislators to enact policies that would alleviate housing affordability and supply issues. One strategy is to use capital gains tax reductions to incentivize the sale of investor-owned or -rented single-family properties to first-time homebuyers, she said.
Land, supply chain complications
Despite the challenges, interest from developers persists, particularly with an eye on multifamily, single-family and townhouse developments, said Michele Berry, the planning manager for the city of Lewisville.
"We are 93% built-out, so it is more challenging to find land for any use," Berry said. "If [a parcel] hasn't developed yet in Lewisville, there's probably a reason that it may not have developed yet."
Similarly, more than 73% of Flower Mound's acreage that is zoned residential is already developed, according to the city's 2020 Growth Profile Report.
In Highland Village, there are approximately 42 acres of undeveloped residential property, according to city staff.
Driven by demand, developers are increasingly looking at less conventional routes to new homes, Berry said. That may include converting commercial zoning to mixed-use, redeveloping larger lots in older parts of the city into multiple lots for smaller homes, or piecing together neighboring parcels from several property owners.
"Developers are interested in doing that now, where I don't know that they would have been prior," Berry said. "We are seeing people look at more challenging pieces of land."
Even when there is available land, disruptions to the supply chain have further complicated matters for homebuilders. According to the National Association of Home Builders, or NAHB, aggregate construction material costs are up 12% year-over-year, and lumber costs have increased by as much as 300% since last April.
And while contractors have had to deal with shortages and price spikes in the past, it is often just with one item at a given time. There are documented issues with lumber, metals and semiconductor chips, among other materials.
"We're going to be coming off these historic highs for lumber, but it's also affecting concrete," explained Lucas Patterson, an executive vice president for Bright Realty, the developer behind Castle Hills. "That same homebuilder, because of supply, they're only allowed so many feet of concrete a week."
Taken together, land and supply chain challenges are helping to drive prices up. NAHB data suggests recent material cost increases have raised the price of a new single-family home by $36,000 over the past 12 months.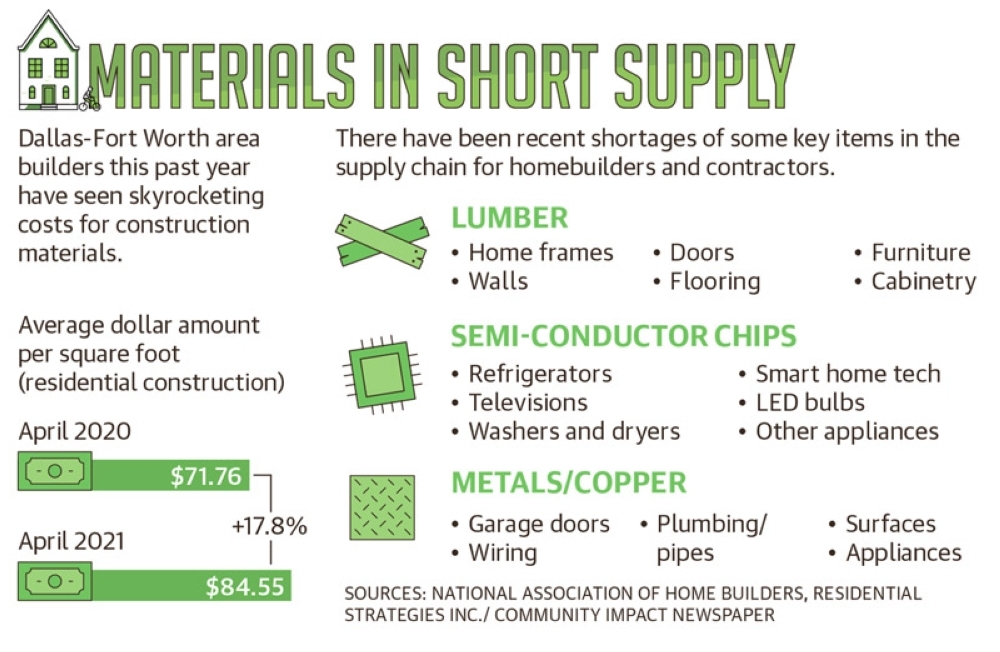 What the future holds
Experts do not predict a crash similar to what was experienced following the 2008 housing crisis. National statistics from the Mortgage Bankers Association indicate lenders are being more restrictive, according to Gaines.
"[Mortgage] lending has not been excessive," he said. "[Lenders are] requiring a higher FICO score, a lower debt-to-income ratio, and, in many cases, a higher down payment."
Interest rates have increased slightly since plummeting to historic lows at the beginning of the pandemic, Thompson said. But they continue to remain optimal for potential homebuyers looking to secure a low monthly payment.••"Anything below 4% is still a beautiful interest rate on a mortgage," she said.
Relatively low interest rates will keep buyer demand high, Kelly said. This, coupled with the fact that North Texas is a highly desirable place to live, means the Lewisville, Flower Mound and Highland Village markets could continue firing on all cylinders for the foreseeable future, he said.