Since 2017, Midwestern State University's Flower Mound campus has provided accelerated and dual enrollment programs to help nurses earn advanced degrees.
The school's Bachelor of Science in nursing program saw 27 students graduate this past spring and is projected to see nearly 90 more in its summer and fall semesters this year.
The program comes at a time when there is a national shortage of nurses with advanced degrees, according to a report by the American Association of Colleges of Nursing.
Texas in particular faces the second worst nursing shortage in the country, according to a June 9 statement from more than a dozen nursing groups in the state.
Universities are not the only ones helping to train more nurses. Medical City Lewisville, for example, offers an array of education assistance programs, including tuition reimbursement, certification support and student loan forgiveness.
"Nursing is a huge focus for us," said Tanya Nguyen Gandy, director of community and public relations at Medical City Lewisville. "We have several different career pathway programs that can assist registered nurses to gain their BSN."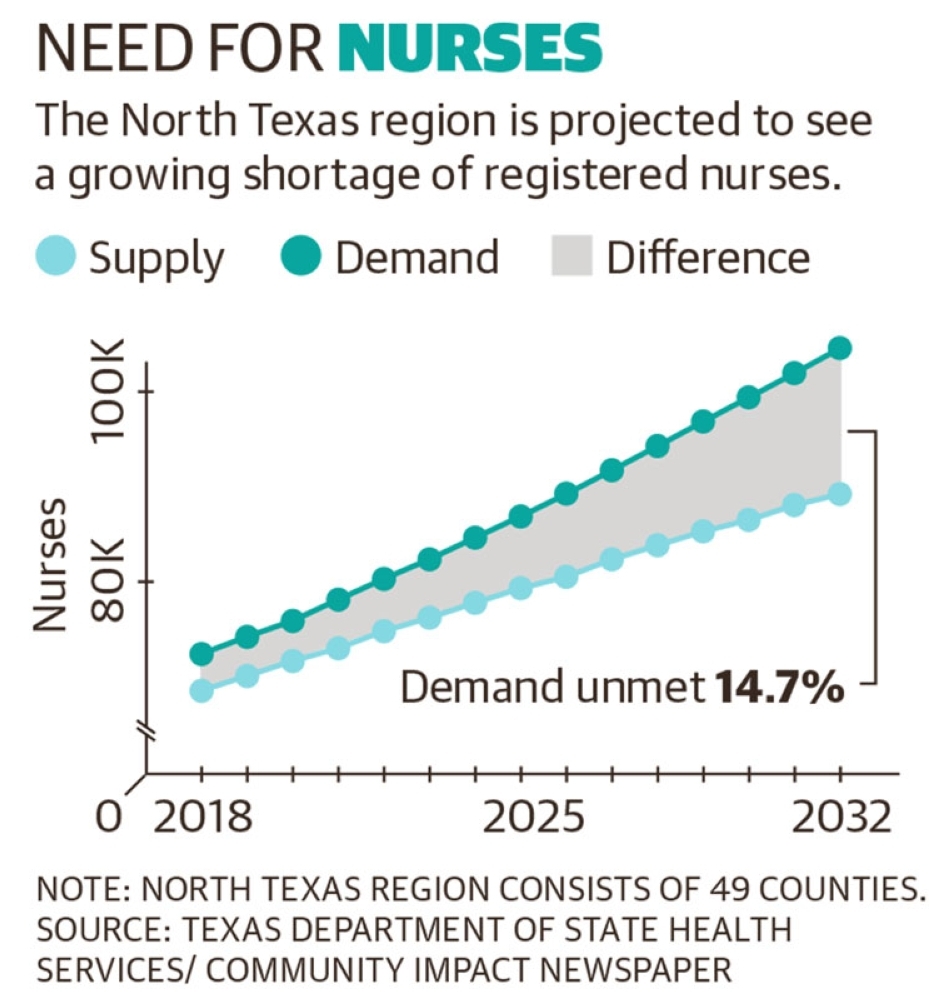 Advanced degree in demand
A survey from the American Association of Colleges of Nursing found that 41% of hospitals and other healthcare facilities require new nursing hires to have a bachelor's degree.
"The Institute of Medicine has always requested more of the workforce to be master's and doctorally prepared," said Dr. Christy Bowen, director for MSU's registered nurse to Bachelor of Science in nursing program. "I thought, 'How can we at MSU bridge this gap?'"
The answer, she said, has been dual enrollment and accelerated courses. These courses allow students to acquire their BSN in fewer semesters and, in some cases, at the same time as they are acquiring an associate degree.
"I wish so much that this had been an option when I was a practicing RN and had to get my bachelor's," she said. "I had to graduate and start from scratch, and it took another year."
By producing more students with bachelor's degrees at a fast pace, hospitals have a larger pool of nurses to choose from, she said.
Flexibility key for students
Many students are entering the profession as a second career, MSU assistant nursing professor Tanya Rose said. Making the program accessible to those students is a must.
"Progress in our program is designed to be accessible and to be completed by working students," Rose said. "We design our programs so that deadlines, the speed of it, is something that our students can handle."
Sarah Kittrell is a patient care technician at Cook Children's Hospital, where she says there is a constant shortage of nurses. She is working toward her bachelor's degree through the dual enrollment program at Weatherford College and MSU while holding down a job and raising a family.
"A lot of programs won't let you start at the same time," Kittrell said. "You have to wait until you graduate from your [associate degree in nursing] to get started. That's what is so great about this. In essence, I'll be finished two months after I graduate from my program."
The flexibility of accelerated programs was also a boon, she said.
Andrea Inman is set to graduate this August from MSU with her bachelor's degree. She also works full-time as a nurse at an emergency room and has three children at home. She said she likes the classes MSU offers because they are flexible and allow her to juggle work with school.
"Right now, I'm doing online classes," Inman said. "The professors are involved and have an open-door policy. I could go up any time if I had questions."
At Medical City Lewisville, nurses are supported as they pursue advanced degrees through partners, such as MSU, Gandy said.
Medical City also offers the Texas 2-Step Nursing Pathway, a program that provides employees in associate degree nursing programs with financial aid. They cover tuition, fees, books and uniforms up front in exchange for a two-year commitment to work full-time as a registered nurse.
"We've actually worked closely with several schools in the area, including MSU, to create a pipeline of talent for some of these ancillary roles," Gandy said.
If nurses don't have a bachelor's degree, hospitals will often require them to go through a residency program, which can last up to two years and requires they get their degree, Bowen said. Accelerated programs help students skip that phase and make them more employable.
"This just lets the students be more marketable for those job openings and to get that dream job they've wanted that they suffered through school for so long," Bowen said. "Now they get to practice, get that coveted spot, and they have the degree to back it."