Though officials say Lewisville's Main and Mill corridor project is still on track to be substantially completed by September, its cost has gone up by $394,324 following Lewisville City Council's approval of a change order at an April 6 meeting.
City Council awarded an $8.5 million contract to HQS Construction in fall 2018 to complete paving, drainage, landscape and traffic signal improvements to the corridor, which comprises Main, Mill and Charles streets in Old Town.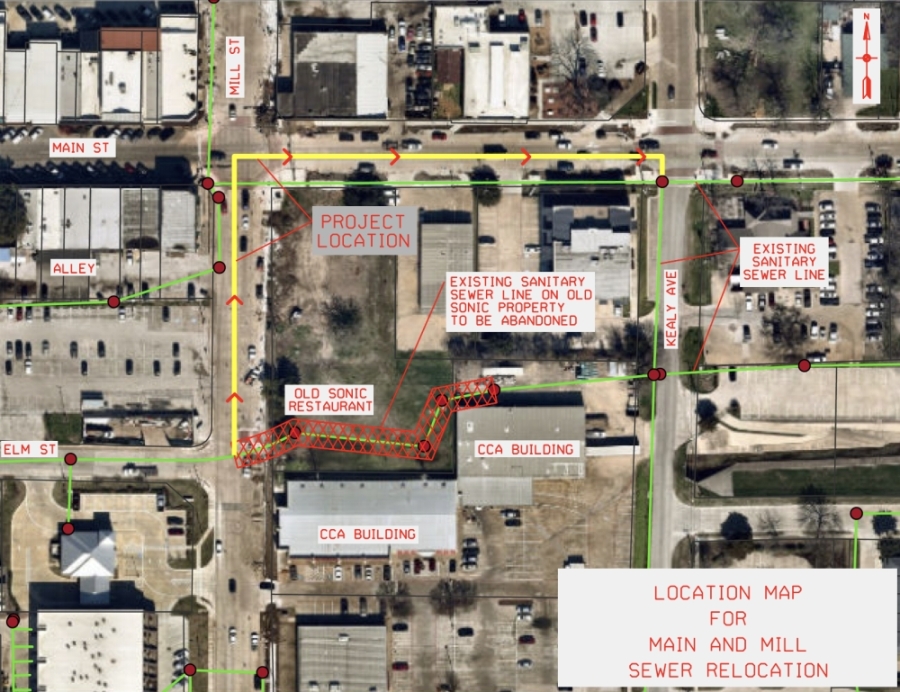 According to a memo by City Engineer David Salmon, the change order was necessary because a sanitary sewer mainline at the site of a former Sonic Drive-in on the east side of Mill Street and south of Main Street needed to be abandoned. The change order is set to cover the additional cost associated with rerouting the sewer line along Mill Street from Elm Street to Main Street and along Main Street from Mill Street to Kealy Avenue.
The reason the city needed to abandon the existing sanitary sewer mainline, according to Salmon's memo, was to ensure that it could provide public utilities, including water, sanitary sewer and storm sewer to the southeast corner of Main and Mill streets, the future site of Main & Mill, a planned $35 million, six-story, mixed-use development in Old Town.
City Council
approved an economic development agreement
with Main & Mill's developer, AMAC Holdings, in November. Part of the agreement stated that the city would provide all public utilities to the property, which could not be done without rerouting the existing sanitary sewer mainline, according to the memo.
Main & Mill will feature 201 luxury-style residential units
and 6,500 square feet of retail and restaurant space as well as structured parking, according to the economic development agreement.
James Kunke, Lewisville's community relations and tourism director, said all of the street, parking and sidewalk work for the Main and Mill corridor project is expected to finish on schedule in September. However, due to the additional work approved in the change order, some landscaping and pedestrian features may not be completed until November.