Dallas City Council is expected to vote April 12 on an ordinance that would reduce the estimated number of short-term rentals in the city from 3,000 to 150.
The zoning and regulation ordinance would require most short-term rentals to be out of residential neighborhoods in Dallas.
Council members discussed the proposed ordinance during an
April 4 briefing meeting
, where more than 70 community members were signed up to speak.
The purpose of the proposed ordinance seeks to "establish regulations to protect the health and safety of occupants of short-term rental properties, to protect the integrity of the districts in which short-term rental properties operate, and to preserve the neighborhood character of residential districts within the city," according to council briefing documents. It is also meant to minimize "adverse impacts" to the housing supply caused by the conversion of residential units to transient use.
A short-term rental is defined as a full or partial building containing one or more kitchens, one or more bathrooms, and one or more bedrooms that is rented to occupants for fewer than 30 consecutive days per rental period, according to the documents.
Under the proposed zoning ordinance, which was recommended by the
Dallas City Plan Commission
, short-term rentals would only be allowed in central-area, mixed-use, multiple commercial and urban corridor districts. According to a map of proposed zoning districts, short-term rentals would almost entirely be banned in Lake Highlands and Lakewood, except along US 75. Each allowed full or partial unit would require one off-street parking space.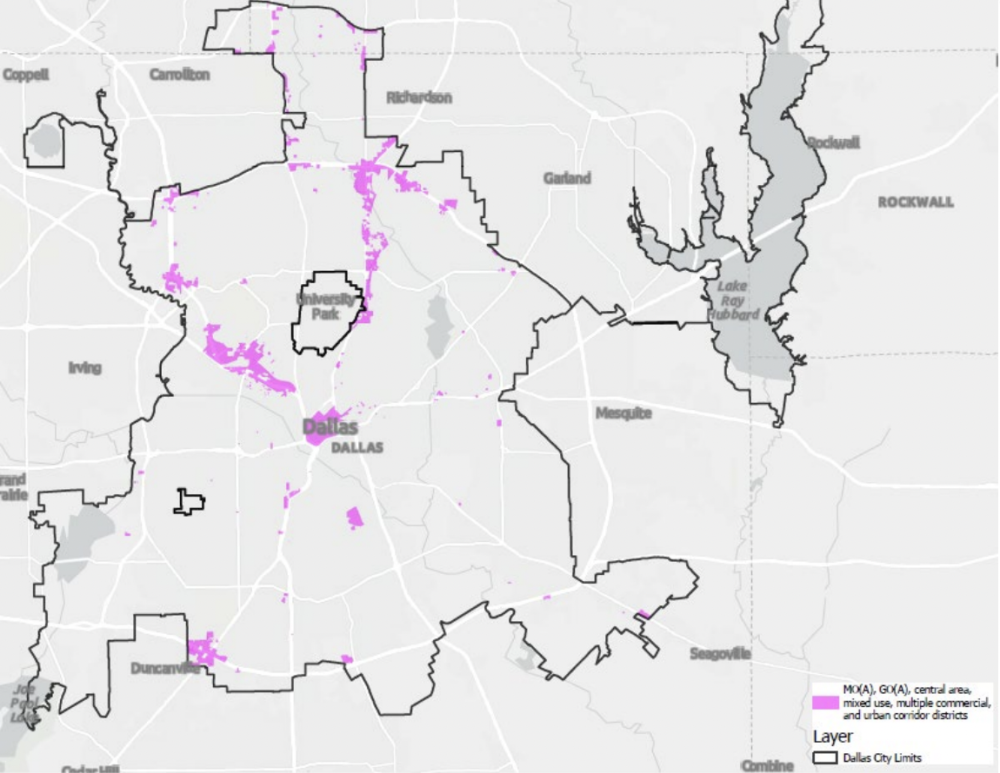 Under the proposed ordinance recommended by
Code Compliance Services
, all short-term rental owners and hosts would be required to annually apply to register their rentals with the city. Code Compliance Services would conduct an initial inspection of each property after each registration and renewal of registration.
All short-term rental owners and hosts would be required to "be a good neighbor" by limiting occupancy to three people per bedroom and requiring a minimum rental period of two nights. No amplified sound equipment audible beyond the property's line would be permitted between 10 p.m.-7 a.m., according to the proposal.
Public commentary during the April 4 meeting included a range of perspectives from Dallas homeowners, Airbnb and Vrbo rental operators, short-term renters, and prospective rental operators.
Those opposed to short-term rentals in Dallas cited concerns about rentals bringing unwanted noise, traffic and safety concerns to the neighborhoods they live in. Multiple speakers said they have seen short-term rentals being used as "party houses."
Speakers in favor of short-term rentals called for compromise, saying the rentals should be registered and regulated rather than banned. Several short-term rental operators said they work hard to enforce strict regulations on their renters to avoid disruptions in city neighborhoods. Others said they rely on the income from renting out their homes for financial stability, and that banning that source of income would dramatically hurt them financially.
Dallas City Council will meet at Dallas City Hall on April 12 at 9 a.m. to discuss and vote on the short-term rental proposal. Community members can register to speak at the meeting through the
Dallas City Hall website
, by emailing
[email protected]
or by calling 214-670-3738.