Continuous growth near the Alliance corridor has created the need for more lanes along six miles of SH 170 at a total cost of almost $100 million.
The expansion of SH 170 began in October 2020 and is projected to be completed by 2023. Once finished, this section of SH 170 will have 10 lanes and seven bridges, according to Val Lopez, Texas Department of Transportation public information officer for the Fort Worth District.
Crews are currently excavating from I-35W to US 377 to begin main lane construction. Drivers can expect daily single-lane closures in that area as well as continuous closures of left-turn lanes at the corner of SH 170 and US 377, Lopez said.

"We are continuing to place drill shafts for the new U-turn bridges at US 377, and we are also constructing both east- and westbound bridges at Henrietta Creek," Lopez said.
Overall, four mainlanes—two in each direction—and ramps will be added at various locations. A portion of the road will be completely restriped and converted from a one-lane road on each side into a two-lane road. Lopez said no changes are expected to be made to speed limits in the area.
Although the coronavirus pandemic forced many developments to halt, the Alliance area generated more than $8.24 billion in economic impact in 2020. It has generated an estimated $91.98 billion in regional economic impact since 1990, according to AllianceTexas' annual economic impact report to Fort Worth City Council. Over $2.82 billion in total taxes were paid to local public entities during that time period, as well.
Roanoke Assistant City Manager Cody Petree said the SH 170 project, once completed, will "ensure unimpeded mobility throughout the area for residents, commuters and businesses" as the area continues to grow.
"SH 170 has provided the transportation infrastructure to support massive industrial, residential and real estate expansion throughout northeast Tarrant and southeast Denton counties," he said. "It is an essential highway for motorists and industrial traffic needing east and west access across the north end of the metroplex."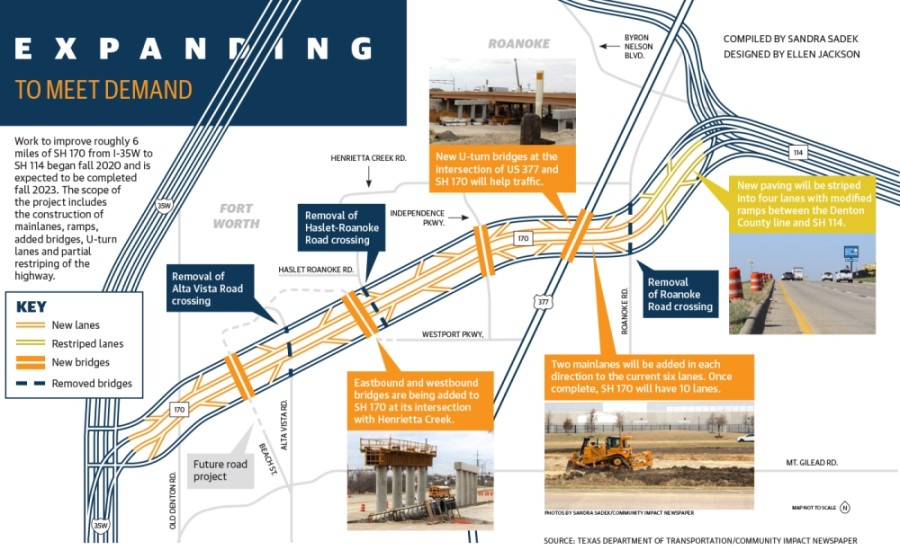 Sally Aldridge, president and CEO of the Metroport Chamber of Commerce, which oversees seven communities in Tarrant and Denton counties, said SH 170 has always been needed as an additional link to SH 114.
"For our chamber, SH 170 is a vital transportation corridor that directly impacts not only the two communities of Roanoke and Westlake, but it indirectly affects the remaining five communities of Argyle, Haslet, Justin, Northlake and Trophy Club," Aldridge said. "It's important for sustaining the local, regional and state economy."
The section of SH 170 currently undergoing reconstruction is not near any retail shops—just an industrial park and residences—which Aldridge said will help to alleviate any potential economic effects on local businesses due to road closures.
The need for roadwork on SH 170 has led to concerns being raised about other area road projects that need to be completed beforehand. Petree said one of the city of Roanoke's major concerns is the proposal for a closure of Roanoke Road, which would limit accessibility in an area that already suffers from traffic congestion.
An extension to Parish Lane in downtown Roanoke also needs to be completed before construction on the SH 170 expansion can begin in the area, Petree said. So far, the city of Roanoke has completed its section of Parish Lane, which was expanded into a four-lane, divided roadway. However, another section of Parish outside of Roanoke city limits that connects US 377 and SH 170 still must be addressed. Petree said the land, which is a part of the Town of Westlake, is currently owned by Hillwood Properties.
Aldridge said the overall expansion of SH 170 is a crucial measure to ensure smoother and faster commuting in the Alliance corridor.
"With growth comes road construction," she said. "It's a process that happens [and] takes time. Thankfully, through private and public contributions, Texas has been [at] the forefront of being able to get a lot of these road projects completed a lot sooner than later."
Petree said TxDOT's efforts to accelerate the completion of the SH 170 expansion to accommodate area growth are appreciated.