With health care workers in high demand, Keller and Northwest ISDs are helping to bridge the gap between students and the industry with innovative programs.
This fall, the Keller Collegiate Academy will welcome its first class. The academy is a standalone high school campus that provides two options for students, including the opportunity to earn an associate degree in health science through dual credit classes.
A smaller group of students will complete selective admission pathways that provide an accelerated track to becoming a registered nurse, a licensed vocational nurse or a surgical technician, Keller Collegiate Academy Principal Tracy Arsenault said.
Keller ISD students are also given the opportunity to experiment within medical disciplines through the Keller Center for Advanced Learning. There, high school students can take clinical rotation classes to get experience in hospitals, nursing homes and other health care settings.
"We want everything to be as real-world as we can," said Robert Wright, Keller ISD director of career and technical education. "We are now teaching kids to be way more flexible."
Students taking advantage of the Keller Center for Advanced Learning program can also be certified as an EMT, nursing assistant, patient care technician or pharmacy technician while still attending their home high school.
Keller Collegiate Academy, however, will be the home campus for students interested in college credit while completing certifications, Arsenault said. Most students will graduate with 60 hours and an associate degree after taking dual credit classes.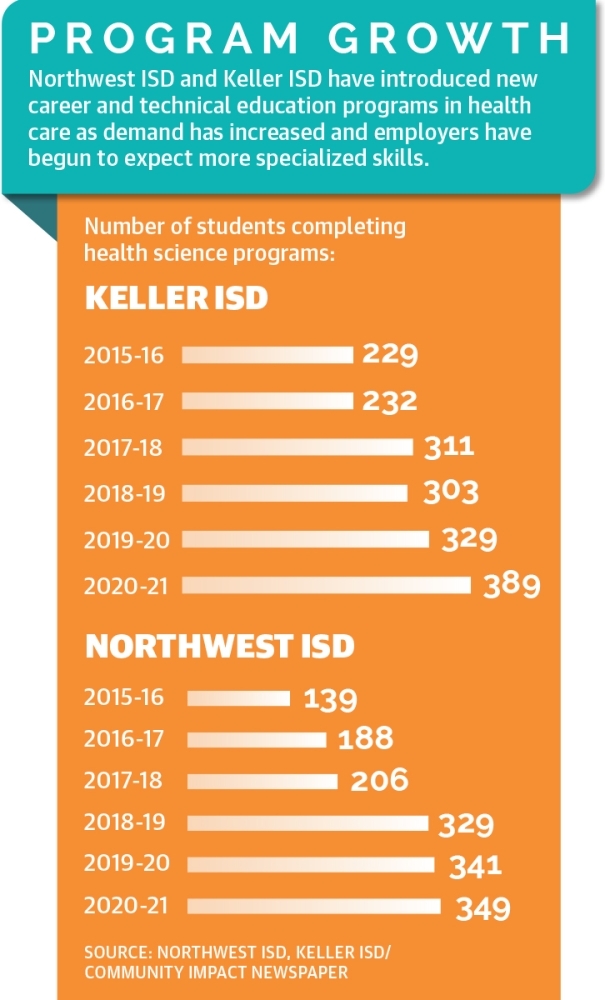 Northwest ISD offers similar career and technical education opportunities related to health care. The district provides classes to become certified as an EMT or medical assistant as well as a more intensive, four-year Biomedical Sciences Academy at Byron Nelson High School, said CyLynn Braswell, NISD executive director of college and career readiness and innovation.
Planned additions include a sports medicine program at the recently opened NISD Aquatic Center in partnership with Texas Health Resources.
Growth in Keller and Northwest ISDs will feed an escalating need for skilled labor in the field.
"There's no doubt we're facing a shortage in [nurses] and techs," said Matt Eiserloh, Medical City Alliance director of community and public relations. "When you look at projections over the next 10 or 20 years in the demand for nursing, it's pretty frightening."
Eiserloh said that Medical City Alliance is fully staffed, but staffing has been a challenge in the past. The hospital brings in interns from both Keller and Northwest ISDs to observe and be mentored by hospital staff, which helps the hospital secure a future workforce, he said.
NISD offers flexible options for students interested in studying health science. Both health science pathways build toward a practicum class that gives students internship experience. Students work in the field alongside professionals and in health clinics at NISD elementary and middle schools.
"This is the EMT certification just like an adult is going through," Braswell said. "What we've done is take what has typically been done at a community college level and put it into the high school experience."
NISD also offers academy-based programs such as the Biomedical Sciences Academy for students who are committed to an industry.
Outside of the academies, students can complete more than one career education pathway or explore several pathways before settling on what they really want to pursue.
"We want our students to experience the industry while they're with us, in a safe place," Braswell said.
Some students at the Keller Collegiate Academy, which Arsenault calls an early college high school model, will be part of selective admission pathways. Students admitted into those pathways will complete two years of basic courses at the academy before applying to Tarrant County College. While the academy will still be their home campus, these students will complete clinical classes at Tarrant County College to become certified as a registered nurse, a licensed practical nurse or a surgical technologist.
"We're super passionate about helping them get to that next point. I'm excited to see them grow and learn and be a part of something," academy instructor Debby Schneemann said.
In the fall, Schneemann will teach a medical terminology class at the Keller Collegiate Academy. She is also developing the school's curriculum.
Real world skills
Though Arsenault said most Keller Collegiate Academy students will be going on to a four-year college, Wright said Keller students are able to work in their chosen industry as soon as they graduate.
"Sometimes people have a misunderstanding or misconception about [career and technical education] as being lesser than or lower than. ... That is not the case at all," said Steve Dewitt, deputy executive director of the Association for Career and Technical Education. "A lot of the courses are being sought after by students who are going on to four-year colleges. They want to get the credit those courses are providing them, the employability skills, the technical skills, et cetera."
Both districts prepare students for more than college. They provide certifications beyond the basic level required for an entry-level job—such as the EKG technician certification that NISD introduced for the 2020-21 school year, Braswell said. Credentials can help students get hired and make them more promotable, she said.
Rachael Lentz graduated from Byron Nelson High School's Biomedical Science Academy in 2017 and was spotlighted on the NISD career and technical education blog. A pharmacy technician class she took during high school gave her the opportunity to work in a pharmacy, and she said the academy gave her a strong foundation to start nursing school, which she graduated from in December.
"I felt more prepared for the pharmacology course I was required to take," she said.
In addition to technical skills, Wright said Keller and other districts must provide resume writing, interviewing and other soft skills that will make young people successful in the professional world.
"We're building a work-ready community," Braswell said of NISD. "Gaining a technical certification while in high school is a great launching point for a career."