If all roads once led to Rome, perhaps now they lead to Texas—and, in particular, the metroplex.
Recently released data from the 2020 census would suggest as much, anyway.
In Tarrant and Denton counties alone, the combined population grew by nearly 24.8%—from just under 2.5 million residents to just over 3 million—since 2010.
By combining the cities of Keller, Roanoke and Fort Worth, a similar story emerges. Together, the three cities are nearing a million residents and have seen combined population growth of 23.9% since 2010.
As a result of growth, the landscape of the area is one with increased density. Several census tracts located within ZIP code 76244—in northeast Fort Worth, just west of Keller—have 10,000 or more residents per square mile, for example.
Leonard Firestone represents District 7 on the Fort Worth City Council. His district bisects 76244, along with Council Member Cary Moon's District 4. Firestone said the data underscores the momentum happening in his district and the region.
"It's a really exciting time—clearly people want to be here, and they want to move businesses here," Firestone said.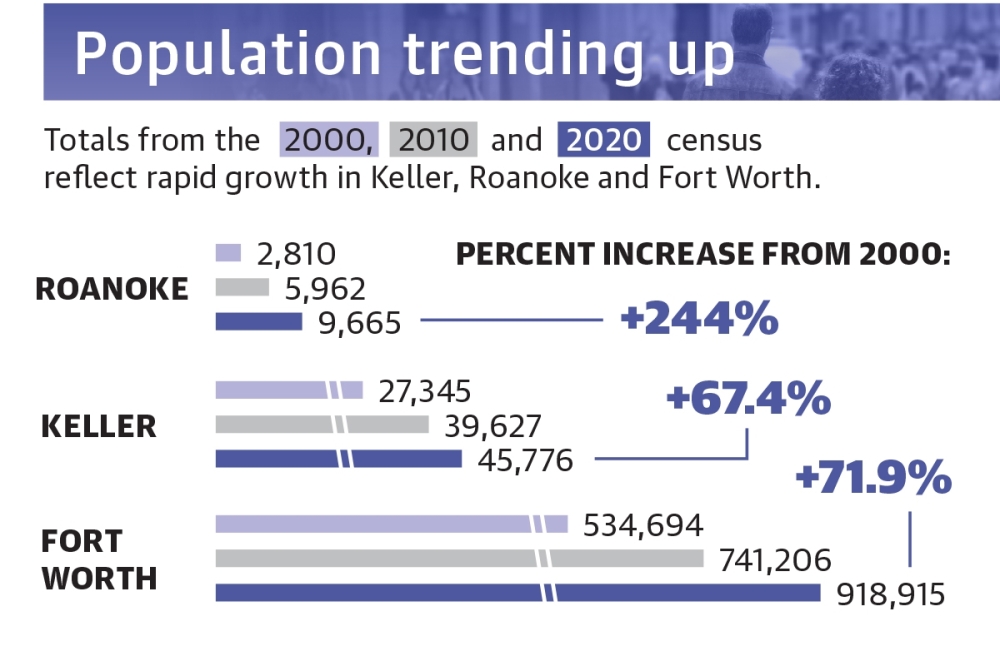 Changing demographics
As new faces continue to populate the region, data from the 2020 census suggests those faces are less homogenous than before.
In Keller, for instance, census data has the percentage of residents who identify as white at 74.5%. That is a decrease from 84.4% in 2010 and 90.7% in 2000. In 2020, Hispanic residents accounted for 10.3% of Keller's population, Asian residents are 6.9% and Black residents are 3%.
In Roanoke, the 2020 census has white residents accounting for 64.4% of the population—down from 83.9% in 2000. Hispanic residents accounted for 18.1% in 2020 in Roanoke, with Asian residents accounting for 7.5% and Black residents accounting for 4.3%.
Fort Worth residents are 36.6% white, 34.8% Hispanic, 19.2% Black and 5.1% Asian according to 2020 census data.
Gary Fickes represents Precinct 3 on the Tarrant County Commissioners Court. That precinct includes Keller and parts of Fort Worth as well as northeast Tarrant County. Fickes said local leaders need to be mindful of those changing populations.
"Any time you start seeing [demographic] change, it's meaningful," Fickes said. "You need to pay attention to it, and you need to be sure that you're doing what you can do, as local government, to be sure you're providing the correct and proper services, and in a correct and proper way that fits the people that live in a particular area."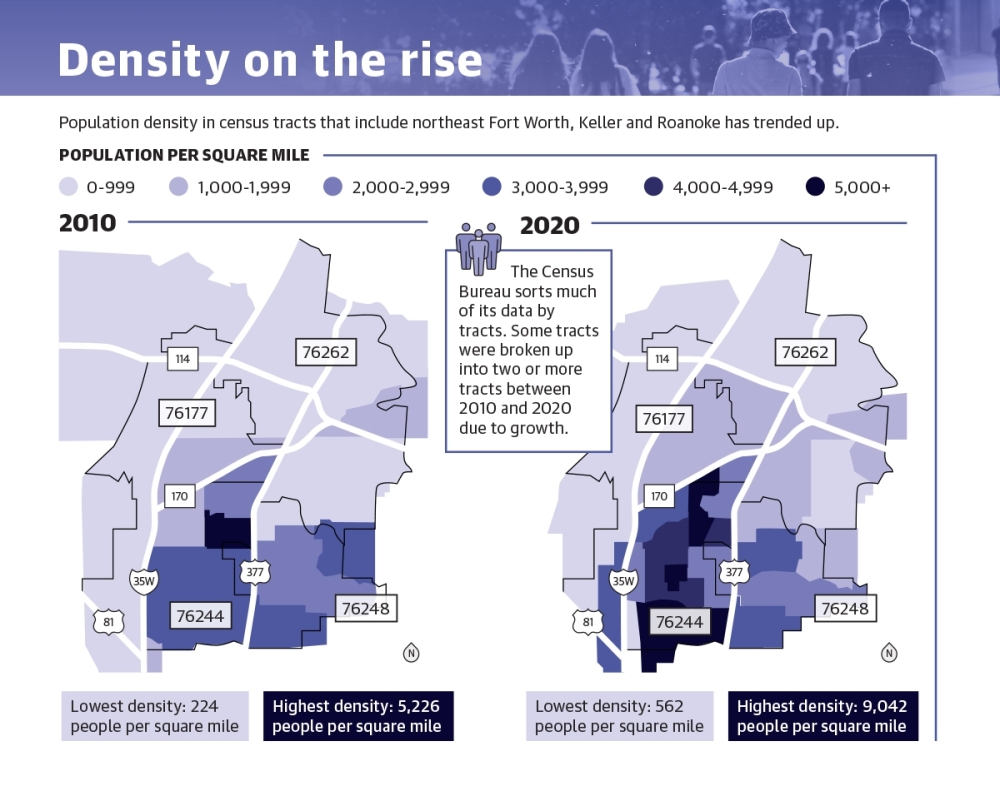 Similar story, different details
For Keller, Roanoke and Fort Worth, the larger trends of population growth and increasing diversity are shared. The specifics of the story for each city see more variance, however.
Population growth over the past two decades has been substantial in Keller. Since 2000, Keller has grown by 67.4%. But City Manager Mark Hafner points out most of that growth occurred between 2000 and 2010. The city grew by just 15.5% in the last decade and Hafner said it is slowing as it nears its projected buildout population of 50,000.
"During that time [2010-2020], we really geared up, and we don't see as much of an issue from the 2010 [census] to the 2020 [census]," Hafner said. "Most of our roads were [the] right size ... we've had fairly good success with our land planning and our future land use plan."
Roanoke has grown in population by 62.1% since 2010 and 244% since the turn of the century. City Manager Scott Campbell said that on top of the city's growth, his staff has to be mindful of regional growth that drives traffic through the town and its popular restaurant district.
"We've probably got upwards of 55,000 people here during the day," Campbell said. "Roanoke is a bit of an anomaly when you look at their nighttime population versus the services that we're trying to provide during the day for a lot more people."
In northeast Fort Worth, within ZIP codes 76244 and 76177, Firestone said maintaining the momentum from the area's growth is key. Firestone said that the consequence of creating jobs is that there also has to be housing and infrastructure to go with that job growth, specifically citing roads and transportation as being pivotal.
"I would say for ... my family, with four pretty young kids, getting around town and going to activities around town, the traffic has been the biggest challenge," Firestone said.
Ripple effect
As a Realtor based out of Keller, Rodney Eiland is, in some ways, on the front lines of the area's growth that 2020 census data underscores. Anecdotally, he said he continues to encounter newcomers from regions with higher taxes.
Based on those interactions, Eiland said he has observed that corporate relocations and expansions into the region—whether it be Charles Schwab to Westlake or Black & Decker to Fort Worth—have a ripple effect that brings even more new residents.
"Companies are moving here, and I think what a lot of people miss on the big moves in whatever the big company is, you also get a lot of the supporting companies that move," Eiland said.
Tarrant County Administrator G.K. Maenius has seen the county grow by 45.9% since 2000, adding more than a half-million residents in that time frame. He said the business-friendly environment in the region, as well as its relative affordability, are fueling the growth.
"People are coming down here because jobs are available, and the jobs are paid enough to create a livable wage—and that's what people are looking for," Maenius said.
That sort of growth has had real implications for Maenius and his staff. Some of the top areas of responsibility for county government include transportation, the judicial system and public health—and Maenius said each of those areas has seen their size and scope expanded as the county has ballooned in population.
"Quite frankly, that's why we get here early and stay late every day," Maenius said.