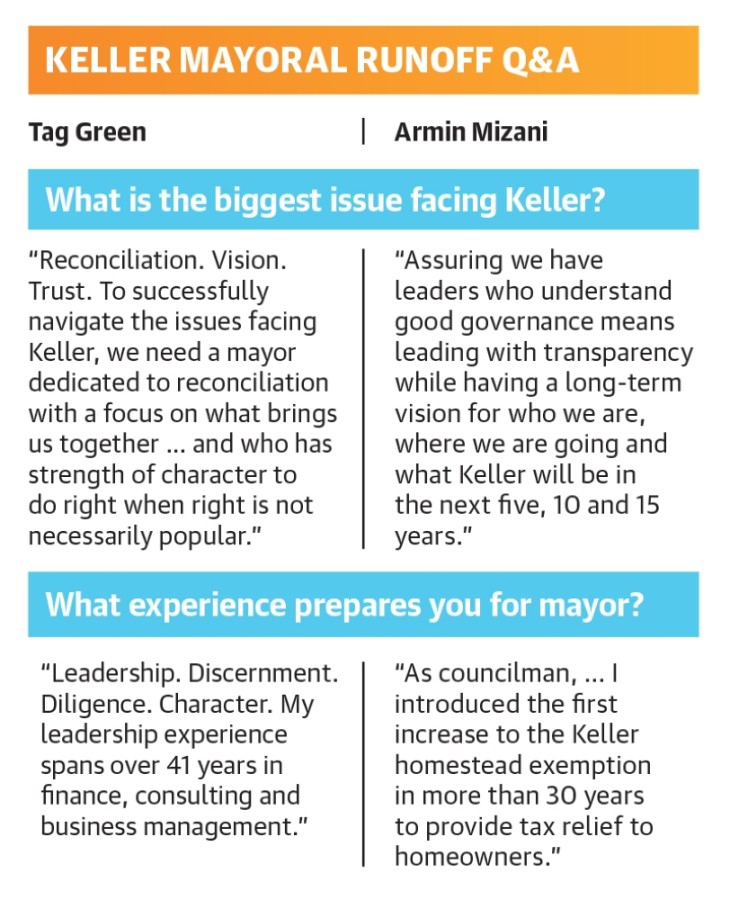 Editor's Note: This story has been corrected to reflect early voting dates for the Keller mayoral election. Early voting is from Nov. 23-Dec. 4. Election Day is Dec. 8.
Voters in Keller, Roanoke and North Fort Worth turned out in record numbers in the Nov. 3 election, joining the more than 64% of Tarrant County voters who cast a total of 768,204 ballots.
Based on final results, voters in Northwest ISD rejected the district's 2020 bond package and elected multiple school board members.
Residents in Roanoke and Keller also cast ballots in each city's respective City Council races.
With neither candidate for mayor receiving more than 50% of the vote, Keller residents will decide the city's next mayor in a runoff election Dec. 8. Early voting for candidates Tag Green and Armin Mizani will take place Nov. 23-Dec. 4.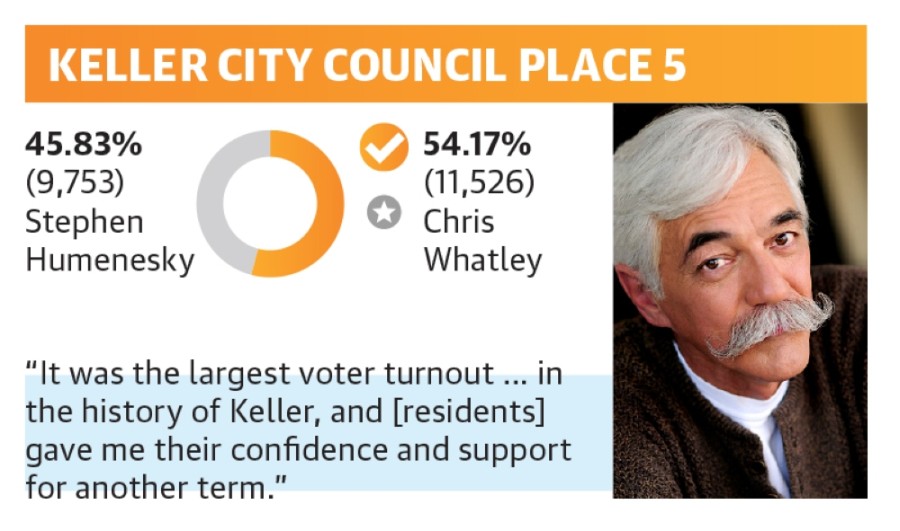 The winner of the runoff election will replace Mayor Pat McGrail, who decided earlier this year not to run for a fifth term.
"We've been clear about the plan we have for the city moving forward," Mizani said. "Our goal is to be the most family-friendly city in the state of Texas."
As mayor, Mizani said he would address the issues most affecting Keller residents, such as taxes, high-quality economic development and public safety. City Council will also govern in an open and transparent manor during his administration, he said.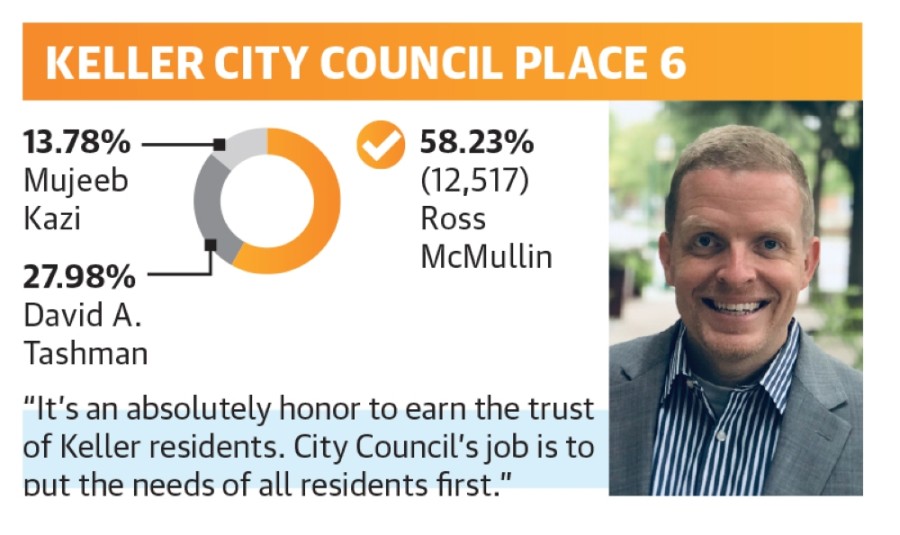 Both candidates have conservative backgrounds, but there are differences, said Green, who is set to vacate his current City Council Place 6 position.
"We love our city, schools and neighbors ... across all of Keller," Green said. "Five years ago, I felt led to be an influence in our community for positive things. That culminated in being elected to Keller City Council, where I have served the past three years."
In the race for City Council Place 5, Chris Whatley received 54.17% of votes, defeating challenger Stephen G. Humenesky.
"My job is to represent the people, not make a decision about something I want to see but something the people of Keller want," Whatley said. "I'm thrilled they've given me their confidence, and the public trust is sacred."
In the race for the Place 6 seat being vacated by Green, Ross McMullin defeated two other candidates with 58.23% of the more than 20,000 ballots cast.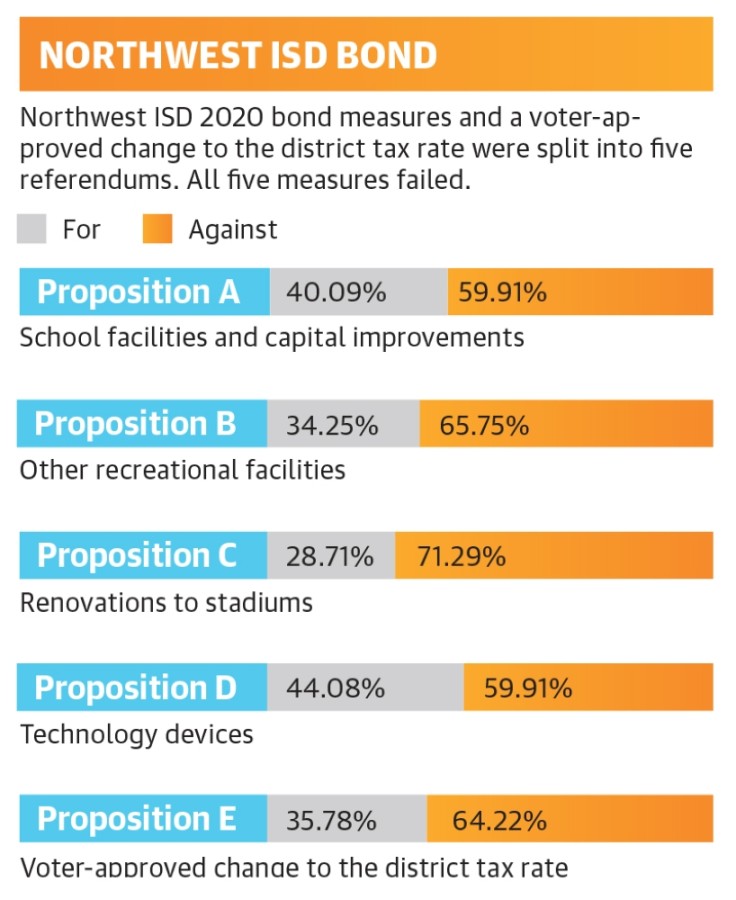 "We worked extremely hard to share our message and articulate a vision for Keller," McMullin said. "It started with listening first. It's City Council's job to put the needs of all residents first."
NISD bonds rejected
Northwest ISD voters failed to approve a change to the district tax rate, along with four other district bond referendums totaling $986.6 million for capital improvements ranging from technology upgrades to new schools. The largest amount, $937 million, was for facilities improvements.
A total of 34,647 votes, or 64.22%, were cast against the proposed rate change to $1.4663 per $100 valuation. The district tax rate will not change from its current rate of $1.3363.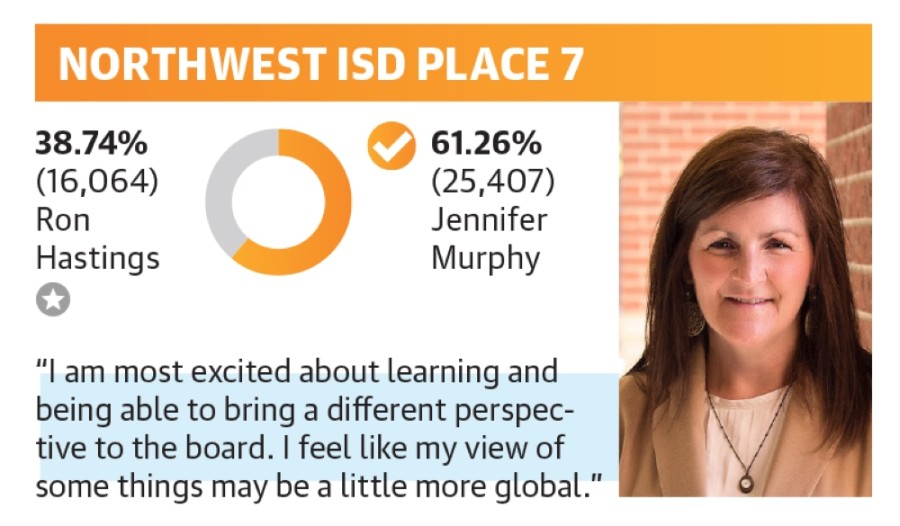 "I'm thankful for everyone who went out and voted," NISD Superintendent Ryder Warren said. "We had a record number of parents who voted and a record number of staff members. We also had 30,000 additional voters who usually don't vote in NISD elections."
The majority of the district bond package for upgrades to campuses and technology was postponed from May due to the COVID-19 pandemic. The district must now decide whether to ask voters again for bond money next May.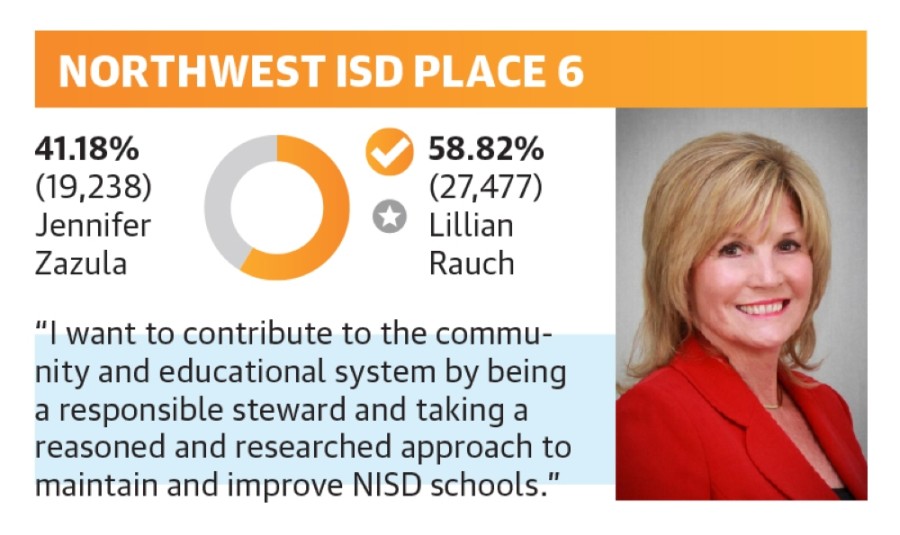 NISD voters also elected two school board members. Incumbent Lillian Rauch was re-elected to Place 6 with nearly 60% of the vote, and candidate Jennifer Murphy was elected to Place 7 with 61.26% of the vote; she will replace incumbent Ron Hastings.
"People see our area as very desirable and know our schools and educators are great," Murphy said. "We have to figure out a way to balance the families that are here and families that don't have any kids in the district with what their needs are in the area."
Roanoke votes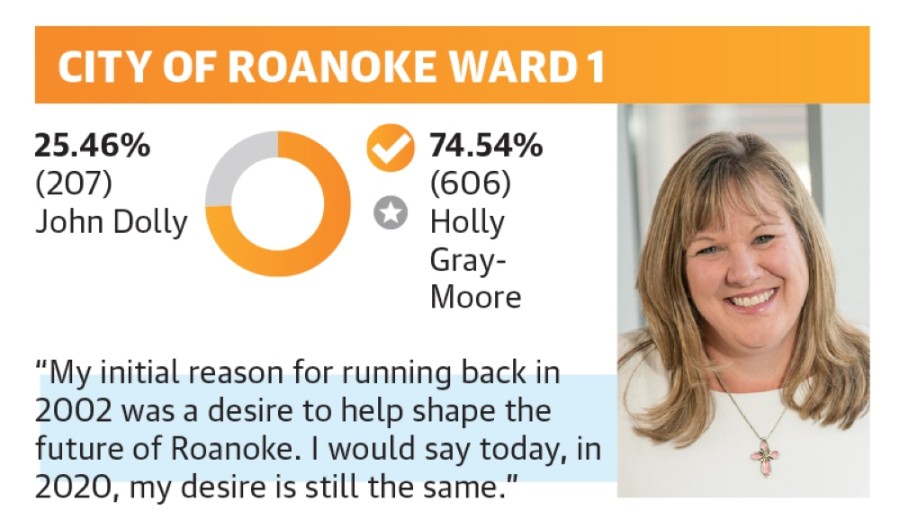 Nearly 1,000 voters in Roanoke cast ballots for the Ward 1 City Council race to elect Mayor Pro Tem Holly Gray-Moore to another term. Moore, who has served as a City Council member since 2002, received 74.54% of the vote.
"Comprehensive land-use planning is always the biggest challenge," Gray-Moore said.