Early voting in Texas kicked off Oct. 13 as voters headed to the polls to cast their ballot for federal, state and local candidates. Despite the pandemic, people are turning up at the polls in record numbers.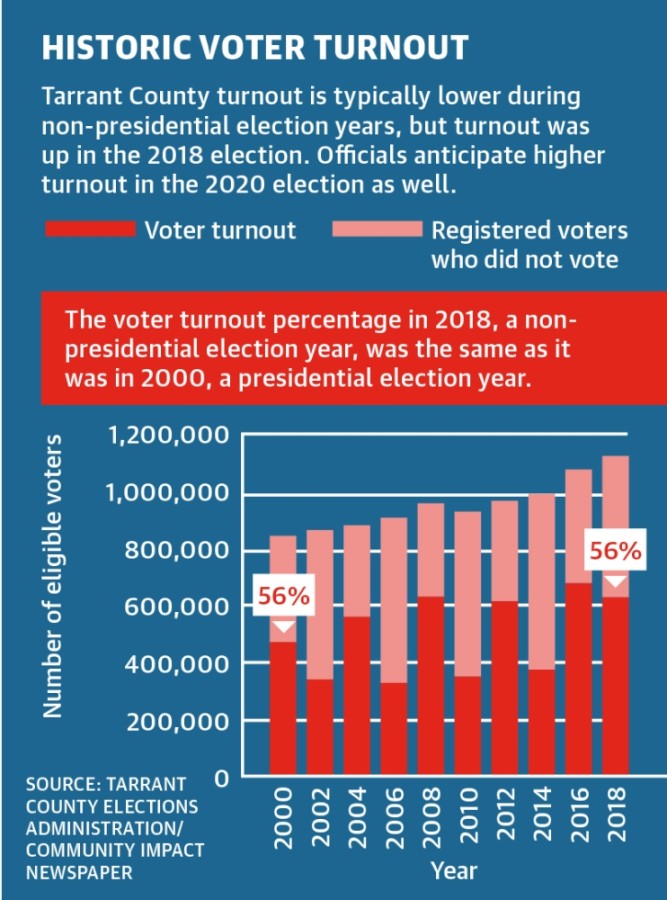 According to the Tarrant County elections website, a total of 221,760 in-person and mail-in ballots had already been cast as of end of day on Oct. 17, which represents 18.5% of all registered voters in the county. In the 2016 presidential election, there were a total of 239,876 ballots counted during the first five days of early voting in Tarrant County, or 22.3% of all registered voters within the county.
Tarrant County voters are eligible to vote at any polling location in the county during early voting. Voters at the polls on Oct. 13 said that safety precautions in place have helped them feel safe and comfortable. Despite the long lines, for some voters, the process was rapid and efficient.
"It was great. [I was] very surprised how great, how well organized it was," said Grapevine resident Mary Engel, who voted at Grapevine REC with her husband, Jimmy. "It really feels good to see so many people out voting. It did my heart good to walk up and have to stand in the long line."••In contrast, voters in Keller and North Fort Worth were facing long lines and other difficulties on the first day of early voting, as a result of a poll worker who rested positive during a training session.••"I've never waited that long to vote in my life," said Keller resident Barbara Rhome, who voted at Keller Town Hall.
By Friday, Oct. 16, the wait in Keller had dropped from an average of three hours to one hour, according to elections officials.
As Keller's only voting location, Town Hall averaged more than 1,200 ballots cast during each of the first three days of early voting. Wait times also significantly improved in North Fort Worth where a polling location at the Villages of Woodland Springs saw an 80% increase in ballots cast from day one to day three of early voting. A total of 1,543 ballots were cast at that location on Oct. 15.