In the fall of 2021, the Keller ISD Career and Technical Education Department will increase the number of pathways for students looking to acquire field-based career experience, technical certification, an associate degree and other post-secondary qualifications.
With the opening of Keller Collegiate Academy, an early college high school campus, the district will emphasize health care-related career opportunities.
Students will soon have an opportunity to earn real-world skills in nursing and surgical technology, along with current career and technical education, or CTE, pathways in business, engineering, human and animal science, public service and visual arts.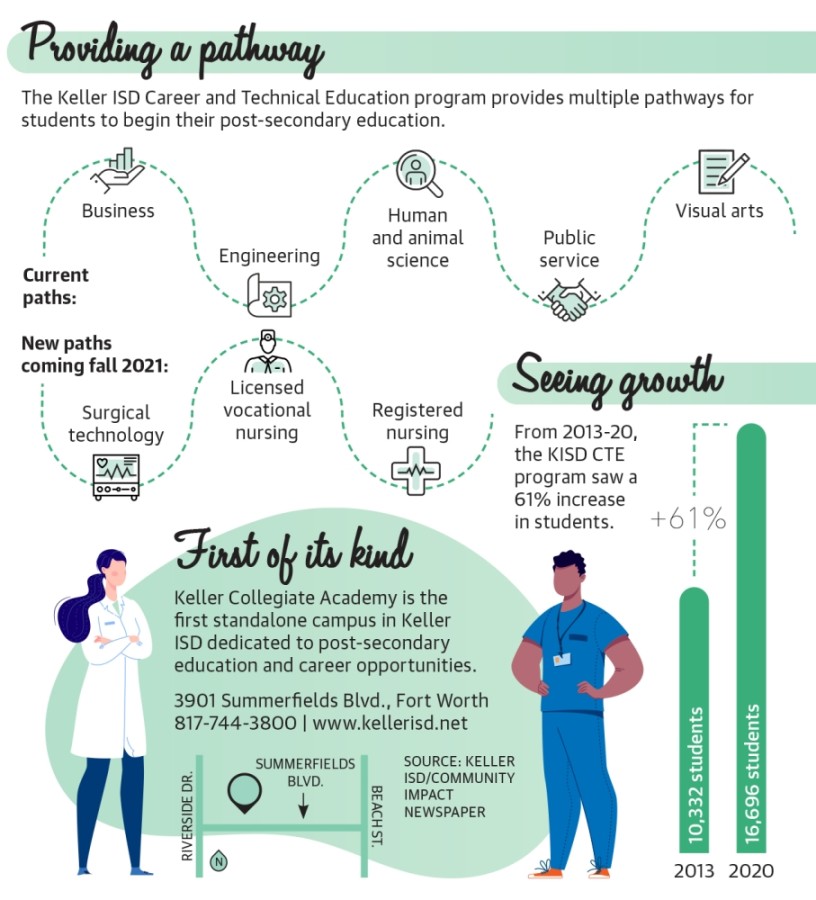 "When the district began studying the possibility of opening a campus like this, there were no other districts offering these specific programs," KISD CTE Director Robert Wright said. "Students who attend will ... [be] self-motivated, have a strong work ethic and aspirations to pursue a career in health care."
The program is open to incoming KISD eighth- and ninth-grade students, Wright said. Students who are accepted will have an opportunity to earn up to 60 college credit hours while graduating with an associate degree in applied science in nursing or surgical technology.
Other pathways include an associate of arts degree or a Level 2 certification in licensed vocational nursing, he said.
"The [KISD CTE] program prepares local students for lifelong success," said Dennis Shingleton, Fort Worth City Council member, at a Feb. 23 council meeting. "It is designed to inspire and educate every student, [and] provide[s] a comprehensive [education] that prepares students for post-secondary endeavors."
Prior to the campus opening in the fall, the district has focused on student recruitment, Wright said. The focus has been on students "who are ready for the challenges and opportunities this campus has to offer," he said.
Different from the Keller Center for Advanced Learning, or KCAL, campus, the Keller Collegiate Academy will be a stand-alone campus where students attend full-time for high school and college-level instruction.
The academy will occupy the former building of Chisholm Trail Intermediate School. Eventually, the district anticipates roughly 100 students per grade level will attend, but staff will not be hired until the district has accepted its first class of students, Wright said.
"Teachers will be ready to support our students who are taking on the challenge of starting college while in high school," he said. "We will ... ensure our students have the skills necessary to be successful."