Educators in the Keller-Roanoke-North Fort Worth area are modifying operations and procedures as they contend with thousands of students returning to school amid the COVID-19 pandemic.
Officials at Keller ISD and Northwest ISD have not been exempt from the impact. COVID-19 protocols have already forced the closure of Keller ISD's Fossil Ridge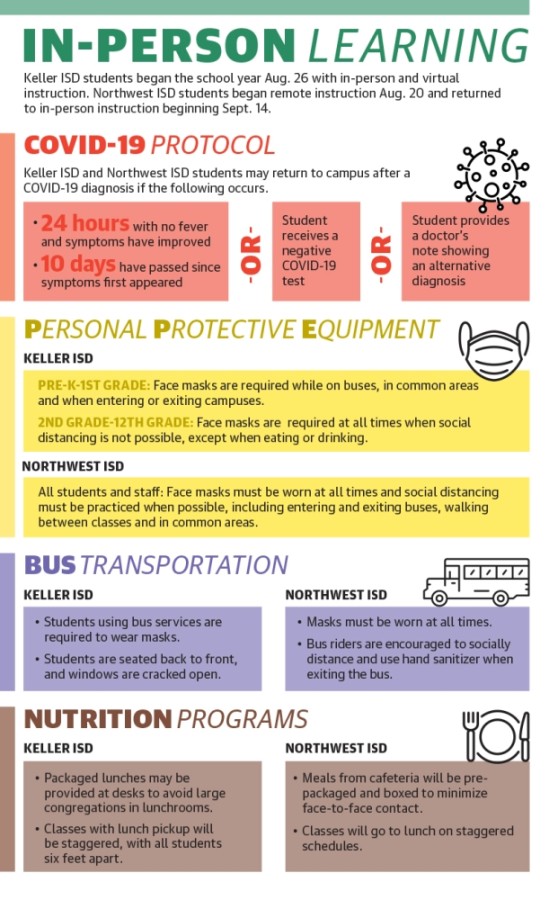 High School and a shift to remote learning until Sept. 30 due to the need to quarantine 25 teachers who may have been exposed to students and other staff who tested positive.
The 2020-21 school year officially began Aug. 20 for Northwest ISD with virtual-only instruction. NISD students did not return to the classroom in person until Sept. 14.
Officials at Keller ISD delayed the start of the school year until Aug. 26. Students had an early-release schedule during the first three days of in-person instruction.
"Masks will protect [students and staff] from exposure and hopefully prevent the need to quarantine in some circumstances," NISD Superintendent Ryder Warren said. "We're going to be really strict, and it's for everybody's protection."
Tracking COVID-19 in schools
The Texas Education Agency requires school districts to report confirmed COVID-19 cases weekly for a statewide dashboard that tracks positive cases among students and staff.
The tracking system, with assistance from the Texas Department of State Health Services, began monitoring public schools statewide in mid-September.
"Data on the number of cases in schools is of paramount interest to parents, students, teachers, staff, public health experts, policymakers and the larger community," officials said in a statement.
Keller ISD and Northwest ISD have both established district COVID-19 dashboards to help parents and students monitor active and inactive cases across each district.
As of Sept. 21, there were 31 active COVID-19 cases in KISD, including 21 students and 10 employees.
"If a student tests positive, we have to trace anyone they've been within six feet of for more than 15 minutes," KISD Superintendent Rick Westfall said. "The quarantine numbers can balloon because of all the places kids are going."
In response to a lab-confirmed COVID-19 case, districts must provide parental and public notice and notify local health department officials. School districts must also close off and perform extra cleaning on places that were heavily used by an individual who tests positive.
As of Sept. 21, officials with NISD have confirmed 22 active cases of COVID-19 across the district, including four cases at Roanoke Elementary.
"Being able to publicly share the accumulated case totals ... will help us to further support the health and safety of all Texans," the TEA said.
Transporting students safely
Even during a pandemic, school districts have to ensure access to education, but the coronavirus has made the logistics of bus transportation even more challenging.
Changes made by districts to keep students and staff safe include seat assignments and route changes.
"Parents are encouraged to transport their children to limit the number of riders on school buses," NISD Operations Director Bobby Aucoin said. "Masks must be worn at all times while on a bus, and all buses will be sanitized between trips and disinfected at the end of the day."
According to Aucoin, NISD parents received initial bus routes beginning Sept. 11 along with a guide to a bus tracking app.
The Centers for Disease Control and Prevention released guidelines for school districts and bus operators to follow to mitigate spread of the virus. They include frequent cleaning of high-touch areas, limiting the number of people on each bus and posting signs to encourage social distancing and other safety precautions.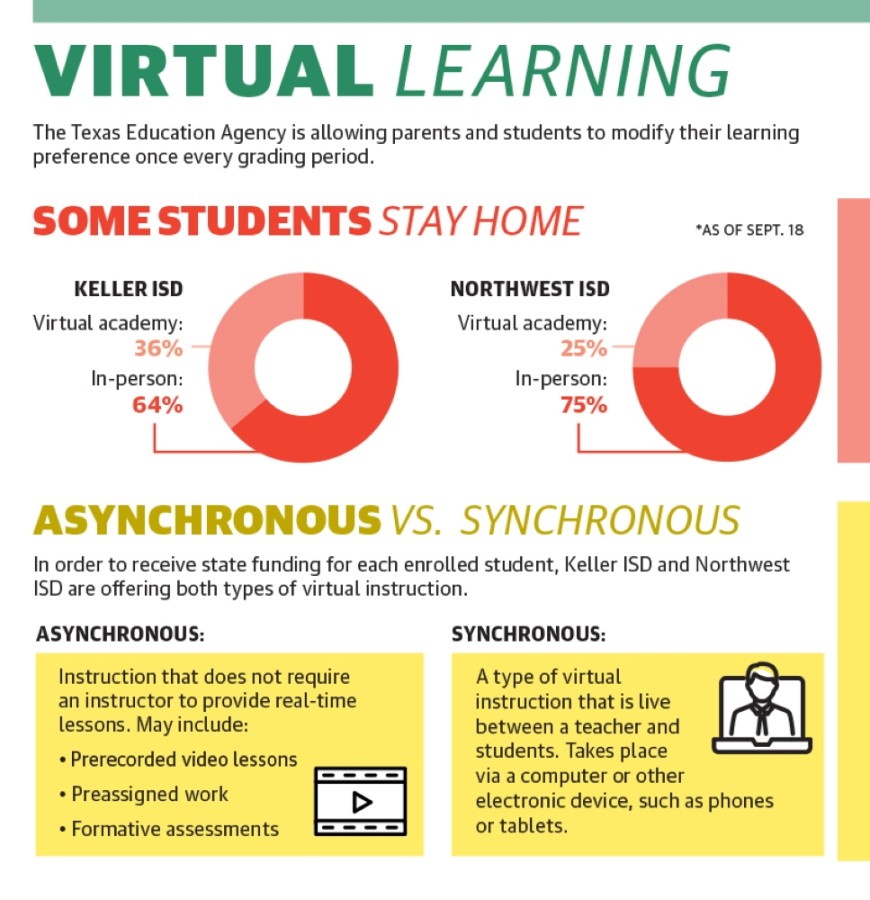 "Safety is what we're all about," said Joe Fessler, director of Texas Central School Bus, which provides buses to KISD. "We're screening our employees, using social distancing and facial coverings and training employees how to identify symptoms."
KISD buses are also following CDC guidelines that recommend seating no more than two children in a seat, cracking open windows and roof hatches for cross-ventilation, and using different boarding procedures, such as entering from the back and exiting from the front.
"We're looking at extra cleaning and disinfecting daily in the afternoon and having drivers wipe down and [disinfect] high-touch areas all day long," Fessler said. "There are fewer riders, so we're utilizing our existing fleet."
Food service at school
Providing meals for students in both face-to-face and remote instruction has presented new obstacles for school districts.
"We always have ways to improve, and that's going to be a constant thing throughout the year," Westfall said. "You try it out for a while, and if it doesn't work, you continue to make improvements."
The number of students applying for reduced lunch programs is expected to slightly increase as the school year progresses, Texas Department of Agriculture Commissioner Sid Miller said.
"A hungry kid cannot focus," Miller said. "Good nutrition is part of the learning and teaching experience."
According to Aucoin, all of the disinfectants NISD is using across campuses are hydrogen peroxide-based, including those used in cafeteria settings. Once in-person instruction returns, the district expects to implement food service-related protocols at all grade levels.
"It's a really good-grade product that we're spraying," Aucoin said. "All cafeteria staff will sanitize areas and undergo thorough hand washing."
NISD will also implement a three-week timeline before food service returns to normal, Aucoin said. Full a la carte and grab-and-go options will be available beginning Sept. 28.
"Breakfast is available for all grade levels," Aucoin said. "Closed containers will enable social distancing and help keep food covered until students get where they're going."
At the state level, each district is being assisted on a case-by-case basis, Miller added.
"We just kind of have to adjust to each district's situation," he said.
The department is dedicated to providing students with meals because it is an integral part of helping children learn, he said.
KISD and NISD will both have to contend with shifting numbers of in-person versus remote students.
The latest figures showed 75% of NISD students attending in-person classes and 25% attending online.
At KISD, in-person learners make up 64% of students, and 36% of students are accessing remote classes, Chief Communications Officer Shellie Johnson said.
"Across the district, [per class] the average number is 13 in-person for pre-K and 21 for middle and high school," Johnson said.
Gavin Pugh, Sandra Sadek and Makenzie Plusnick contributed to this report.