A 27,000-acre, master-planned development by Hillwood, the AllianceTexas region of north Fort Worth continues to drive the local economy.

Hillwood representatives presented the annual AllianceTexas economic impact report to Fort Worth City Council on March 9. According to the report, the development helped generate more than $8.24 billion in economic impact in 2020 and has generated an estimated $91.98 billion in economic impact since 1990.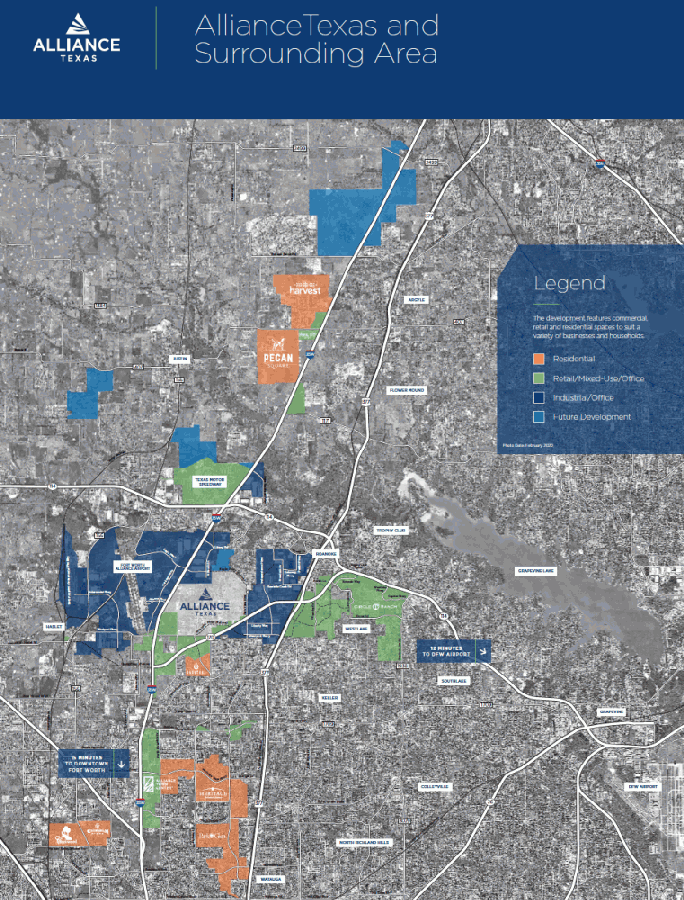 During the past three decades, developments within the AllianceTexas region have also contributed more than $2.82 billion in taxes to local entities, including the cities of Fort Worth and Roanoke, Keller ISD and Northwest ISD, the report stated.

"While 2020 will certainly be remembered as one of the most challenging years ever for business, the three decades of partnership and collaboration between the private and public sectors has resulted in remarkably diverse economic success story," Hillwood President Mike Berry said in a company news release. "We've continued to focus on sound development fundamentals while embracing new and innovative technologies that drive efficiency for our customers."

According to the report, since 1990, the development has contributed millions in property taxes to public entities, including more than $560 million to Fort Worth, more than $60 million to Roanoke, more than $600 million to Keller ISD, more than $900 million to Northwest ISD and more than $500 million to Tarrant County.



Hillwood officials also noted despite the effects of the coronavirus pandemic, the AllianceTexas region surpassed its 2019 economic output by more than $1 billion.

"Though we all have experienced significant difficulties during the past year, AllianceTexas continues to prove its sustainability as an economic engine for the state of Texas and a place where business can thrive during the toughest of circumstances," Berry said in the release.

The AllianceTexas region includes more than 63,000 employees and 530 companies and represents a total investment of more than $11.9 billion in the region, the report stated. More than $955 million in public investments have also been made in the region, which represents a 12-to-1 private-to-public-dollar investment, according to the report.

Hillwood officials also recognized ongoing investments in the region, such as the Alliance Connector project, which will reconstruct portions of I-35 W., SH 170 and Haslet Parkway to improve mobility in the area.



Other high-profile projects, such as Truck Yard; the AllianceTexas Mobility Innovation Zone; and Fort Worth Alliance Airport, a public-private partnership between Hillwood and the city of Fort Worth, will continue to increase the region's economic output, officials said.

For additional information about AllianceTexas, click here.