Roanoke, Keller and Fort Worth are positioned to see more economic growth in 2021' including newly created jobs and increased local tax revenue, as a number of new commercial and residential developments open.
The Magnolia, a mixed-use, residential and retail project, highlights the continued progress on Oak Street in Roanoke; Keller City Council has greenlighted the first phase of Center Stage, a new retail and residential project; and in north Fort Worth, entertainment venue Truck Yard is set to open at Alliance Town Center by the end of the year.
"[COVID-19] seeded the field for new retail concepts at the same time it accelerated the failure of already-weak concepts," said Bob Young with Weitzman, a Dallas-Fort Worth-based real estate services firm.
The area's stability is in part due to economic demand created by residential population growth in Keller, Roanoke and Fort Worth, Young said.
"The product has to go where the people are, and the opportunity to grow in North Texas is still north and west along the I-35W corridor," said Bill Burton, president of Hillwood Development Company, which operates extensively in the Alliance area.
Magnolia takes shape on Oak Street
Many projects were halted in 2020, but not in Roanoke, City Manager Scott Campbell said.
"From a development perspective, it really never slowed down here," Campbell said. "We may have had some projects that got delayed, but they all still seem to be moving forward."
Now, as the city enters 2021, staff is focused on several developments, including the opening of the Magnolia development downtown. Located at 601 N. Oak St., Roanoke, the 87,000-square-foot project is also developed by Magnolia Property Company and will house 78 urban residential units and 16 live-work units. According to Campbell, the project is expected to open this spring.
"I think that's one of the things that really makes it unique is these live-work units," he said. "You'll have high-quality residential living, ... retail, and then the live-work units on the bottom floor."
Approved in June 2019, the building is estimated to be valued at $6 million once completed.
Campbell said the hope is for Roanoke to become "more of a destination city."
"We're really thrilled to see these projects taking place," he said. "Development in Roanoke is at an all-time high."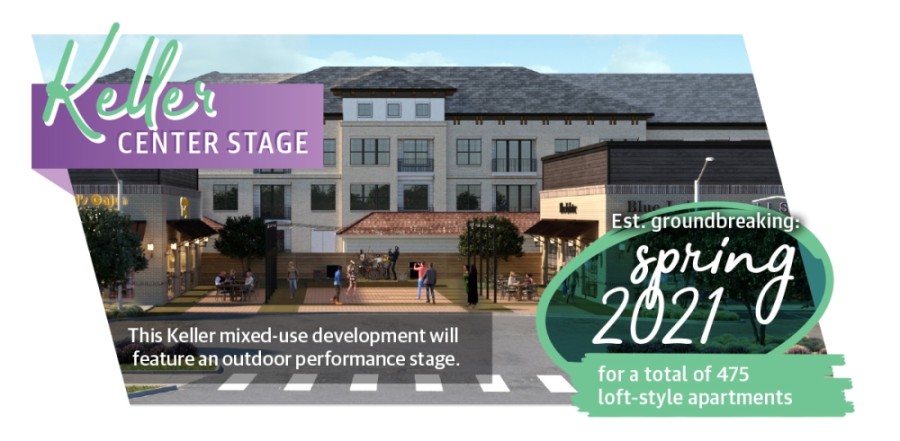 Creating a gateway to Keller
Developed by Realty Capital, Center Stage could be the next shopping and dining destination for the city of Keller.
People will do more than run errands at Center Stage, said Mary Culver, Keller economic development director.
"They're going to go to different shops, have a cup of coffee, eat lunch and enjoy music on the community lawn," she said.
Residents of nearby Marshall Ridge said they would like to see locally owned businesses at the development rather than large chains. Jillanne Johnson and fellow residents said they would prefer a mix of world cuisine, home goods stores and grocery spots, such as bakeries or butcher shops. Johnson added that the opportunity to be active outdoors and introduce her children to diverse experiences is a priority.
In addition to young professionals, the development is meant to suit older residents looking to downsize from larger, more expensive homes and younger residents who grew up in Keller.
City Council is expected to hear plans for Phase II, which will include single-family patio homes, this summer. Phase I will break ground in late spring. AJ Glass, Realty Capital development partner, said that the commercial buildings will be completed within a year and the apartments are expected to open 18 months after construction starts.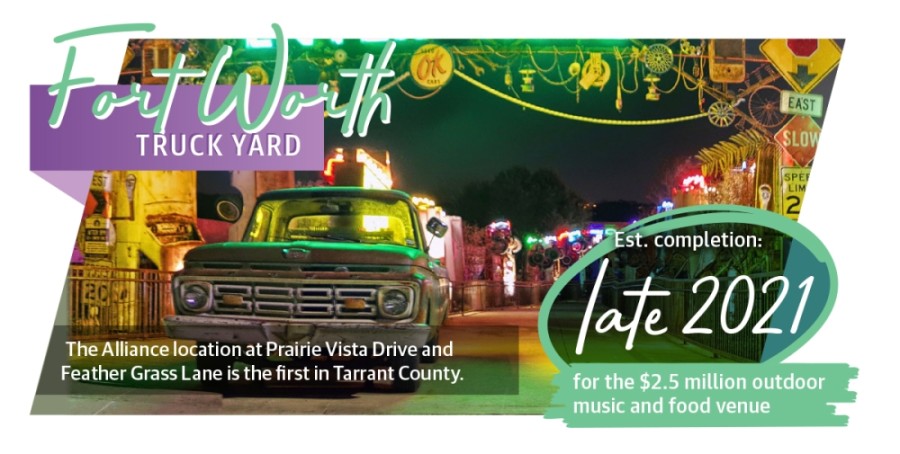 Truck Yard pulls into north Fort Worth
North Fort Worth's newest food and entertainment option will be available for residents by the end of 2021.
According to Russell Laughlin, executive vice president of Hillwood, the company is once again working on Truck Yard at Alliance Town Center after having paused in 2020 due to the coronavirus pandemic.
The 2-plus-acre dining and entertainment venue will feature stages for live music as well as a full bar and a rotating stable of food trucks.
"We fully expect to deliver that project within this year," Laughlin said. "It's part of a needed entertainment support for the community."
Jason Boso, CEO of Truck Yard parent company Brainstorm, said the north Fort Worth location is expected to feature more live music.
The venue is also expected to include game areas, shaded patios, a rest area for pets and a 6,500-square-foot indoor area. Multiple music stages are planned, and the venue will be open 364 days per year.