As demand for the vaccine grows, Tarrant County has opened four distribution sites as part of a massive campaign to vaccinate residents.
About 603,808 people have registered for the vaccine in Tarrant County as of Feb. 14, according to the Tarrant County vaccine dashboard. The county saw an increase in cases after the holidays, with 30% of all COVID-19 tests in January coming back positive as compared to 20% last summer. As of Feb. 14, there have been a total of 235,964 cases and 2,653 deaths in the county.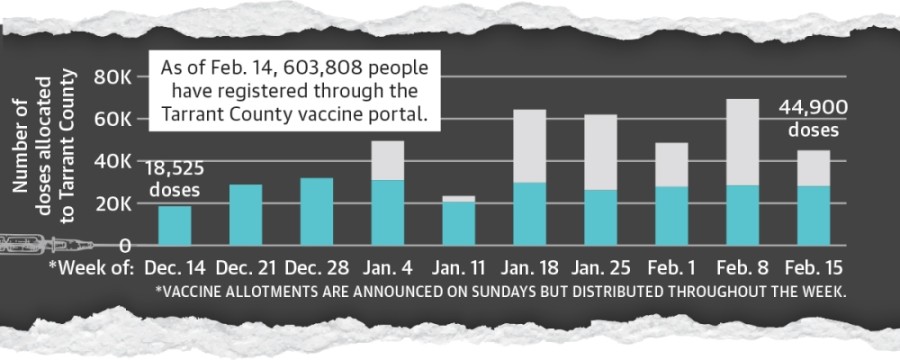 "As you look at it from an individual standpoint, we're still [seeing] very high disease activity in the community," Public Health Director Vinny Taneja told Tarrant County commissioners Feb. 2.
Fears of vaccine efficacy decreasing against coronavirus variants have pushed health officials to work around the clock to get people vaccinated.
"So far, we haven't found anything in our county, but it's probably here in the metro area," Taneja said.
To ramp up vaccination efforts, Tarrant County Public Health has partnered with 13 cities, including Keller and Roanoke, to host a COVID-19 vaccine distribution hub at the Hurst Convention Center.
Brian Murnahan, Tarrant County Public Health public information officer, said the county is hitting its site goal of vaccinating 2,000 people a day. It will cost nearly $700,000 to maintain the site through May 1 using money from the federal coronavirus relief fund, and more than 100 volunteers are needed each day to run the vaccine hub.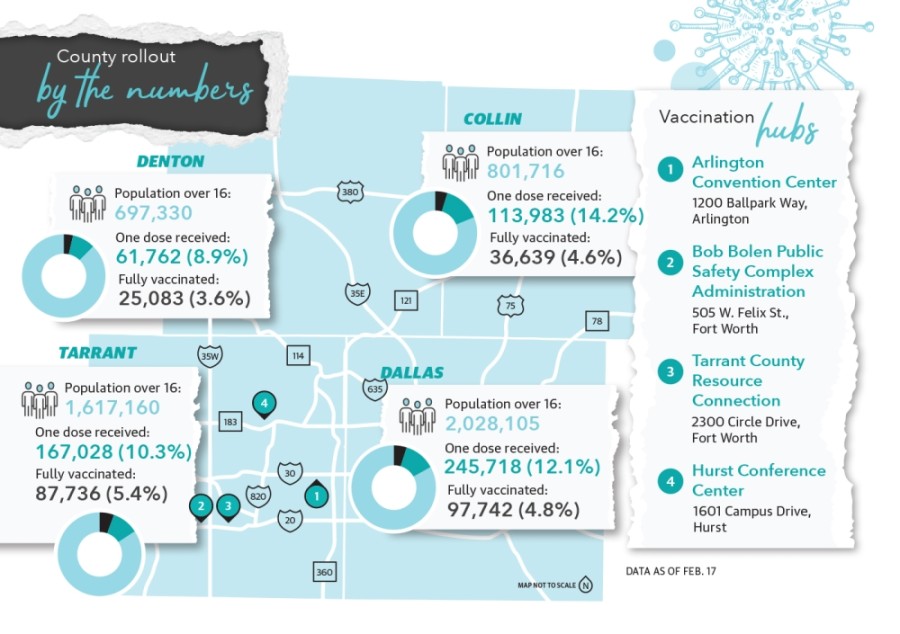 "[The site] is running very smooth," he said. "We couldn't be happier with the partnership between Tarrant County and the Northeast Fire Department Association."
Like other vaccine hubs in the county, the Hurst site is expected to receive weekly vaccine shipments from the state. The county operates three vaccine locations at the Hurst Conference Center, the Bob Bolen Public Safety Complex Administration and the Tarrant County Resource Connection. The Arlington Fire Department is hosting a site at the Arlington Convention Center.
All Tarrant County sites closed Feb. 15 in the face of severe weather. The majority of sites reopened on Feb. 19.
Mobilizing local partners
The 13 member cities of the Northeast Fire Department Association mobilized the Hurst site in less than two weeks.
Hurst Fire Chief David Palla said most of the member cities have experience working together, which made mobilization for the hub a lot easier.
"We came together pretty quickly and pretty seamlessly to create this process, and now, the goal is to create a process with the right number of people to make it sustainable," Palla said.
Roanoke Deputy Fire Chief Kevin McCally said due to the Roanoke Fire Department's smaller size in comparison to other cities that are part of the Northeast Fire Department Association, the city of Roanoke and Trophy Club have partnered to take turns sending off-duty crew members to help in Hurst.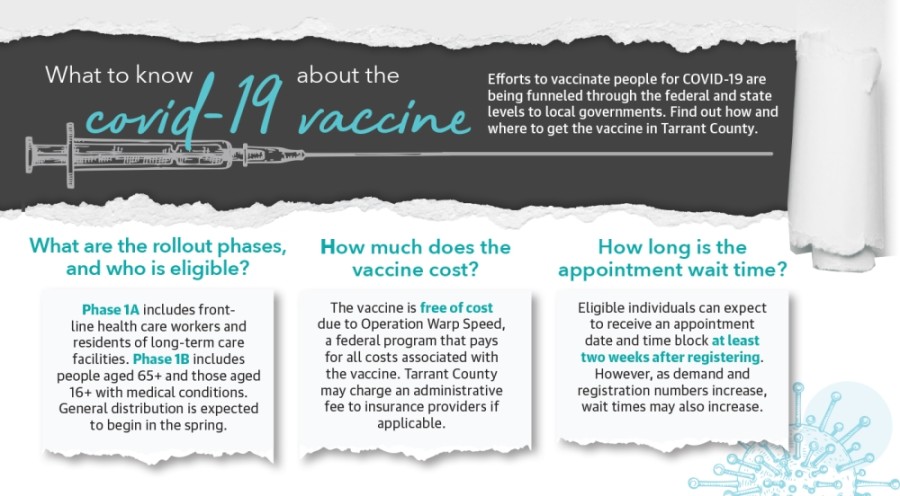 "Most of us are paramedics, even the EMTs," McCally said. "With a little bit of training, [crew members are] allowed to give shots through medical endorsement and medical direction."
Although most of the city of Roanoke is within Denton County, McCally said the city has not received requests from Denton County for help with distribution. Denton County has been using the Texas Motor Speedway as a vaccine hub to ramp up efforts, vaccinating 10,000 people per day.
"Tarrant County was the first one to ask for help," McCally said. "'I'm sure that when [Denton County]... needs assistance then we will shift our focus from Tarrant County to Denton County."
Due to the city being located in two counties, he said Roanoke benefits from a dual partnership.
"I commend Hurst for stepping up and hosting it. I have worked at that thing in the initial stages to get it up and running, and it is very well thought out," McCally said.
Getting the first dose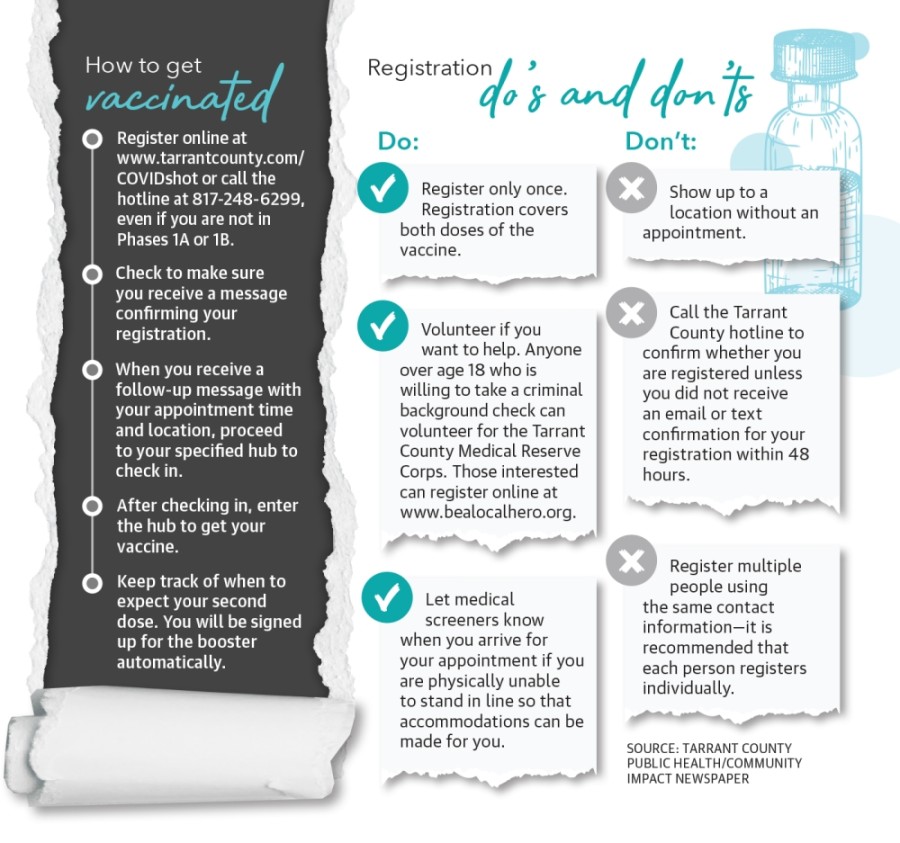 Palla said the average wait time from the moment people get in line to the moment they get their shot is about 30 minutes. Eligible individuals are required to have an appointment.
Amanda Calongne, chief of staff for state Rep. Giovanni Capriglione, R-Keller, said the county has planned for some unpredictability.
"What they're expecting on any given day is that 20% of people who have an appointment that day will no-show," she said.
To combat no-shows, the county schedules more vaccinations than can be fulfilled each day.
Amanda Moses, a Keller resident and cancer survivor, visited the Hurst Conference Center on Jan. 19—two weeks after she registered on the portal—to receive her first dose.
"[I look forward to being] able to shake hands and hug somebody that doesn't live in [my] house," Moses said.
Challenges continue ahead
As Tarrant County continues to vaccinate as many people as possible, officials are working to expand access across the county. Vaccines are also being distributed by private entities, like hospitals and clinics.
Calongne encouraged anyone who wants a vaccine to register now, regardless of whether they are eligible. The Centers for Disease Control and Prevention distributes vaccine shipments based on a formula that accounts for the population over 65 and local demand, she said. Higher registration rates in Tarrant County mean the county will get more vaccines sooner, she said. Distribution is expected to speed up as the federal government releases more vaccines.
"We are expecting the number of vaccines that we receive in shipments to start doubling, if not tripling, in the coming weeks," she said.