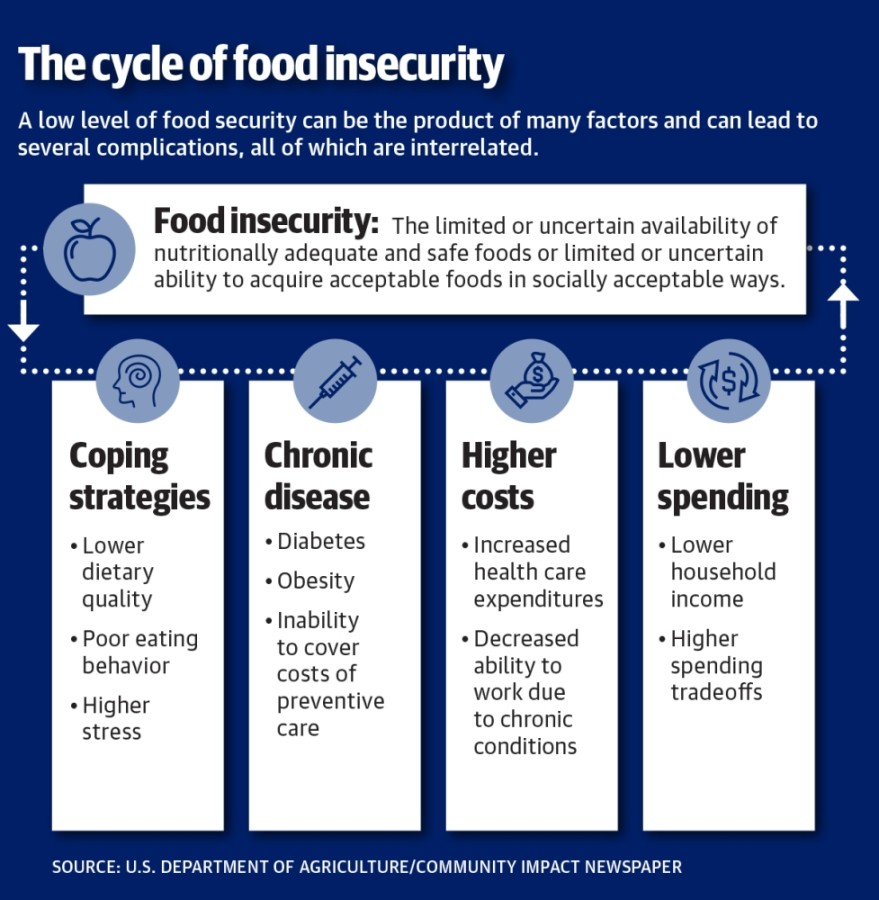 Throughout the COVID-19 pandemic organizations like Community Storehouse and the Tarrant Area Food Bank have been busy. On Oct. 23 alone, more than 2,600 families visited TAFB.
Since March, demand for food assistance has increased to record-high numbers as the pandemic and its consequences have forced many people to turn to social services for help for the first time in their life.
"Since March 16, we have fed over 16,000 individuals, and we've seen about a 300% increase in our services," said Megan Stiller, development director of Community Storehouse, a Keller-based nonprofit that aims to assist children and families in Keller ISD, Northwest ISD and Carroll ISD with education and nutrition.

Across the area, food banks and pantries are rethinking procedures to meet their community's needs while staying safe. The Tarrant Area Food Bank distributed 60 million meals during fiscal year 2019-20, which ended Sept. 30, according to the food bank's website.
TAFB President Julie Butner said many families are embarrassed and ashamed when they seek food bank services for the first time.
"It's heartbreaking," she said. "People are beginning to understand we have people in our city that are hungry."
The food bank has increased its distribution by 65% through its network of 350 partners, Butner said. It has also added 35 emergency mobile food pantries to serve the increased need.
As more people request assistance for the first time, many are also learning that food insecurity is not defined solely by where people live and can be affected by factors out of their control, Butner said.
"The frequency [at which people need assistance] is not about whether you live in the city or you live in the country," she said. "The frequency is about jobs, job loss, crisis or a death in the family. Those kinds of things create food insecurity."
Defining food insecurity
The U.S. Department of Agriculture defines food insecurity as "the limited or uncertain availability of nutritionally adequate and safe foods or limited or uncertain ability to acquire acceptable foods in socially acceptable ways."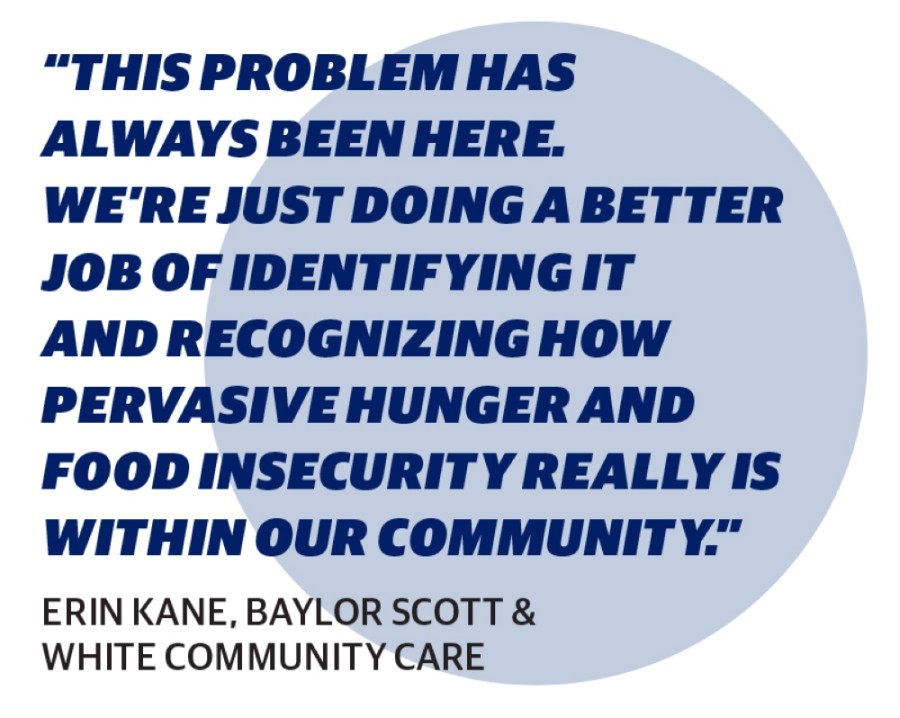 A low level of food security is less about the quantity of food and more about the quality, variety, and desirability of food, according to the agency. A lack of access to nutritious and healthy food can be caused by several factors. Families could be struggling with low wages, lack of transportation, lack of nearby grocery stores, lack of affordable housing, high medical costs or a confluence of multiple issues.
In cities such as Keller, Roanoke, and Fort Worth, the people most affected by food insecurity are "working poor," Stiller said. "We see a lot of parents that are working two to three jobs and living paycheck to paycheck," she said.
The pandemic has forced many to cope with new challenges, including loss of income, death in the family as a result of the virus, or dealing with the illness itself.
As people have had their income reduced or lost altogether, many have had to make cuts in their daily lives, Stiller said. For many, food is the first thing to go.
"The last thing that people are going to do is get rid of their house or their car," she said. "You never know what's going on behind closed doors."
Child hunger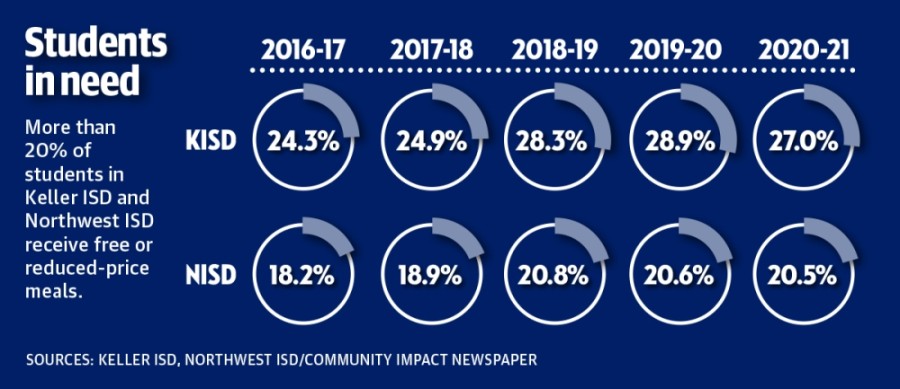 Throughout the COVID-19 pandemic, the inability of some families to feed their children has become a community issue. To mitigate this impact of the crisis, local school districts have made changes to provide more students with free and reduced-price lunches.
The change is in part due to a USDA program that provides funding to help school districts offer free meal waivers to all students regardless of income.Many districts have expanded free meal programs as a result, including Keller ISD.
As of Oct. 29, 27% of KISD students are on free or reduced-price lunch, and as of Nov. 4, all students in KISD have access to free meals through the end of the 2020-21 school year.
In Northwest ISD, data shows 5,207 students qualified for free and reduced-price lunch for the 2020-21 academic school year. The district currently offers free breakfast and lunch to all elementary and middle school students.
Cassie McQuitty, CEO of Christ's Haven, a voluntary placement nonprofit in Keller, said having the free lunch waiver for all students in the district is "incredible" for families for which food is still a financial strain but which might not otherwise be eligible for free and reduced-price lunches.
"When you take away the stigma associated with [free and reduced-price lunch], and now, everyone is getting a free lunch, it's one less sign that our kids have to wear. It's one less thing that differentiates them from everyone else," McQuitty said.
Dr. Erin Kane, a family physician at Baylor Scott and White Community Care, said issues of food insecurity not only affect the healthy development of children but also their stress level and their ability to concentrate in school. Children with food insecurity often struggle with obesity, she said.
"We may find kids growing up in families that actually struggle with obesity because they're eating unhealthy choices," she said. "That's what the family has access to, and it can lead to long-term health outcomes that relate to obesity, such as diabetes [and] high blood pressure."
Free and reduced-price lunch programs are often a lifeline for some families to feed their children, and they have become even more crucial during the pandemic, she said.
"It's clear that for most families, this is perhaps [the child's] healthiest meal of the day and sometimes their most reliable meal," Kane said.
Medical costs
According to 2019 data from nonprofit organization Feeding America, Texans who suffer from food insecurity spent over $200 more on health care on an annual basis than those not affected, and certain health care costs can increase even more for those who are uninsured.
In addition, a 2019 study from the Centers for Disease Control and Prevention ranked Texas among the five U.S. states with the highest per capita health care costs associated with food insecurity.
"This problem has always been here," Kane said. "We're just doing a better job of identifying it and recognizing how pervasive hunger and food insecurity really is within our community [...] and how much it ties into a person's overall health."