A new $7.3 million park coming to the Alliance area in late summer will fulfill a community need for more recreational space.
Alliance Park is the city of Fort Worth's latest project in District 7, which covers a portion of Northeast Fort Worth. It will sport multiple fields, courts, a playground, a picnic pavilion and a concrete trail. Phases I and II are currently underway. Located on the Southwest corner of Cleveland Gibbs and Litsey Road, Alliance Park comes at the same time the city is spending over $4 million to renovate North Park, at the corner of North Beach Street and Shiver Road.
"The sports facilities that Alliance Park brings are really vital to the northeast because we haven't had playing fields here," said Rusty Fuller, president of the homeowner association North Fort Worth Alliance. "So with the improvement of North Park ... and the creation of Alliance Park ... we will now have available parks where the [sports] programs can be brought back into Fort Worth."
A vision comes alive
Alliance Park's master plan was first approved in 2017. The park funding includes $1 million for the land purchase, $400,000 for administration tasks, $650,000 for planning and design and $250,000 for contingencies, which came from the parks and recreation's dedication fees fund and gas lease capital project fund, said Bryan Lyness, landscape architect for the city's Parks and Recreation Department.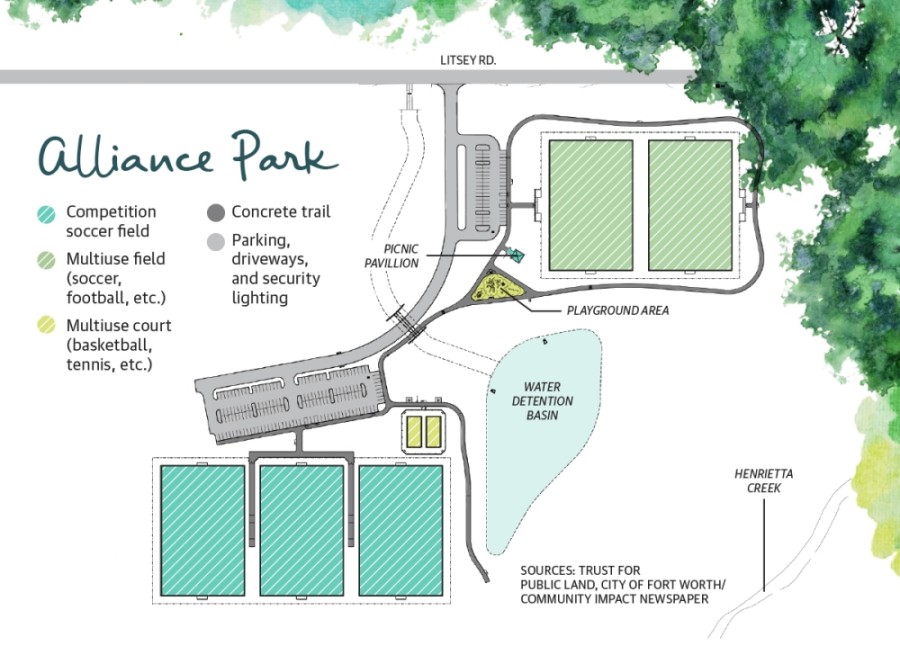 Two $1million Texas Parks and Wildlife Department Urban Outdoor Recreation Grants and $3 million from the city of Fort Worth's 2018 Bond Program were used for construction.
"The city of Fort Worth and the parks department are very aware of trying to spend every dime we can on actual built items," said Lyness.
Once finished, it will include three irrigated competition soccer fields and one multiuse field large for two soccer fields. There will be one multiuse court for sports such as basketball and tennis. It will have one playground area, a picnic pavilion, about ½ mile of concrete trail, parking, security lighting, and two water fountains.
Lyness said future developments in the park may bring even more amenities. However, he said those plans will depend on whether funding can be secured.
"We hope that what we install is what the citizens ask for," Lyness said. "We like to build things that people are proud of, that they're happy to have."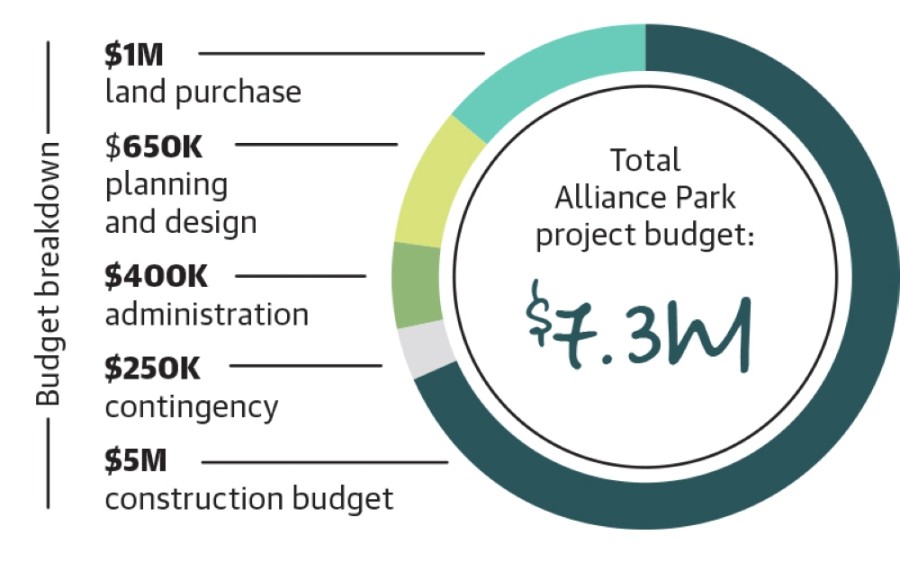 Catering a community need
With the area's closest recreational space being North Park, the upcoming Alliance Park will help fill that community need. North Park is currently undergoing renovations to address drainage issues on the soccer fields using funds from the 2018 bond.
District 4 City Council Member Cary Moon spearheaded the North Park upgrades and said the low quality of park facilities drove sports leagues to neighboring cities like Keller.
North Park and Alliance Park are "giving people a place to live, work and play in open space," Moon said.
"76244 is your most congested, most densely populated ZIP code in DFW, and any open space that we can retain and improve for parkland is a benefit to the people that live there," Moon said.
Shawn Eldred, president of the North Fort Worth Alliance Soccer Association, said adding new fields can only help local sports groups. "The more people that we can bring into the area, the more events that we can bring in," Eldred said.