Residents of Fort Worth and Keller will see changes this summer in how their libraries operate as a long-term agreement to share resources expires this fall.
The libraries for Fort Worth, Keller and five other cities that are part of this MetrOPAC agreement are already working to ease the transition.
Changes will roll out for library patrons in June, according to statements from Keller and Fort Worth. Residents of each city will still be able to request books and other materials from other libraries as interlibrary loans, but Keller Public Information Officer Rachel Reynolds said getting items could take longer to receive them. Daily deliveries to Keller from partner libraries will be phased out.
"Is it going to take me longer to get the materials that I want? We don't really know," Reynolds said. "If you want something that used to have a really long waiting list coming from other cities' residents, you might suddenly have a much shorter waiting list."
Last year about 40% of checkouts at the Keller library were by nonresidents, according to the city. Only 18% of the items that Keller residents checked out came from other libraries, the city stated.
MetrOPAC began in 1991, and over the next decade, Benbrook, Burleson, Haltom City, Keller, Richland Hills and Watauga signed contracts with Fort Worth, Fort Worth Public Library Director Manya Shorr said. This is the first time Fort Worth proposed extensive changes to the contract, she said, and the six smaller cities decided not to renew the agreement.
MetrOPAC allowed residents of one city to easily borrow materials from the partner cities. The cities also share a records management system managed by Fort Worth, and Fort Worth provides trucks and couriers to transport materials, Shorr said.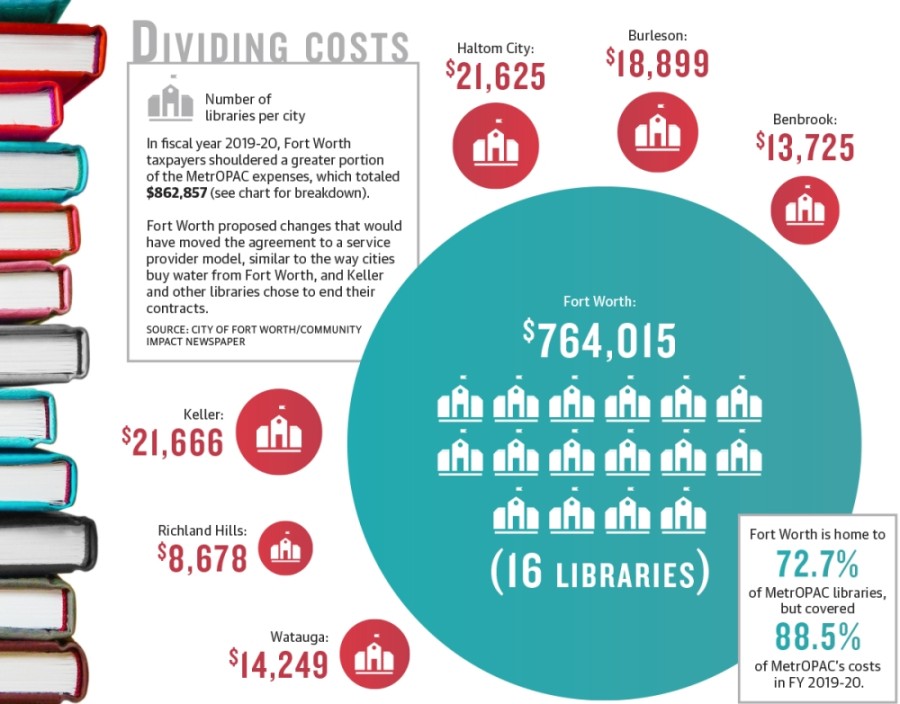 According to a report given to Fort Worth City Council on April 6, Fort Worth library branches made up 16 of the 22 libraries in MetrOPAC in 2020, but the city paid 89% of the costs.
"It was really important that whatever contract we move forward with, that it reflected the reality of what we were already doing," Shorr said.
Under the agreement, each city held a contract with Fort Worth but not with each other. Shorr said that put administrative pressure on Fort Worth and left other cities with little power to make decisions. The proposed changes to the contract would have codified the way MetrOPAC actually operates, she said.
"The issue was not the partnership. We loved being partnered with these cities," she said. "The issue was the contract itself. It was an unsustainable model that hadn't been looked at in many years."
Necessary changes
Keller Library Services Manager Kelly Holt said Keller acted to ensure the library would have flexibility and autonomy in the future.
"We're excited about the possibility of being a little more flexible and a little more dynamic and a little more responsive to unique needs of our community," she said.
To make up for the loss of immediate access to other library collections, Fort Worth and Keller are expanding their collections based on residents' interests. Holt said for Keller, that means consumer health information and best-selling nonfiction. Keller and Fort Worth also both have online systems that let patrons request materials for the library to purchase. For those who live outside each city, the libraries will continue to offer library cards for a fee.
The Fort Worth library system is also committed to bridging geographic gaps. In August, Fort Worth opened a new library on Golden Triangle Boulevard, an area that had been closer to the Keller library than other Fort Worth libraries.
According to the City Council report, the number of Fort Worth residents who used the Keller library decreased by 36% between July 2020 and February 2021. Officials attributed that decline to residents now using the Golden Triangle library.
Shorr said agreements with other cities have become less vital for Fort Worth as the city opens new branches.
"I am committed to breaking down barriers to access, and I know that we can continue to serve everyone, even though this particular agreement will no longer be in place," Shorr said.
Valuable partnerships
Though MetrOPAC is ending, the Keller and Fort Worth libraries have other ways to give residents access to materials not on the libraries' shelves. They both participate in the TexShare program by the Texas State Libraries and Archives Commission, which grants library patrons access to databases that contain more than 16 million digital items, according to Jennifer Peters, director of library development and networking for the commission. Those materials vastly increase the library's specialty reference topics, from genealogical resources to arts and crafts guides.
Fort Worth also offers TexShare cards, which residents can request and use in-person at participating libraries across the state, including the Roanoke Public Library.
Peters said the state can negotiate for cheaper access than individual libraries could, and the cost can vary based on city population. For example, Keller paid $1,742 for TexShare access in fiscal year 2019-2020, while Fort Worth paid $22,888. Access to those digital databases would have otherwise cost Fort Worth over half a million dollars.
"We definitely value partnership," Holt said. "Whenever we can partner with other communities, we do."
What is changing:
Fort Worth residents are eligible for free library cards valid only at Fort Worth libraries. Those who do not live in Fort Worth can purchase a Fort Worth library card for $50 a year. Keller residents are eligible for free library cards valid only at the Keller Public Library. Those who do not live in Keller may purchase a Keller library card for $25 a year. Roanoke was not part of the MetrOPAC agreement, so no changes are planned to its library. Those who do not live in Roanoke may purchase a Roanoke library card for $25 a year.
To learn more, visit the
Keller, Roanoke, Northeast Fort Worth e-edition for May
.