For many businesses in Keller, Roanoke and Northeast Fort Worth, the federal Paycheck Protection Program became crucial in keeping people employed and businesses open during the COVID-19 pandemic and after the unexpected 2021 winter storm.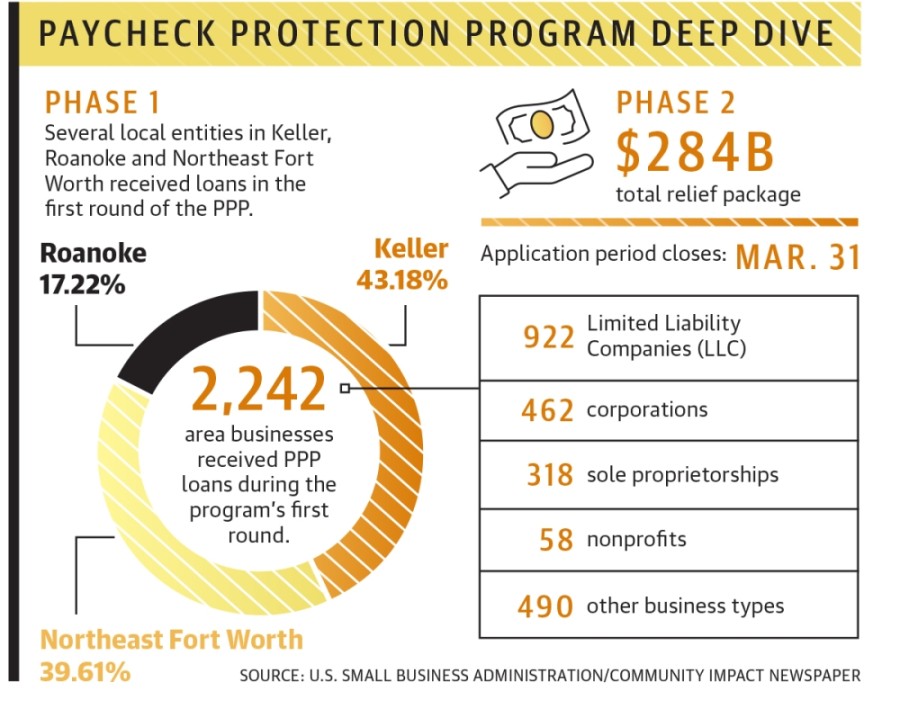 In late December, a second round worth $284 billion was approved to benefit small businesses that exhausted their initial loan or did not receive a loan during the first round.
For Keller-based nonprofit Christ's Haven for Children, the funding received in the first round allowed it to increase capacity to host and care for displaced children and teens. After receiving funds in the first round, they were able to increase care services from 80% in March 2020 to 95% by the end of 2020 without reducing staff.
"We are grateful to be able to provide normalcy, dignity and hope to more children and teens in the midst of such a difficult year," Christ's Haven CEO Cassie McQuitty said.
Tighter restrictions
Eligibility requirements have changed for the second round to prioritize smaller businesses. To qualify, businesses must have fewer than 300 employees and be able to show more than a 25% reduction in gross receipts within a specific 2020 quarter relative to the same quarter in 2019.
Another change came in the form of added regulations to ensure the money goes to business owners in need.
"Last spring, a fire hose was opened to get people money, and people got funds that shouldn't have," said Sean Bryan, a tax attorney in the Fort Worth area. "Lenders are going to be held more responsible for the borrowers and loans they give."
According to Bryan, 60% of all the money given out in the first round was used to maintain staff payroll over the course of 24 weeks. It has also been used for personal protection equipment, filtration equipment, drive-thru windows and other items intended to combat COVID-19.
Locals react to second round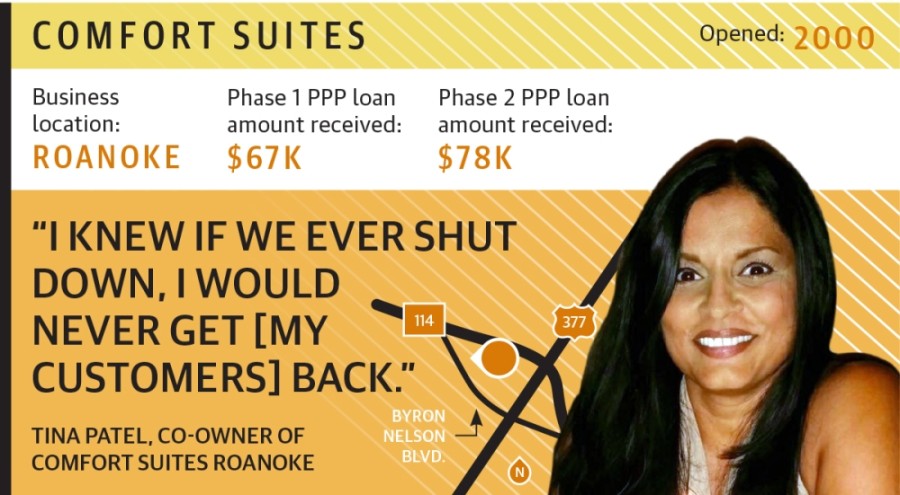 Tina Patel, co-owner of Comfort Suites Roanoke, said that prior to receiving money in the first round, she considered shutting down her hotel even though it was deemed essential as part of the hospitality industry by the state of Texas.
"We've worked so hard to get the corporate accounts that we have and all of our regulars that stay with us," she said. "I knew if we ever shut down, I would never get them back."
Patel was able to maintain a 35% occupancy rate early on, but her 2020 revenue came out to 53% of what she made in 2019.
Patel applied to both rounds of the loan program. The first time, she received $67,000, which she used primarily on payroll. For the second draw, she received $78,000, which she used to pay off her property taxes in January and avoid interest rates.
"We're very grateful that the federal government has done this, but ultimately, it's still not enough," she said. "Every stimulus package that was out there—trust me, we applied for it."
Part of the incentive for businesses to apply for the loan is the loan forgiveness program, which frees business owners from any financial obligations if the money was used as required.
Forgivable expenses include rent; utilities, such as telephone and internet; mortgage interest and any costs relating to fortifying businesses against COVID-19.
While many businesses have already applied for and even received their second PPP loan, newer businesses have struggled to qualify due to tighter restrictions. Tom Eyler, co-owner of Tune Up—The Manly Salon, received funding from the first PPP loan the day he reopened his shop after six weeks of closure.
"[The funds] were invaluable... that money carried us through that whole summer," Eyler said.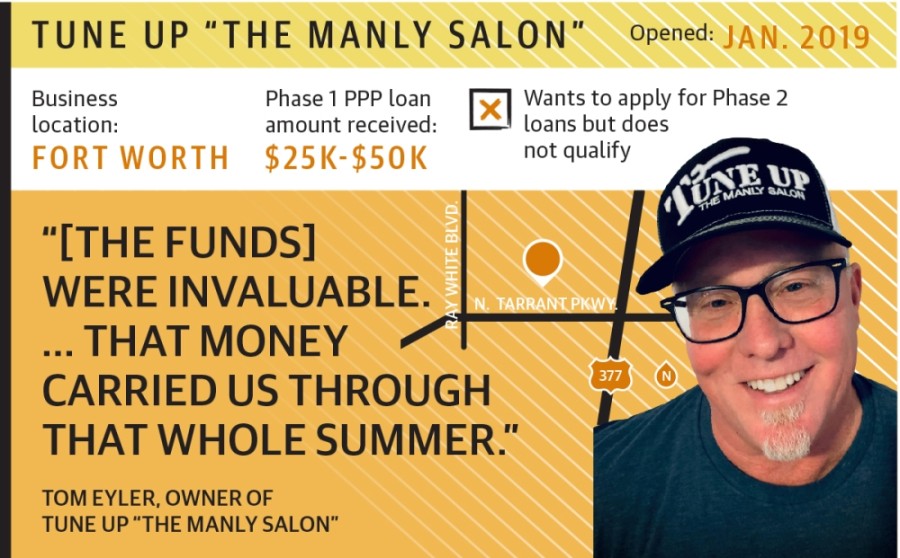 However, when Eyler tried to apply for the second round, he found he did not qualify because he could not show the required 25% decrease in revenue. Being the owner of a new business that started in 2019, Eyler said he had only a 7% decrease in revenue even though his revenue losses were greater.
"I could really use it right now because we have been scratching and crawling to get back to our pre-COVID numbers," he said. "I understand why they did it, but it doesn't take into account small businesses who started in 2019."
Providing resources for businesses
Sally Aldrige, president and CEO of the Metroport Chamber of Commerce, said her staff has been providing local members with the latest information to help them obtain assistance.
"Each business is different and has different needs," Aldridge said. "We provide the tools and resources so members can make informed decisions on the best direction for their situation."
Elsewhere, Christ's Haven received between $150,000 and $350,000 in the first round of PPP loans and will not be applying again.
"We feel like we are in a good, stable place right now," said Kelly Strzinek, communications and marketing director at Christ's Haven. "So much of that is due to just incredibly generous donors and people in our community [that keep] supporting us."
Eyler said he hopes the plan's language will be modified to include newer businesses that cannot meet the qualifications.
"The next six months is going to tell if we're going to survive," he said. "Our gross receipts are definitely building, [but] right now, I have not broken even yet. I'm still losing money every month."
For more information on the second round of PPP loans, business owners can contact a local bank or visit
sba.gov/funding-programs/loans/coronavirus-relief-options/paycheck-protection-program
.