Editor's Note: This story has been updated to include the correct title for Tammy Pulse, Carroll ISD Counselor Coordinator.
A year since the coronavirus pandemic began, educators and parents are still searching for ways to ensure student success, whether that be through virtual or in-person instruction.
Traditional methods of education have been disrupted across all levels, which has left many parents worried that their children are falling behind.

Carroll ISD Counselor Coordinator Tammy Pulse said the district has seen varying results with regard to student success in remote and in-person learning environments.
"Some of our remote students are thriving academically and are emotionally doing well," she said. "Others do seem harder to engage and connect with. Those who don't log on to remote learning struggle with grades."
Gina Peddy, executive director for curriculum and instruction at Carroll ISD, said that early in the pandemic, the district saw a slight decline in reading and math abilities at the elementary level.
"The achievement gap is lessening as students become more familiar with the learning platforms (whichever one they chose)," she said.
A November 2020 study by the NWEA, formerly known as the Northwest Evaluation Association, a national, research-based, not-for-profit that creates academic assessments for students pre-K-12, showed students in grades 3-8 performed similarly in fall 2020 in reading to same-grade students in fall 2019. However, those same students scored about 5%-10% lower in math.
Detailed data on student performance is hard to come by. In December, the Texas Education Agency announced that the state's standardized tests will proceed as scheduled this year.
The State of Texas Assessments of Academic Readiness, or STAAR, tests were canceled in spring 2020 as districts adjusted to new health guidelines to mitigate the spread of COVID-19.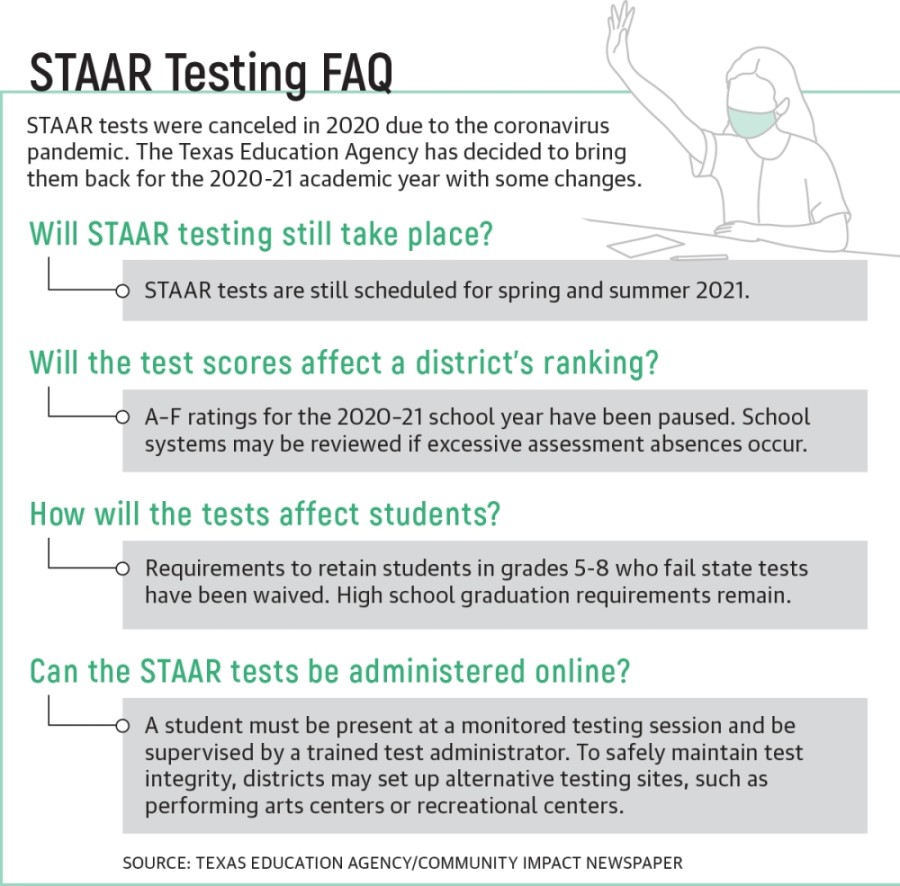 However, TEA called the data provided from the upcoming 2021 tests "critically important" to understanding the impacts of the pandemic on student learning.
Parents of elementary and middle school students can opt their child out of the testing, but high school students will have to pass five end-of-course subjects in order to graduate, according to the TEA.
Former GCISD Executive Director of Learning, John Doughney, who worked for the district for 17 years, said he thinks the standards set by the state for each grade are not a good indicator of whether a child is falling behind.
"The whole idea of falling behind is really based upon a concept that is pretty faulty," Doughney said, adding that the tests are "measuring standards that are written for a normal school year."
Doughney said he expects testing scores to be lower but that it should not be seen as a sign of academic failure.
"We're going to have a generation of kids who have lived history, kids who have overcome incredible obstacles and have learned things that will never be measured on a standardized test," he said.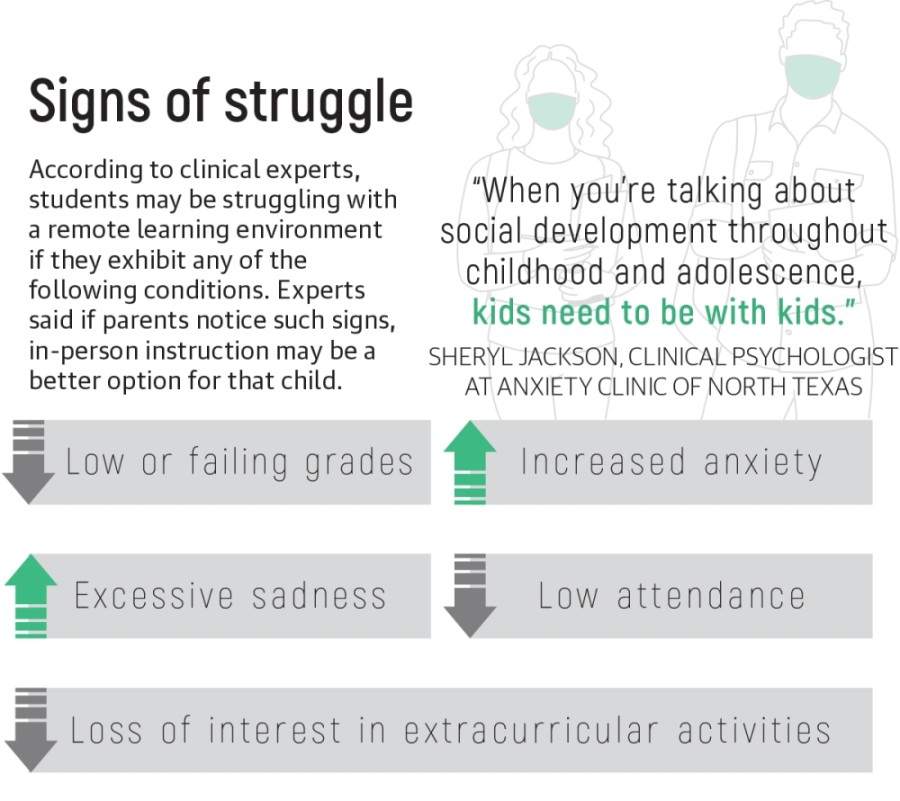 Ensuring academic success
Alongside state-administered tests, Carroll ISD and Grapevine-Colleyville ISD officials are monitoring individual grades and attendance in order to determine whether a student should return to campus.
A new TEA guideline issued in December allows districts to require failing students to return to in-person instruction. GCISD and CISD have both implemented the guideline.
"We know based on data that the best learning environment for most students is in-person," GCISD said in an emailed statement. "When they return to in-person instruction, we have interventions and support in place for students with a greater amount of accountability and supervision."
According to GCISD, the district expects a few hundred students across the district will be required to return to in-person instruction in accordance with the TEA policy.
"As students return, they will be assessed to determine learning gaps," the district said via email. "Students may receive individualized learning plans, specialized tutorials and/or a phased-in support system to best support their academic needs."
Janet McDade, assistant superintendent for student services at CISD, said students who are required to return to in-person instruction will benefit from the Multi-Tiered Systems of Support protocol, which ensures that classroom teachers and the counseling and support staff provide prevention, intervention and enrichment for each student to ensure that gaps are filled and critical needs are met.
"The students' support team will determine if they must focus on Core, Targeted, or Intensive intervention to support the student," McDade said in an email. "This allows us to assign staff, allocate resources and create schedules in the most effective way to support student success."
In the event that parents have health concerns about their student's return to in-person learning, they may appeal the decision by submitting a medical exemption. According to McDade, as of March 1, 19 students have received letters notifying them that they have until the end of the grading period to bring their grade up. If they do not, they will be required to return to campus.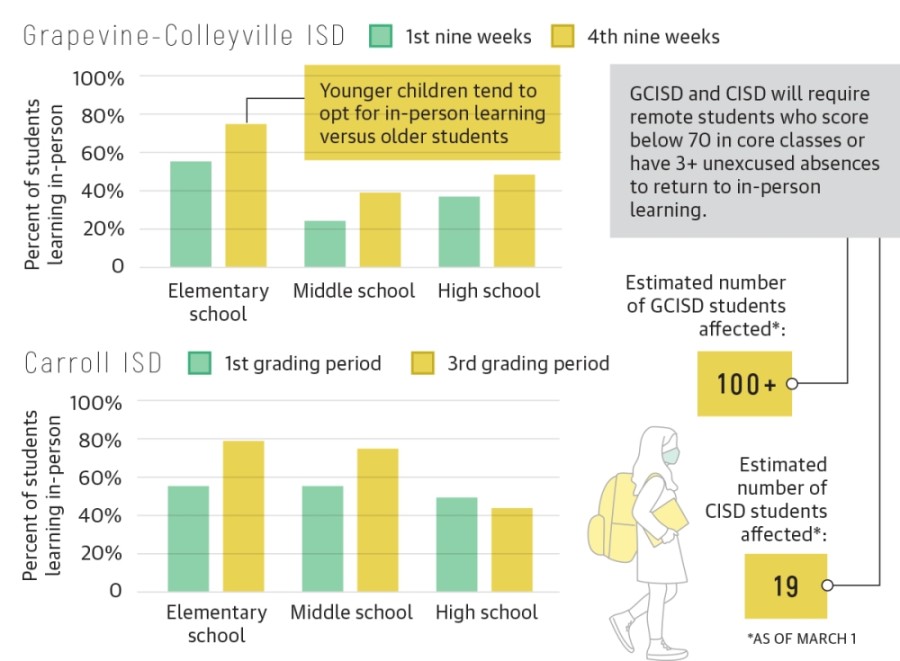 Even before the implementation of the new TEA guideline, both districts had seen a greater number of students return to in-person instruction as the academic year progressed.
Around 64% of students in CISD attended in-person during the third grading period, according to district data.
In GCISD, 70.8% of district students opted for in-person instruction during the fourth nine-week period, officials said.
Pulse said students with involved parents at home seem to be doing better academically than those who have less involved parents.
"K-12 counselors are on-hand for virtual counseling sessions and support," Pulse said. "We've made more at-home visits this year to check in with students and their parents."
While school districts have made progress since March 2020, they have continued to adapt their instruction models to comply with requirements while offering students the best learning environment possible.
"The most challenging aspect of providing virtual learning is the ability to engage our students, build relationships with them and [meet] the social and emotional needs of each child," Peddy said. "While we have been able to adjust our curriculum, the assessment piece has also been a challenge."
As more students return to face-to-face instruction, McDade said teachers and campus administrators will maintain consistent health protocols.
"Each 9 weeks, we have seen an increase in students returning to in-person learning so our campus administrators and teachers are experienced in teaching and enforcing the health and safety protocols," McDade said in an email. "These health and safety protocols have successfully kept our schools open all year."
While school districts have made progress since March 2020, they continue to adapt their instruction models to comply with requirements while offering the best environment for students.
"In an in-person environment, the teacher can provide immediate feedback to students, whereas in a virtual setting it can be more challenging," Peddy said. "While we have been able to adjust our curriculum, the assessment piece has also been a challenge."
Social and emotional interactions
Amid the COVID-19 pandemic, many students also appear to be struggling with a lack of social interactions. Beth Lusby, a clinical psychologist at Cornerstone Assessment & Guidance in Colleyville, and Sheryl Jackson, a clinical psychologist at Anxiety Clinic of North Texas in Colleyville, have been researching the effect of remote instruction on a child's social development.
"One of the things we both want to be very mindful of is not panicking parents," Jackson said. "But when you're talking about social development throughout childhood and adolescence, kids need to be with kids."
According to Lusby and Jackson, remote instruction may lead to a loss of maturation among certain groups of children. While it may take longer to recover from that loss, recovery is possible, they said.
"The general notion is that we want to prepare kids to live in the world that exists, and I think living in an only-online world would be very unfortunate," Lusby said.
Beyond pass/fail statistics, Lusby and Jackson said there are other signs that may indicate a child would be better suited for in-person classes.
"If the child is not engaging in activities with their peers or even family outside of their schoolwork [...] and is really just kind of isolating ...[a parent] should consider 'is this in our child's best interest?'" Jackson said.
Other possible "red flags" that may indicate a child needs to return to in-person instruction include increased anxiety, withdrawal from activities and excessive sadness, Lusby said. Pulse also said the district has seen an increase in loneliness and sadness among isolated students.
"We do see loneliness and sadness in students who have been isolated for the past year. Students who haven't been able to see friends for months on end tend to be sad and may feel that they are missing out on what others their age are experiencing," Pulse said.
For the time being, CISD and GCISD students may choose to do remote or in-person instruction, but the merits of each method of instruction are still unclear, Lusby said.
"I honestly can't imagine [districts] not continuing some level of remote learning - there are too many families that have found it good for them," Lusby said. "I think it will change the face of education in some way."