Grapevine, Colleyville and Southlake are well-positioned for economic recovery this year with new businesses and developments that are expected to add jobs and help boost local revenues.
Grapevine's tourist industry took a deep hit in 2020. But early reports on the newly opened Hotel Vin and upcoming Harvest Hall along with other planned city projects offer some encouragement for 2021.
The city of Colleyville starts the new year with several programs launched in 2020 that continue to help local businesses during the pandemic.
And in Southlake, signs that recovery is on the way come with the opening of a new hotel and two more in the works to pair with the city's shopping and dining options.
Beyond those projects, all three cities can expect an increase in business startups, which in turn will boost capital, according to Cameron Cushman, associate vice president of Innovation Ecosystems at the University of North Texas Health Science Center in Fort Worth.
"It's very counterintuitive, but a downturn in the economy is actually really good for entrepreneurship rates," Cushman said. "When the economy is bad, people start companies."
Grapevine tourism to see lift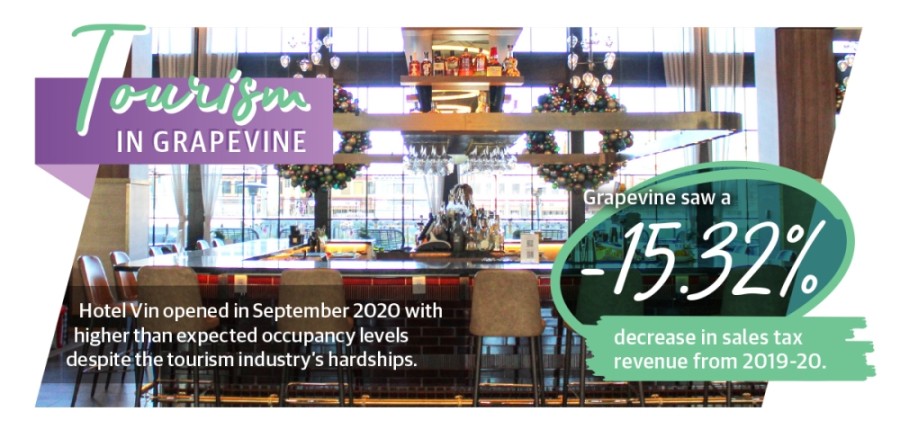 Tourism is among Grapevine's top sources of revenue. The industry brings in around 15 million visitors a year and an average of $2.4 billion in tourism-related spending, said Kimberly Foster, director of marketing and brand management for the Grapevine Convention & Visitors Bureau.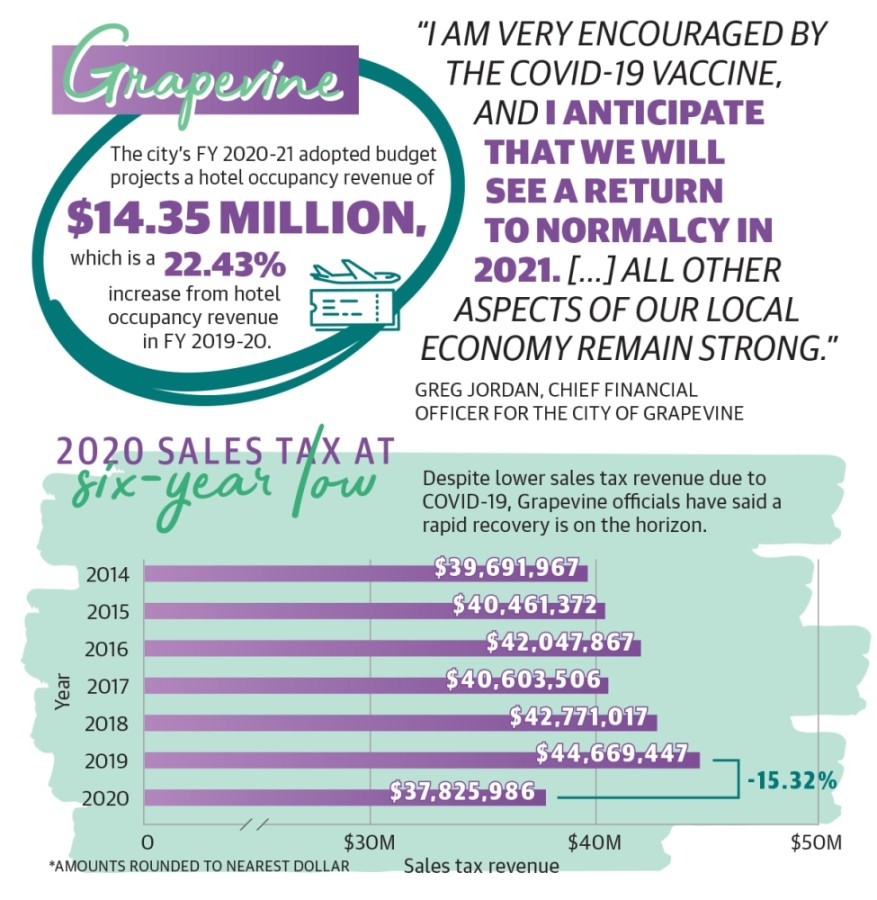 One of Grapevine's attractions in 2020 has been the opening of Hotel Vin, one of the three components of the Grapevine Main development. After opening in September 2020, the hotel has seen higher-than-expected occupancy levels despite pandemic-related travel restrictions. Harvest Hall, Grapevine Main's food hall, is expected to open in mid-January 2021. The hotel and food hall are expected to bring in $400 million in investment and create at least 1,500 new jobs.
"We hired people and staffed based upon limited business. And it actually worked the other way—we were extremely busy," Grapevine Main Managing Director Tom Santora said.
While it may take the tourism industry time to fully recover, the next 12 months, with the arrival of the COVID-19 vaccine, could prove crucial, said Greg Jordan, Grapevine's chief financial officer. He said he thinks a positive recovery is on the horizon.
"This isn't a normal economic cycle because of the [Coronavirus Aid, Relief and Economic Security Act] money and [other] stimulus packages. So this isn't comparable to the recession in 2008. But because of the stimulus packages, I think that it's going to bring about a quicker recovery," he said.
Despite a decrease in hotel and airline activity in the past year, Jordan said the rest of Grapevine's business activity remains strong.
Also in the works for 2021 are the opening of Grapevine Main's train station, the relocation of Southland Holdings' headquarters and construction of a Hilton Inn in the Silverlake development.
Colleyville shows support for local businesses
Colleyville started 2021 stronger than many other cities did, according to Assistant City Manager Adrienne Lothery.
"Colleyville has actually fared very well," she said. "Our citizens still continue to make purchases, and our sales tax revenue has actually been up."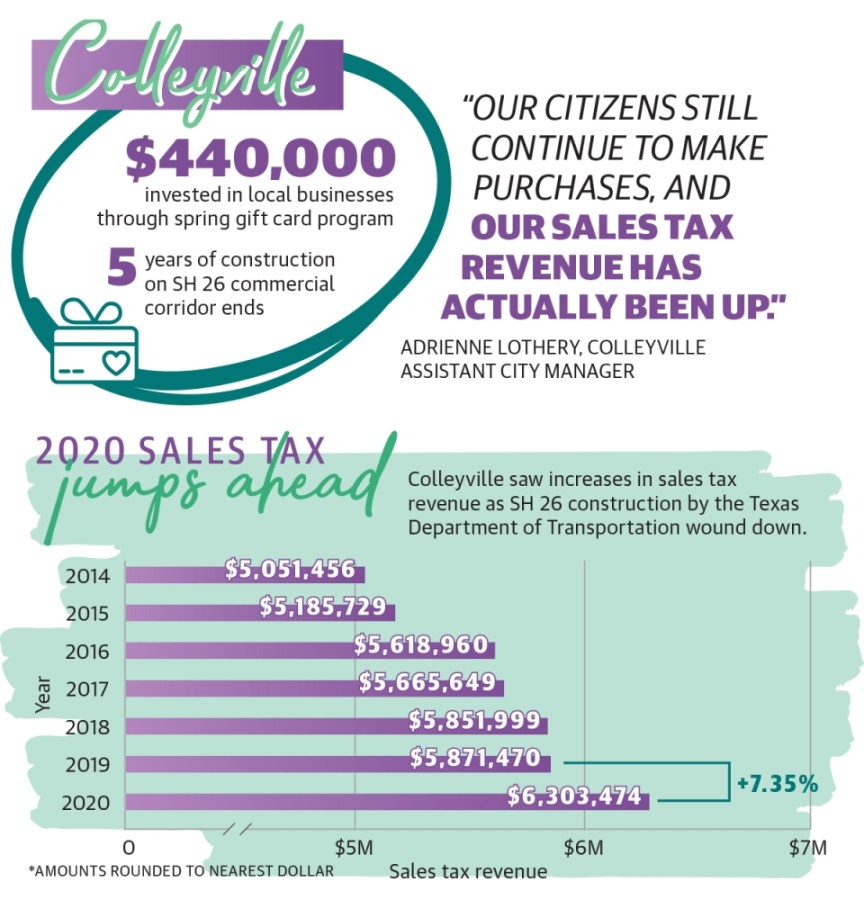 Colleyville's SH 26 commercial corridor has long been under construction. The city made plans to transition businesses to a new normal before the COVID-19 pandemic became a reality.
That includes a long-anticipated business center, which the city opened August 2020 in partnership with the Colleyville Chamber of Commerce. Lothery said the center has since become a venue to connect businesses to pandemic resources and answer business owners' questions.
Phil Tullis, who opened THE Cajun Market in June, said Colleyville understands why it is important to support small businesses, which make up 99.9% of the U.S. economy, according to the U.S. Small Business Administration.
"If those businesses all start to fail," Tullis said, "our economy is going to be in serious trouble."
The Colleyville community wants to support small businesses, Tullis said, and business owners have opportunities to give back while the U.S. is still in a pandemic.
"We really all need to focus on strengthening our immune systems and doing right by our bodies," said Nina Warda, whose family opened DessertsRx last year to provide that opportunity.
The Wardas plan to expand to a second location and make their nutrition education widely accessible.
Tullis is optimistic about 2021. January to July will bring THE Cajun Market's busiest period of the year: crawfish season.
"COVID will never keep Cajuns away from crawfish," he said.
Investment in hospitality continues in Southlake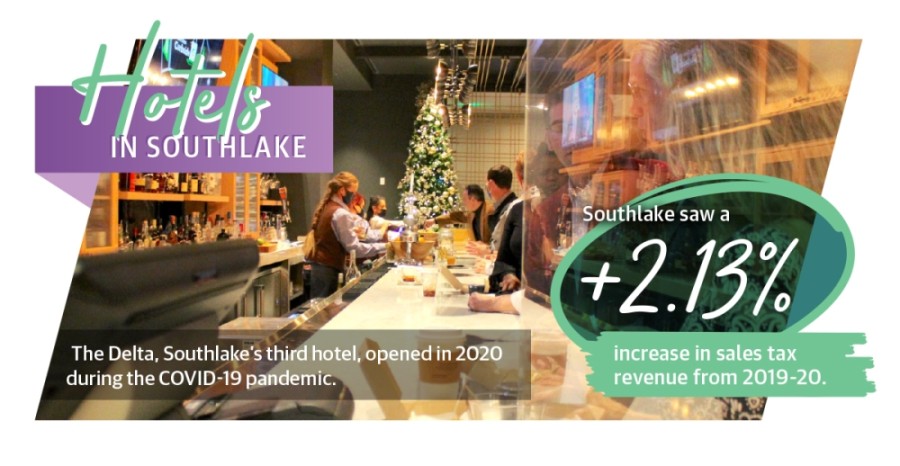 The Delta Hotel by Marriott Dallas, one of the city's newest business prospects, held a grand opening Dec. 9. With a fourth hotel—the Westin—set to open in fall 2021, these developments show Southlake's growth as "a premier destination," according to Daniel Cortez, director of economic development and tourism for the city of Southlake.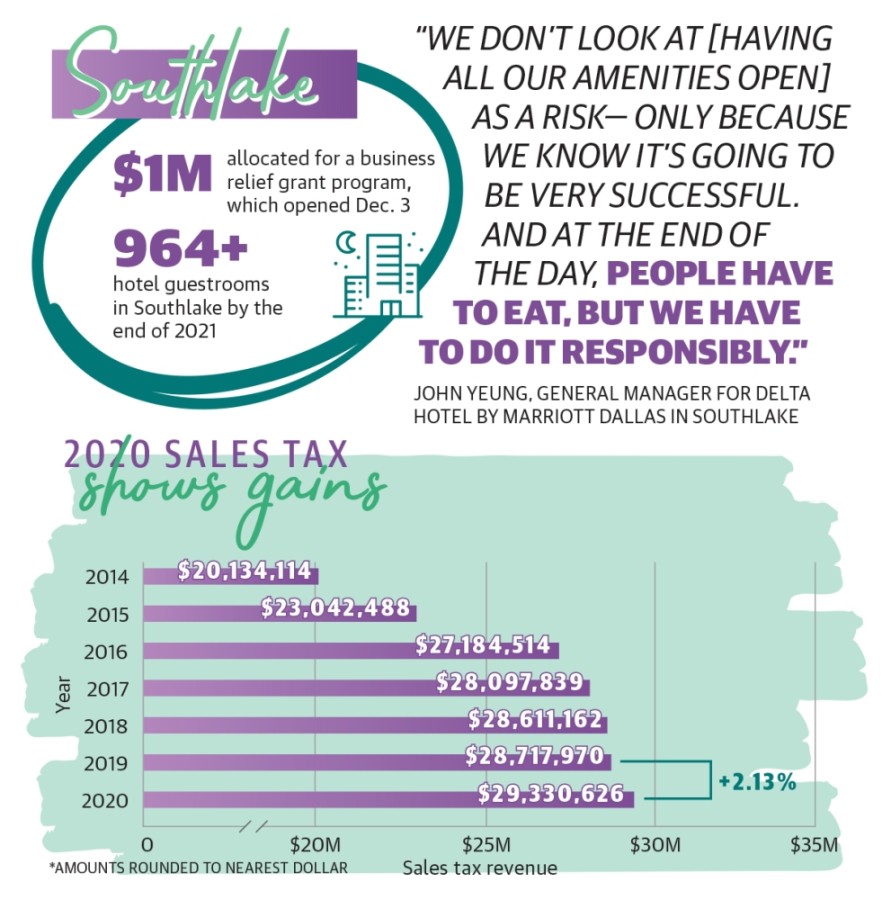 John Yeung, general manager for the Delta, said that because the hotel is not at full capacity, it currently employs 50% of the staff it will eventually require. He said he believes that once business starts returning to normal, the new hotel will play a crucial role in boosting the local economy by bringing in more people.
"As people start to travel and the volume increases, we would quickly be able to put people back on," Yeung said. "It's important that [staffers] be trained appropriately so that when we call them back, they are ready to go."
The city of Southlake is currently in the midst of discussing plans for a new mixed-use development called Creekside Point, which would bring a fifth hotel to the city. According to city documents, the project would feature a 145-key full service hotel with a 4,500-square-foot in-house restaurant and 4,500 square feet of event space.
Cortez said that although the city saw a slight increase in sales tax revenue in fiscal year 2019-20, the city still struggled as a result of the pandemic.
"I am optimistic that as vaccines are distributed and we get closer to the summer, we'll see visitors' confidence return," Cortez said, adding that the city has been receiving inquiries from new businesses looking to come to Southlake.
"We are already well known for the great shopping and dining options we have in town," he said. "By expanding our hotel options, we offer visitors the chance to stay local and try a little bit of everything we have to offer."