When Grapevine's new animal shelter opened in April, it was the culmination of years of planning and construction with funding approved by voters in the 2017 bond election.
Grapevine Chief of Police Mike Hamlin compared it to a barn raising, an event that brings an entire community together to work toward a common goal.
"The spirit that got us here today is tantamount to the spirit that raised those barns in the early parts of our country," he said during the shelter's April 17 ribbon-cutting. "We're all on the same end of the rope, and figuratively we're pulling that building up."
The previous facility—built on the same site in 1992 and demolished in 2019—was a third of the size of the new shelter.
Grapevine Animal Services manager Kristina Valentine said that the indoor space is broken up into flexible pods, rather than having one large room for dogs and one for cats. Other features that make the facility more pleasant include skylights that let in natural light and a paint palette that uses colors animals can see, Valentine said.
"Just having the extra space, inside and outside, it's going to be a lot better," said Jenna Antenucci, a Grapevine detention officer who has also worked shifts at the animal shelter in various capacities for four years.
Valentine said that she hopes the new shelter will be a positive for the city's human citizens as well.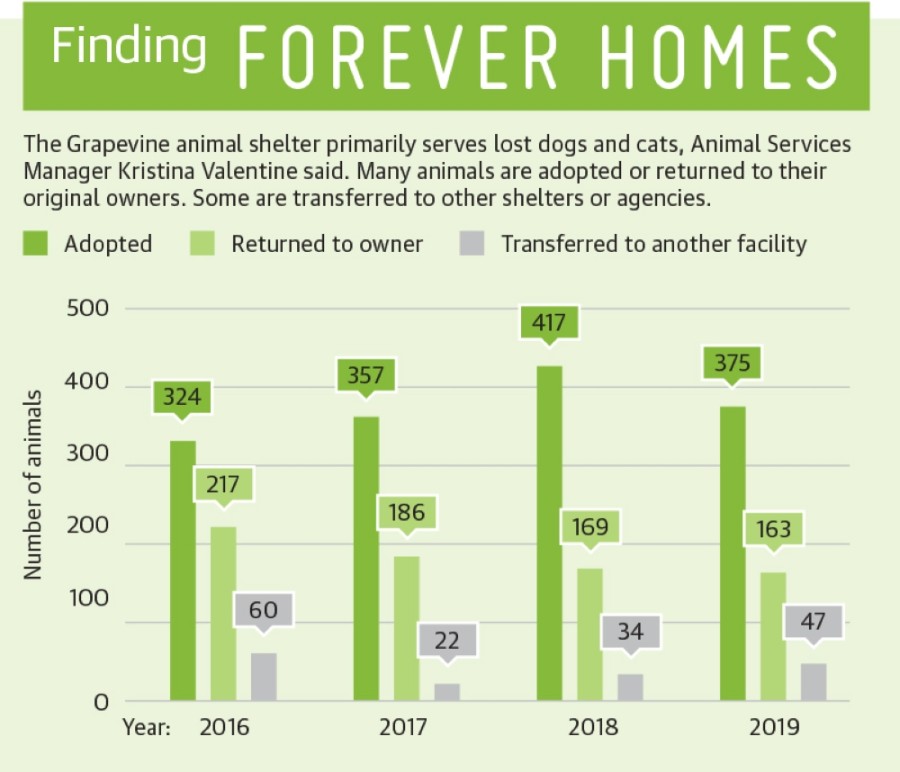 "As a municipal shelter, it's kind of our job to make sure that we're protecting the public's health, and that means the animals as well as the people," she said.
There is a community room for classes and events, a retail wall for purchasing merchandise and pet supplies and an outdoor courtyard where families can introduce potential adoptees to their current pets, according to Amanda McNew, media manager for Grapevine Police Department. In Grapevine and many other cities, animal services is a responsibility of the police department.
Safety features have been improved as well. McNew said a formal needs assessment performed for the 2017 bond package found that the previous building did not meet national safety standards. Each living space now has a separate air system to prevent the spread of illness, and animals can receive on-site medical care in the shelter's veterinary space, which Valentine said means they won't need to be taken off-site for routine procedures, such as sterilizations.
Grapevine is an open-admission shelter, meaning the shelter never turns away animals, and Valentine said they do sometimes take in animals with serious medical needs. In some cases, the cost of medical care for one animal might put a strain on the shelter's ability to care for others. Valentine said that it has been rewarding to see the community rally to help those animals through donations.
"You get to involve the community in what you're doing," she said. "They take pride and they take ownership that they helped an animal in need."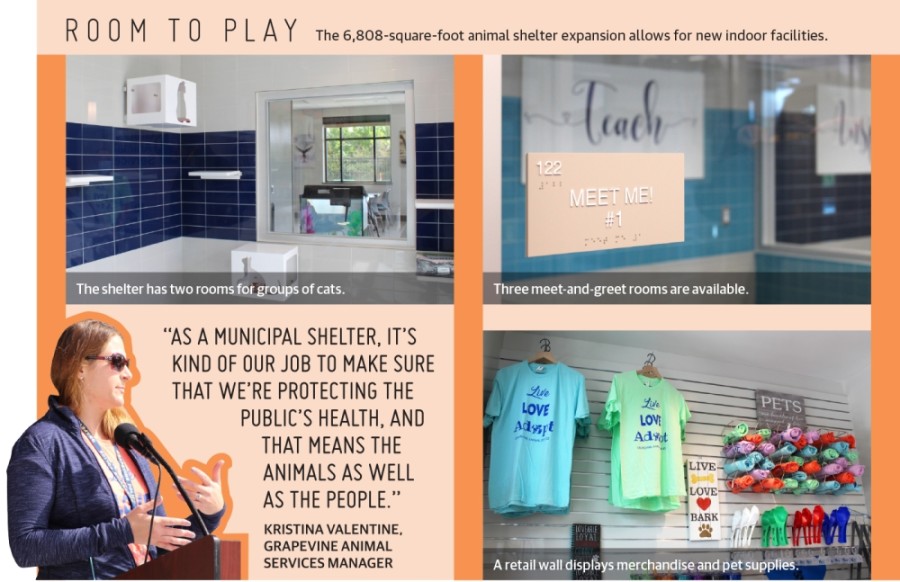 There is also a dedicated area—the Feathers, Fur and Scales Room—for small domestic animals. Although the Grapevine shelter mostly sees cats and dogs, Valentine said there are sometimes outliers.
"People have found bearded dragons or ferrets on the loose, or...they adopt a bunny and then all of a sudden there's six bunnies," she said. "Most of them are prey animals, and if you put them in the cat room or the dog room, they're going to be freaking out."
During construction of the new shelter, Grapevine relied on the city of Coppell to house and adopt out its stray or surrendered animals. In 2017, when Coppell Animal Services remodeled parts of its shelter, Grapevine housed some of Coppell's animals.
"When it came time for [Grapevine] to do their complete renovation, obviously we were the first place they asked to kind of repay the favor," said Charlene Lovato, animal services manager for Coppell.
Many municipal animal shelters share animals and resources like Grapevine and Coppell do. Colleyville, Southlake, Roanoke and Westlake, for example, have a formal agreement to share animal services with the city of Keller, according to previous Community Impact Newspaper reporting.
Valentine also said that because Grapevine has such a high rate of adoption, the shelter often takes in animals from other shelters that are overcrowded. That especially benefits the cat adoption program that Grapevine facilitates at the Southlake PetSmart, which she said has been successful.
"It's like a constant steady flow. [We] never have enough cats," she said.
Grapevine's remodel incorporated many of the features, including the airflow systems, that Coppell added with its 2017 upgrade, Valentine said. Because of that, Grapevine staff got used to the features before the new shelter opened.
"We couldn't have done this without them," Valentine said.
Shelter wish list:
Grapevine Police Department Media Manager Amanda McNew said that the most important way people can help the shelter is by adopting animals. The shelter is also seeking: towels and blankets; unscented, nonclumping cat litter, soft dog and cat treats as well as other items on the shelter's Amazon wish list available at
https://tinyurl.com/rdpsdjw
Contact info: 500 Shady Brook Drive, Grapevine 817-410-3370 www.grapevinetexas.gov/1251/Animal-Services Hours: Mon.-Fri. 11 a.m.-5 p.m., Sat. 10 a.m.-2 p.m.