Some of Frisco's most popular trails will soon get expansions to improve their connectivity throughout the city and the region.
The city plans to add a connection to Cottonwood Creek Trail, one of Frisco's busiest paths, under the Dallas North Tollway later this year. That trail is then slated to be connected to Main Street in 2021.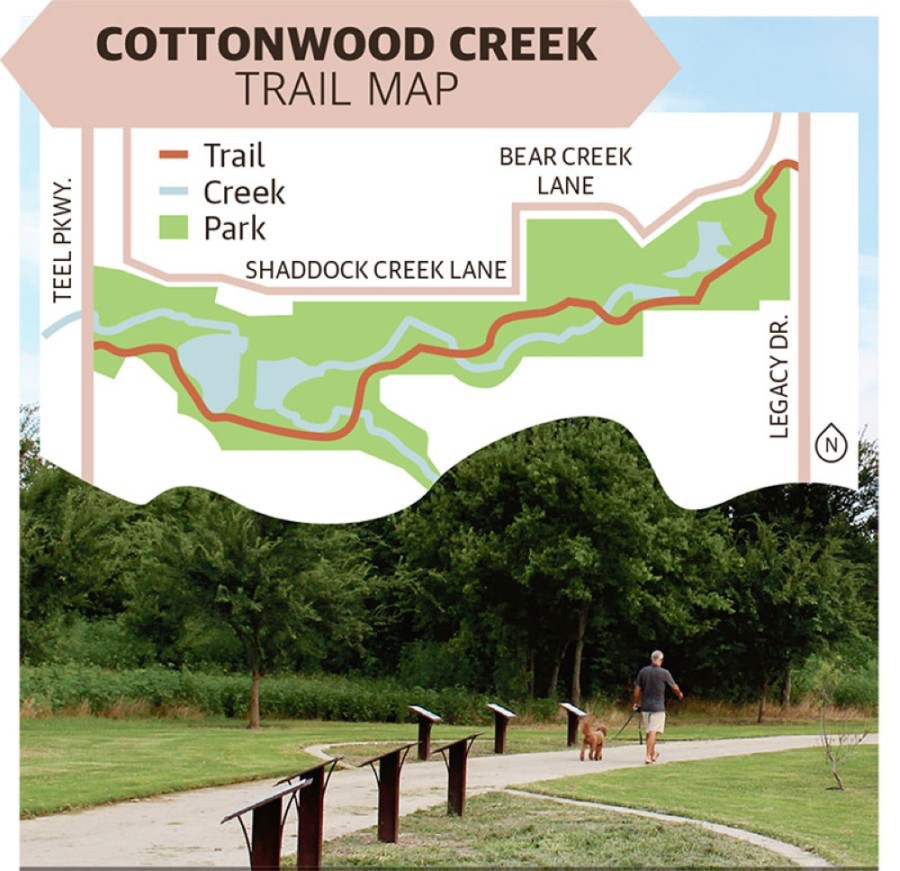 Frisco's trails system will also soon connect to Plano as work on an extension of the Taychas Trail along Rowlett Creek under the Sam Rayburn Tollway is expected to be opened soon.
"Frisco has always been known as a healthy and active city, but we are seeing that grow tremendously," Frisco Mayor Jeff Cheney said via email. "In a post-COVID[-19] world, where more people are spending time in their homes, it always increases the need to enjoy our open spaces."
Frisco's commitment to protecting its open spaces will "serve the community for generations," Cheney said. He noted that Frisco's Hike and Bike Master Plan includes a framework for hundreds of miles of trails over the next 20 years. The city's subdivision ordinance is also designed to keep residences within walking distance of open space, Cheney said.
The mayor called the Cottonwood Creek Trail his favorite in the city. He said his family uses it daily as the trail is near the corner of Legacy Drive and Teel Parkway on Frisco's west side and adjacent to his home.
"It is a great example of how flood property can be turned into a great amenity with the right planning," he said.
The Cottonwood Creek Trail's ecosystem sits in a floodplain that includes a floodway, wetlands and Blackland Prairie.
Parks & Recreation Director Shannon Coates said all of Frisco's trails have been very popular during the past several months.
"We see a lot of families out there together doing everything from walking themselves and walking their dogs [to] riding bikes," Coates said.
As a seasoned cyclist, City Council Member Bill Woodard said he regularly rides Frisco's trails. He also hosts a monthly Roll with the Council bicycle ride, which lets citizens interact with elected officials and learn about the city's trails. The rides will continue through September, and the next one is set for Aug. 15.
"Showing some of our residents how to get places using the trails is one of the goals [of the rides]," Woodard said. "We also get to check out some of our public art."
In his experience, Woodard said Frisco's trails system compares very favorably to other cities in the region.
"We're going to have a really well-connected network," Woodard said. "We have some really special trails out there. That's just going to continue to get better every year."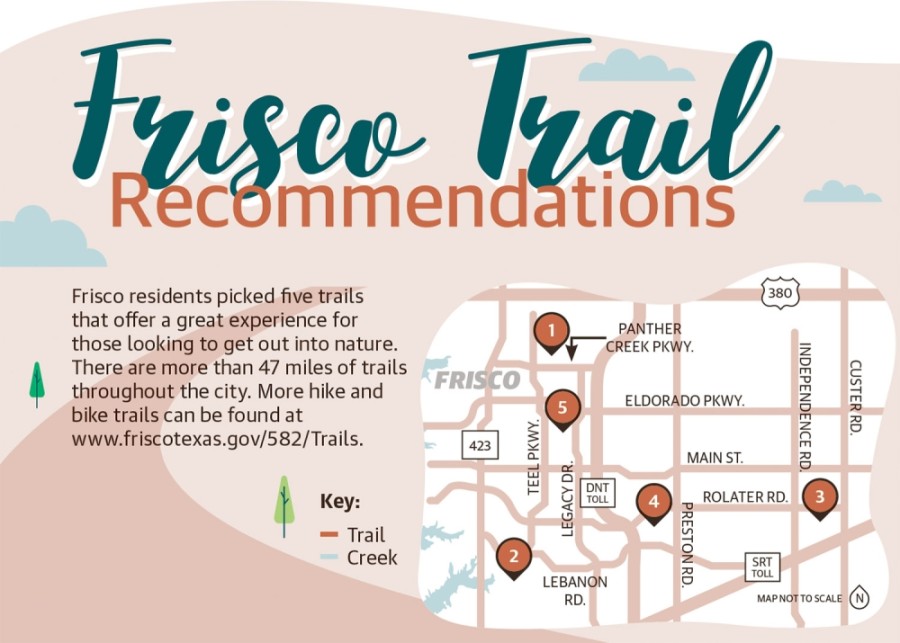 Frisco residents have also done a great job complying with social distancing recommendations, Woodard and Coates said.
"We have so many parks and different trails that we're not seeing the issues here that I was seeing down in Dallas," Coates said.
To reduce overcrowding issues in April, Dallas had limited weekend access to the Katy Trail and Plano temporarily closed off parking spaces at Arbor Hills Nature Preserve. Frisco has not had to limit access to any of its parks or trails.
During the pandemic, biking has actually become so popular that Richardson Bike Mart is having difficulties keeping them in stock. Owner and President Woody Smith said the only bicycles he regularly has in stock are those for children ages 2-9.
"When you get to [be] about 10 or 12, they become a young adult bike or mid-size, and those are a little short [on supply]," Smith said.
With three other stores in the metroplex in addition to the one in Frisco, Smith said his business also stocks used bicycles.
"It's not pretty. There's a shortage of that because everybody's buying those up, but that's another option to get people into bikes," he said.