Back in the early 1990s, John Dromgoole was worried a highway project could sink his business.
Dromgoole opened a small garden store in 1982 and ran it for about 10 years out of the stone building at the intersection of Hwy. 290 and Patton Ranch Road. When he got word the Texas Department of Transportation was thinking of widening the highway, he started looking for a way out.
After spotting a for sale sign on Old Bee Caves Road on his drive home, Dromgoole moved the Natural Gardener to the location where it still operates today.
Nearly 30 years later, the major construction work that Dromgoole worried would make his garden business "dead in the water" back in 1993 is finally about to start.
TxDOT will break ground in June or July on the $674 million Oak Hill Parkway project, which is set to finish in 2026. The project traces its roots back to an environmental impact statement issued in 1988 and, according to TxDOT, addresses congestion for a road that reached its traffic capacity back in 1995.
"We are trying to make the improvements in this area that probably should have happened decades ago," said Christiana Astarita, TxDOT's project manager for Oak Hill Parkway.
The project, funded by state revenue, will create a roadway as wide as 12 lanes near the Y at Oak Hill where SH 71 and Hwy. 290 intersect. TxDOT also will construct flyovers at the interchange of those two roads an estimated 25 feet high while excavating the main lanes of Hwy. 290 to approximately 18 feet below grade level to pass beneath the flyovers.
TxDOT officials said this project is a result of years of community feedback and compromises.
However, opponents of the project say the 12-lane configuration is a relic of the past and out of place in Southwest Austin's Oak Hill neighborhood.
"TxDOT is taking its single blueprint it's doing all across the state right now, doing it big and plopping it down in Oak Hill," said Angela Richter, executive director of Save Barton Creek Association.
Although workers are already in the area taking soil samples and installing fencing, Oak Hill resident Cynthia Wilcox said she and her neighbors who share concerns are not going to give up the fight.
"It's not over until it's over. Until they destroy Oak Hill, Oak Hill hasn't been destroyed," Wilcox said.
Environmental impacts
Two ongoing lawsuits, one led by the Save Barton Creek Association and another from the Save Our Springs Alliance, allege the project failed to properly consider its environmental effects.
While both lawsuits are fighting the project on specific grounds under federal law, both Richter and Kelly Davis, staff attorney for the Save Our Springs Alliance, said TxDOT could address the legal concerns by modifying the design. Neither plaintiff filed a preliminary injunction in the lawsuits, meaning construction does not have to wait on the final outcome in the courts.
"It's oversized; it's too expensive; and it would cause disruption of the Oak Hill community for too long," Davis said.
But according to Astarita, scaling back the project would make it ineffective at addressing congestion.
"We really can't build a smaller or less complex project in order to properly address the traffic demands. This is the right-sized project," Astarita said.
Opponents of the design say it threatens the Edwards Aquifer and the ecosystem of Williamson Creek, which crosses Hwy. 290 just east of the intersection with William Cannon Drive. In a symbolic show of support, a group of public officials, organizations and residents have "adopted" one of the more than 280 trees that will be removed to make way for the project.
"It will have horrible impacts. There is no way to have that level of construction, blasting and digging without having an impact on Barton Springs," Travis County Precinct 2 Commissioner Brigid Shea said.
Austin City Council Member Paige Ellis, whose professional background before she was a council member included marketing and public involvement work for an environmental firm, said environmental advocacy does not end when a shovel hits the ground, and holding TxDOT and its contractor, Colorado River Constructors, to a high standard will be a key priority.
"It's so important to have advocacy at every stage. When people know you're going to be watching, paying close attention, it makes the construction process better," she said.
Not every Oak Hill resident is unhappy with the current plans. Darryl Pruett has lived in the neighborhood since 2006 and said traffic has gotten worse every year since then.
While he did not agree with every TxDOT decision, Pruett said he believes neighborhood concerns were taken seriously.
"At the end of the day, you have got to be able to move a certain number of cars; I think finally somebody is doing something about it," he said.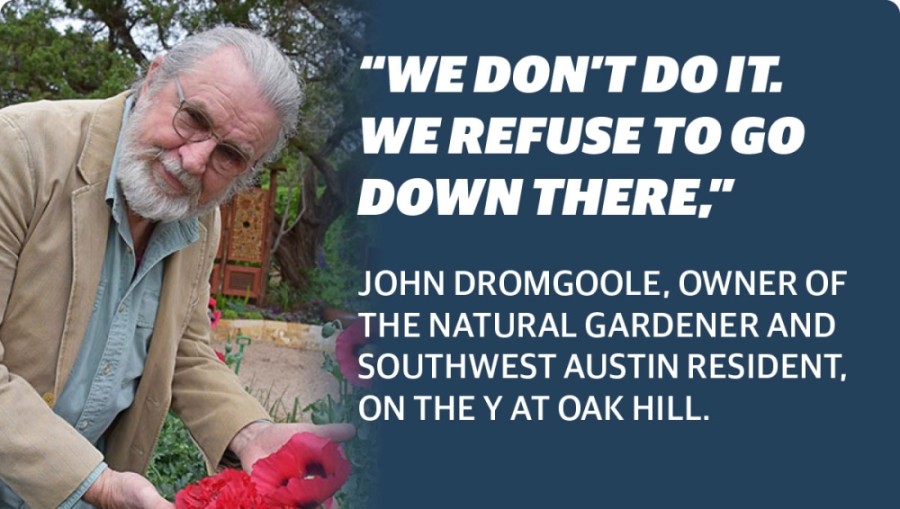 Business owners prepare to 'weather this storm'
Ever since the mid-2010s, when brothers Brandon and Zane Hunt were looking to expand their popular pizza restaurant to new locations, people in the neighborhood have been talking about the Hwy. 290 road project.
The brothers opened their first brick-and-mortar Via 313 location in Oak Hill in 2015. Since then, they have expanded to five locations in Austin with more planned in Central Texas and Salt Lake City, Utah.
Brandon Hunt said Oak Hill has been good to Via 313, and the brothers have no plans to abandon the neighborhood.
"We're not going anywhere. We're going to try to weather this storm," he said.
Farther west down Hwy. 290, Lynn Metcalf, co-owner of Metcalf BBQ, is also keeping an open mind. Metcalf BBQ has been renamed—twice—after legal disputes with large national companies, and for the last year, the business has fought to outlast COVID-19. Metcalf said she believes in the long-term future of Metcalf BBQ no matter what.
"In my stewardship of this space, I have left a job, gone through two rebrands, survived a pandemic; I'm kind of like, 'Come on, what else do you have?' This is a good business; we can do it," she said.
Still, Metcalf said the placement of the exit at the intersection of Hwy. 290 and Circle Drive where her restaurant sits will be pivotal.
With a well-placed exit that gives drivers easy access off the highway, Metcalf said "it could be a win." Without it, she said sales could suffer.
"I grew up in Texas. I've taken so many road trips across Texas. We've all driven through those towns where you can see the old highway and the new highway," she said. "The thriving businesses are on the new highway, and then there are the businesses on the old highway that just don't make it."
It was the same dilemma Dromgoole faced 30 years ago. Today, although he lives just a few miles away, he avoids the area because of the traffic.
"We don't do it. We refuse to go down there," Dromgoole said.
For now though, Metcalf is taking a cautiously optimistic view. When she hears about a $674 million project taking place over five years, she said, to her that means a lot of construction workers are going to need a place to eat lunch.