The city of Austin is the fifth-most at risk city in the country when it comes to potential property damages due to a wildfire, according to a study released Oct. 5 by property information company CoreLogic. The four cities with a worse risk level are all in California and are currently being impacted by wildfires that have been active since September.

In the Austin area, high-risk homes are concentrated along greenbelts, canyons and rural areas such as Southwest Austin and Dripping Springs, while low-risk structures are located at the center of the city.
Oak Hill Fire Chief JJ Wittig—one of more than 300 Austin-area firefighters who has helped fight or mitigate the flames in California this year—said with the amount of development along fire-prone hillsides and vegetation, homes in Southwest Austin could easily be impacted by a future fire.
"You have homes that are built right next to these big preserve areas," he said. "Development has made it so we can't do prescribed burns in these areas, so when [a wildfire] does happen it's going to be worse because the fuel has become more dense over time."
Earlier this year, Austin City Council approved a new code that requires future development to take additional precautions. However, wildfire threats still remain in Central Texas.
A unique setting
Wittig said preparing to fight Travis County wildfires presents its own challenges because the east and west side of the county offer different environments.Southeast Travis County is made up of flat grasslands, while the southwest tends to have more hills, heavier brush and cedar trees, he said.
"Those grass fires burn very quickly but not with as much heat," Wittig said. "When you add the Hill Country topography and cedar trees that are notorious for burning, fires can build up quickly."
Mike Dunivan, a Texas A&M Forest Service fire analyst, said the common fuels in Central Texas—wild grasses, oak trees, and juniper or cedar trees—are highly volatile.
Dunivan said Central Texas also has two distinct wildfire seasons. In the winter months, frost causes grasses to go dormant and to dry out. Windy cold fronts combined with drier air could spread a wildfire if one were to occur, he said. In the summer, most fires are aided by heat and drought that dry up rivers, trees and underbrush, creating fuel, he said.
Forest Service Program Coordinator Karen Stafford said the steep canyons and ravines on the western edge of Austin can also accelerate a flame's spread."A fire always moves faster uphill because the flames are preheating and drying everything ahead of them," she said. "If you have a spark at the bottom of a hillsides, fire is going to race up, and if you have houses built along that hillside, then they're going to be very susceptible to damage."
Development and wildlands
With the explosive growth in Austin over the past two decades, Tom Vocke, Austin Fire Department division chief, said new homes and development continue to push further away from Austin's urban core. This outward movement has contributed to an increase in homes located within the Wildland Urban Interface, a term used to describe land that abuts or is near natural areas that are combustible.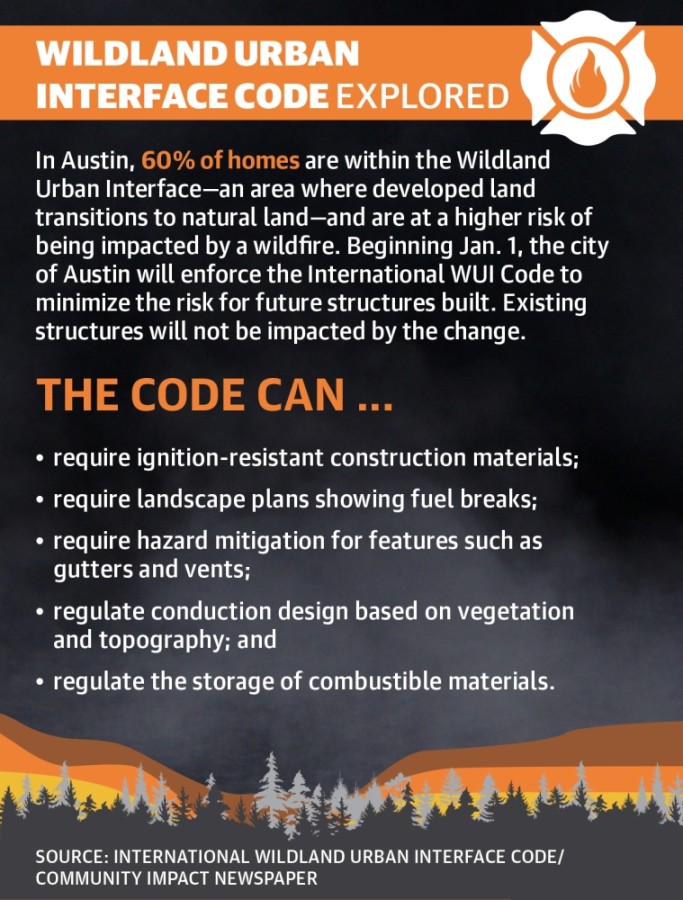 According to CoreLogic, there are 73,756 single-family homes valued at $22.67 billion in the Austin area that are classified as high or extremely high risk due to their proximity to these fire-prone wildlands. That is an increase of more than 19,000 compared to the same study in 2019.
With a focus on preventing wildfires from spreading from vegetation to buildings, Austin City Council approved the International Wildland Urban Interface Code, or WUIC, in April. The code will go into effect Jan. 1, and Vocke said it will impact new construction in Austin to make structures and properties safer.According to the code, future projects located within the WUI will be required to submit site plans that outline landscaping, specific building materials, water systems and fuel breaks, or 10-foot gaps in flammable materials between wildland fuels and landscaping. Alterations or additions to existing homes will also be subject to the new code.
"There are a lot of factors that we can't control like the weather and topography," Vocke said. "We can, however, minimize some of the risks that we see with new development."
Development standards are more lax, however, outside of the city limits, where city codes do not regulate certain aspects of land use. In the unincorporated areas of Hays County near Dripping Springs, Todd Colvin, an assistant chief with North Hays County Fire Rescue, said residents building should strive to use flame-resistant materials.
"As communities continue to grow into green spaces, homeowners need to be very aware of what they're building their houses out of because it can be a high fire danger," Colvin said.
During a disaster, Justice Jones, an Austin Fire Department wildfire mitigation officer, said evacuation of residents is a top priority, and the city has developed evacuation plans in partnership with communities to address areas with limited vehicular access.In newer communities, Wittig said he has noticed improvements in neighborhood planning when it comes to including multiple entry points and more access for emergency vehicles.
Local residents step up
Although WUIC standards could help protect newer homes, the code will not be enforced on current properties that may be out of compliance. Granada Hills HOA President Eric Brown said that for older neighborhoods in Southwest Austin such as his, wildfire risks are still elevated unless residents take their own action.
Brown said residents in Granada Hills remember 2011, when—along with fires in Bastrop and Steiner Ranch—eight Southwest Austin homes in the Scenic Brook neighborhood burned down.
"That was right across the street, and if the winds had been different that year, we could have had an ember storm over here," he said.
Brown has worked with Wittig to help spread awareness of national Firewise guidelines, which encourage neighborhoods to practice mitigation techniques, including clearing brush, cleaning gutters and fireproofing roof vents.
"In 2011, when folks in Austin could see smoke from the local fires, that got people's attention," Dunivan said. "We're not seeing as many accidental fire starts, and really good fire-prevention programs like we have seen go a long way to preventing significant fires."
Mary Jo Wood, a resident of the Lewis Mountain Ranch neighborhood in Oak Hill, said her concerns for wildfires have risen in recent years as foot and vehicle traffic increase in Southwest Austin. She feels that it is only a matter of time before the next event.
With only about 100 homes in the neighborhood, Wood said the community has come together to ban dangerous activities—such as setting off fireworks—and to encourage mitigation practices including supervised controlled burns and smart landscaping at local greenspaces.
For Wittig, he said he remembers responding to the local wildfires in 2011, but many in his department and others across Austin have since retired or moved elsewhere. With firefighters traveling to California this year to assist during the state's ongoing fire season, he said he hopes local departments will be better prepared to fight the next fire.