Juliette Osler and her family had never visited Austin prior to December, when they drove the area after her husband was offered a job transfer from Kansas City. He accepted the position, and the family planned to return in the spring to look for a home in South Austin.
The coronavirus pandemic got in the way, preventing her family from making a trip to see homes in person, she said. Knowing her family had to move for her husband's job, Osler said they conducted their home search online with the help of a local Realtor.
With the competitiveness of the of the South Austin market, she said she knew when the right home hit the market, they would have to jump on it with the perfect offer.
Bob McKenna, the owner of South Austin-based Austin Real Estate Partners, said COVID-19 has created a strange real estate environment, with changes to traditional home showing, the offers being accepted for properties and the amount of product available for buyers.
"We have a crazy low amount of inventory in South Austin, and demand remains super strong, so asking prices are going up," he said. "It's the low inventory paired with very low interest rates and the fact that there are still companies in Austin that are hiring. People are coming into town, and they need to find a house."
After three months of looking through pictures, attending virtual open houses and making offers that were rejected, Osler said the family closed on a home, sight-unseen.
"We're heading to Austin tonight, and we haven't gotten to step foot in the house yet, so we're pretty excited," Osler said July 1. "Buying out of state is hard enough, and then tacking on that you can't really travel safely during COVID-19 to go to see a house; it was really stressful."
Inventory and demand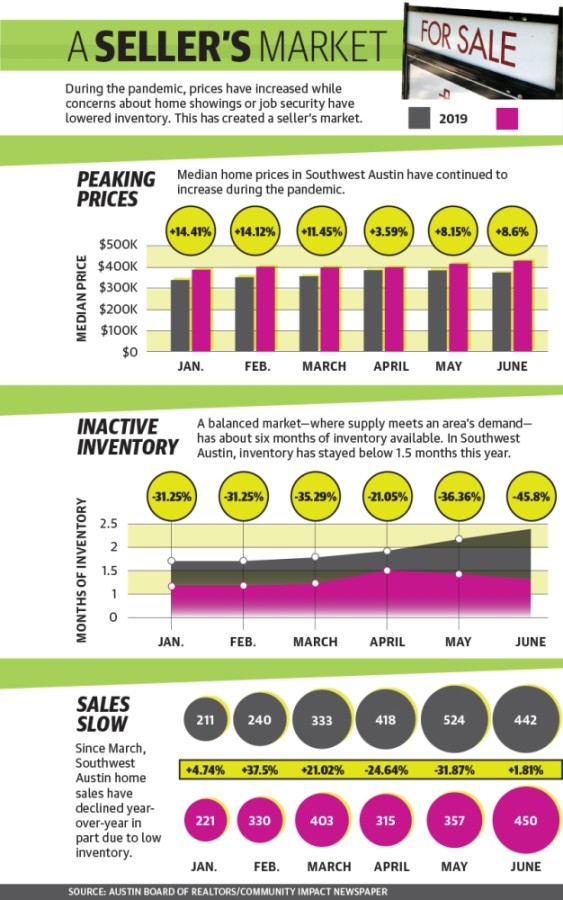 Southwest Austin already had a shortage of homes on the market to start 2020, and due to the pandemic, the typical surge of homes added in the summer has stagnated.
While a balanced market typically has six months of available inventory, according to Austin Board of Realtors data, Southwest Austin had 1.3 months of inventory in June.
"We had a period where people were not putting their houses on the market because of COVID-19," ABOR board member Job Hammond said.
However, while sales are down overall, he said there is still strong demand for homes, which has driven prices up.
Jennifer Archambeault, the South Austin Realtor who worked with the Osler family, said that prior to the pandemic, Circle C Ranch would have 40-50 homes on the market at a time. Since, that number has dropped to 10-15, and competition has increased.
"I had a client where we had seven different offers on homes to the tune of $20,000-$50,000 above list, and they were not accepted," Archambeault said.
Michael Ricks, who already lived in South Austin, said he wanted to relocate near Circle C. He said only a few new homes would enter the market each week in his price range.
"Over time, there just was not very much coming on the market," Ricks said. "I think people were afraid to look at houses, and sellers didn't want people in their homes."
As a result, he said he lost out on three offers he made between April and May. In each instance, the home had multiple offers over asking price.
Osler said she, too, lost out on offers earlier in her virtual search.
"The first house we had liked and made an offer on we lost out because there were 15 offers, and they accepted one that was $60,000 over asking price," she said.
Safety in showings
McKenna said buyers will all hear the same things when viewing a house: wear a mask and gloves, bring hand sanitizer and sign a COVID-19 waiver to verify you are not sick.
Some open houses are still taking place, but McKenna said the majority of showings are being done on a set schedule to limit the number of people inside at one time.
Virtual open houses, like the ones Osler attended—which involves a Realtor livestreaming the home over the phone—have also become popular, McKenna said.
"We're all trying to take precautions and to do what's right for the buyer or the seller," he said.
Ricks said he felt safe viewing homes and showing his home prior to moving.
"Everyone was asked to sign the COVID-19 waiver," he said. "As long as people are truthful, I think people are being responsible."
Closing time
For those who plan to make an offer on a home, Hammond said to get personal finances ready early and to get preapproved for a loan when possible.
Archambeault said that with a large percentage of individuals having lost their jobs or lost paychecks during the pandemic, proving income has become a challenge.
Lenders are taking extra steps to verify employment and financial records prior to signing mortgages, Hammond said.
"People who are self-employed and people who run businesses are being highly scrutinized in terms of their financials," he said.
Buyers who rely on offers contingent on their own home selling could also have trouble making a competitive offer in the current market, Archambeault said, putting those hesitant to show their home during the pandemic at a disadvantage.
Osler said her family was fortunate enough to close on a home with an offer without a contingency. This allowed her to close, list the home they were living in, move out and drive down to South Austin before showing her Kansas City property. The last step was finally being able to step foot in her new home.
"We got into Austin this morning, and we love the house in person," Osler said July 2. "Everything is pretty much like the photos and virtual tour. Jennifer did an amazing job finding us the perfect home to start our new chapter in Austin."