Over the last seven years, the city of Austin has been expanding a program that allows city residents to dispose of compostable materials weekly on the curb, keeping food scraps, lawn trimmings and other items out of trash bins and therefore out of landfills.
The program started in 2013 as a pilot in a few neighborhoods, then expanded in 2017 and again in 2019 to include 150,000 homes, or roughly three-quarters of all Austin Resource Recovery customers. This February, the remaining 55,000 additional Austin households who did not previously have access will be able to begin curbside composting.
ARR Director Ken Snipes said the program has diverted about 91,000 tons of compostable waste from landfills, which he said marks significant progress. A 2015 study found 37% of all materials in local landfills could have been composted.
"Compostable material cannot be broken down in a landfill as it would in nature or a compost pile. Instead, it decomposes without oxygen, releasing harmful methane into the atmosphere," Snipes said.
The 55,000 new customers will receive a postcard in the mail in January inviting them to a virtual town hall Jan. 28 to learn more about the program. Depending on their curbside trash and recycling pickup day, Snipes said they can start participating either the week of Feb. 8 or Feb. 15.
The newly included homes are spread across the city, according to a map ARR released. New neighborhoods eligible for the program include Tarrytown in Central Austin, Onion Creek in South Austin and the St. Johns neighborhood in North Austin.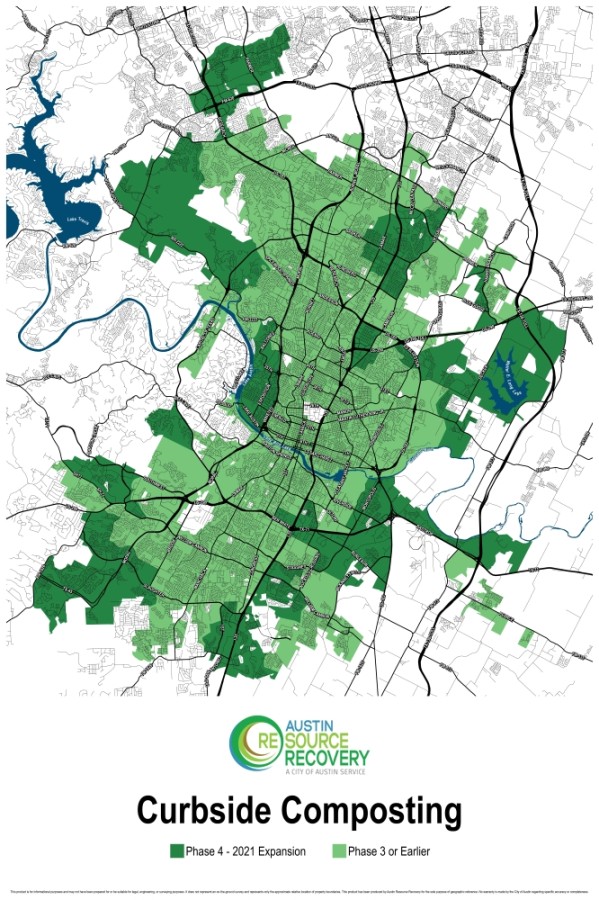 Snipes said the program is targeted at single-family homes. Providing recycling programs at multifamily units in Austin are the responsibility of the property owner and manager.
ARR customers pay a base rate that covers curbside trash pickup, recycling, compost, bulk collection and large brush. On top of that base rate, they pay per gallon only for trash pickup. The curbside composting program was funded by increases in the base rate, originally by $1 per month to fund the first expansion then again in the 2020-21 city budget by $2.60 monthly to fund the final rollout.
The base rate for ARR customers is now $17.30, so a customer with a 64-gallon trash bin pays $27.55 per month, or $330.60 per year.
Editor's note: This story has been updated to clarify a quote from Austin Resource Recovery Director Ken Snipes and specify the dates when new customers will be able to participate in the program.