Kevin Richie, owner of North Austin theatrical and event lighting provider Olden Lighting, said the cancellation of the South by Southwest Conference and Festivals in March 2020 was like "slamming on the brakes." When SXSW was canceled, Austin's economy took an estimated $355.9 million hit, according to the Austin Center for Events.
"We were just decimated. The entire live entertainment industry came to a screeching halt," Richie said.
After Olden Lighting's largest clients, including SXSW, the Austin Opera, Ballet Austin, The Long Center and Paramount Theatre canceled in-person performances and events, the company earned a total of $162.50 in rental revenue in April 2020.
A year later, things are looking up for the event industry. With the number of vaccinated people in Austin growing, the city has established new guidance for socially distanced events.
Some events, including the Austin City Limits Music Festival, have announced in-person comebacks in 2021, and multiple local venue owners said they have seen activity and anticipation start to pick up.
"The last month I think has really been a turning point where I and the people on staff feel like there's finally a light at the end of the tunnel," said Drew Nebrig, marketing and communications director for the Zach Theatre.
Safety first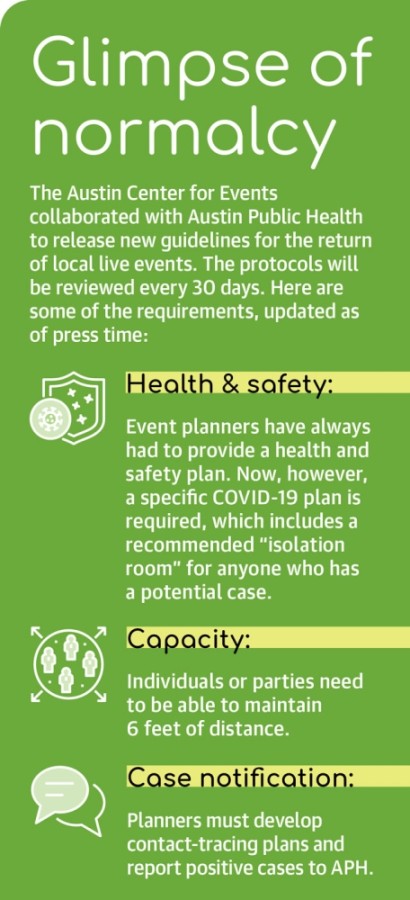 The city of Austin released guidelines March 19 detailing safety expectations for keeping coronavirus at bay at large gatherings. Among the new requirements for events is a city-issued permit to hold functions larger than 10 people. Events must also adhere to the city and Travis County's other coronavirus restrictions, including required masking, which remains in place locally despite a statewide mandate lifting.
Accordingly, more city-sponsored events and venues have begun to emerge from hibernation. The Austin Convention Center, which was set up as a triage medical care unit in 2020 in case of hospital overflow, has now reopened for events at 25% capacity along with the Palmer Events Center. Also, the Austin Half Marathon was held in person April 25 with the Austin Center for Events' stamp of approval.
Cody Cowan, executive director of the Red River Cultural District, whose membership includes downtown music venues, said professionals in the music and event industries are on board with a cautious approach. While eager to return to work, they worry about the risk of another potential shutdown if events return without adequate precautions.
"The further we push back public health and the more games we play with that, the further the horizon for actual re-employment in getting back to anything will be for all of us," Cowan said.
Cowan said he and many peers were alarmed when Texas Gov. Greg Abbott repealed the statewide mask requirement in March, worried such a move could set back public health and progress toward the event industry's renewal.
The Red River Cultural District invited local venues to sign the Safe in Sound Pledge, a promise by 49 Austin venues—including the likes of Stubb's, Zach Theatre and Antone's—to adhere to COVID-19 health and safety best practices set out by Austin Public Health and the Centers for Disease Control and Prevention.
"It was sort of a no-brainer," said Nebrig of Zach Theatre's decision to join the pledge. "We feel pressure to bring more people in, but at the same time, our relationship and trust with [our] patrons is invaluable. We can't compromise it."
Targeting fall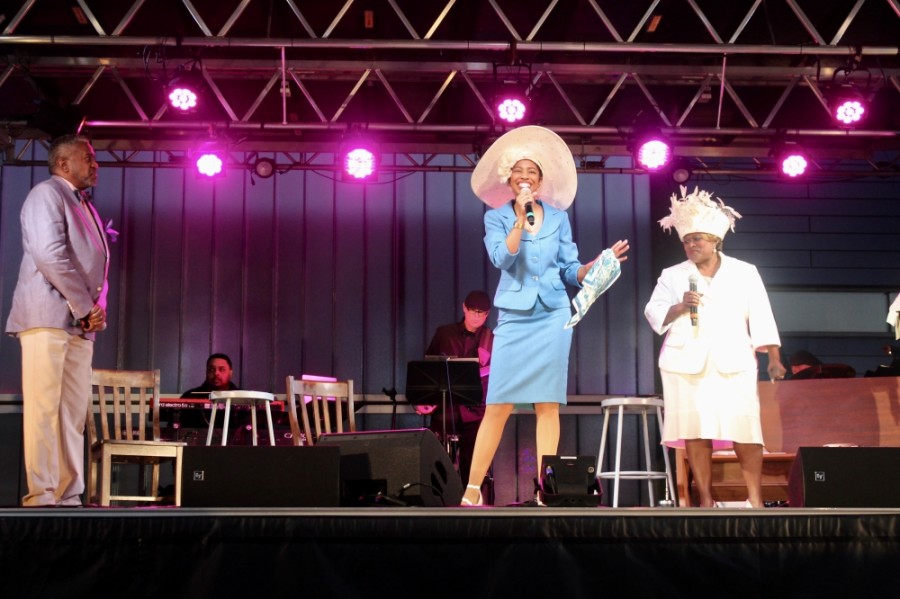 The pressure to get patrons back in the door is as financially driven as it is culturally important in the "Live Music Capital of the World."
Red River venue and Safe in Sound co-signer Mohawk, for instance, has had virtually no revenue in over a year, and has survived on the goodwill of investors, co-owner James Moody said. Mohawk plans to reopen for small events in May followed by reduced capacity outdoor shows in June. Moody said he wanted to hold off until he could bring back a fairly traditional atmosphere.
"Live shows have to feel a certain way. The more you edit them, the worse they get," he said. "We didn't want to play trial and error."
Other venues have turned to virtual and nontraditional avenues to make ends meet since last March. Zach Theatre, for instance, has shows scheduled through May for its outdoor, socially distanced Songs Under the Stars series, which launched in August with a capacity of 50.
"It was complicated just to figure out how we make this experience fun and memorable and lively, but still make sure we're not compromising anything on the safety front," Nebrig said.
Others are saving the date for large in-person events later in 2021, banking on the federal government's projection that enough people could be vaccinated to approach herd immunity by July. Austin City Limits Music Festival, for instance, has announced it will return in person to Zilker Park Oct. 1-3 and 8-10.
The economic impacts of ACL reverberate to countless local businesses and workers, from food vendors to musicians to stagehands. Most directly impacted by ACL's 2020 pivot to a free, virtual event, however, was the Austin Parks Foundation, for which ACL has generated $41.6 million over 15 years. Last year, APF took a 25% budget hit and postponed planned parks improvements.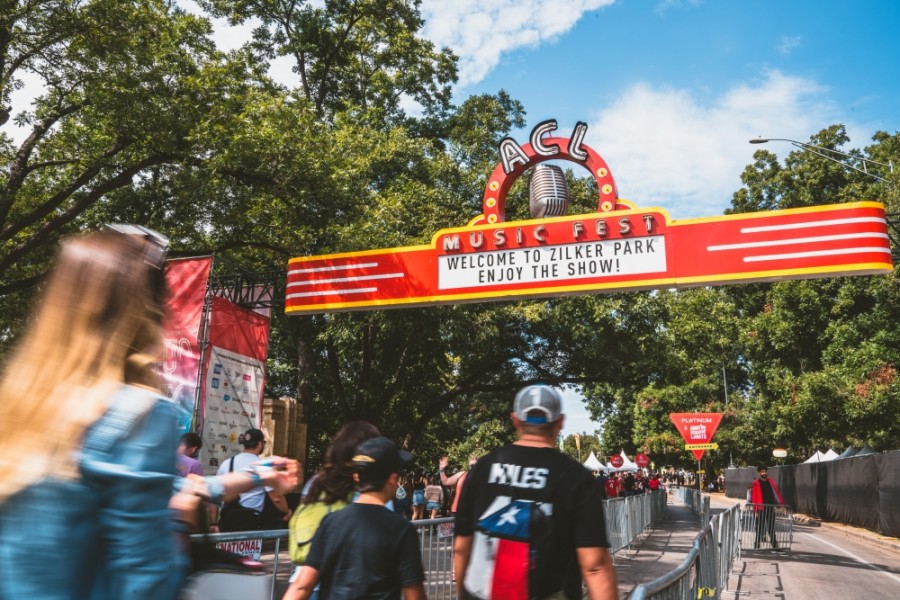 APF Chief Strategy Officer Allison Watkins told
Community Impact Newspaper
via email the nonprofit cannot speculate on funds generated for this year, but it is being conservative with projections.
Texas Performing Arts also lost a season's worth of revenue with 2020 events canceled at the University of Texas' Bass Concert Hall. TPA decided to use the time to raise money and fully renovate the 2,913-seat venue, built in 1981. After five months of construction, Bass Hall will reopen in May to host UT graduation ceremonies. By December, it will kick off a Broadway season with "Hamilton"—a series TPA Executive Director Bob Bursey said he expects will sell at full capacity.
Consumer confidence
As some events move full-steam ahead, planners are taking the public's comfort level into account alongside public health guidance. Barb Morgan, executive director of the Austin Film Festival, said AFF plans to ask ticketholders about their preferences leading up to the in-person festival in October to make sure attendees feel as comfortable as possible.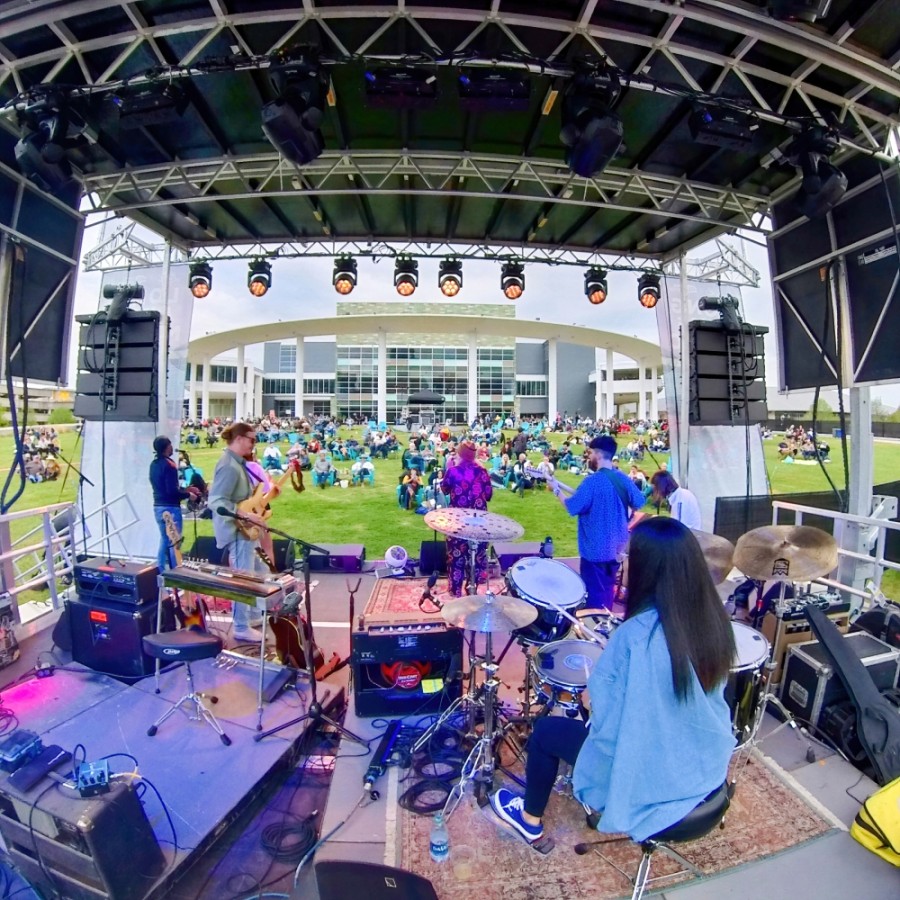 Consumer confidence varies depending on the city in Texas, according to independent marketing strategist Todd Hogan, who works in the state's music and event space. While Hogan said has seen event planners in areas such as Fort Worth ready to start "swinging doors open," the same may not yet be true in Austin.
However, for doors to events to swing open, there have to be workers to staff events—and according to Rachel McGee, president of the Austin chapter of the International Alliance of Stage Employees, many riggers, stagehands and lighting technicians have chosen to move on to other work after a brutal year.
"When we hit something big, like if ACL happens or when 'Hamilton' loads in, when you need 200 hands to help, that's where I think it's gonna get really crunchy," McGee said.
One person who is ready to spring to action is Richie. This spring has already given him reason to be optimistic—in March, Olden Lighting took in $32,000 in rentals, 457% higher than its February rental revenue. After a year away, he said he is eager to get back to the work he enjoys most, and, as a musical theater fan, to see a Broadway show again.
"The big question is if the public is ready," he said. "Everybody in the event space is ready to go."