Dripping Springs ISD has seen a majority of its student body return to campus and participate in classroom learning in 2021.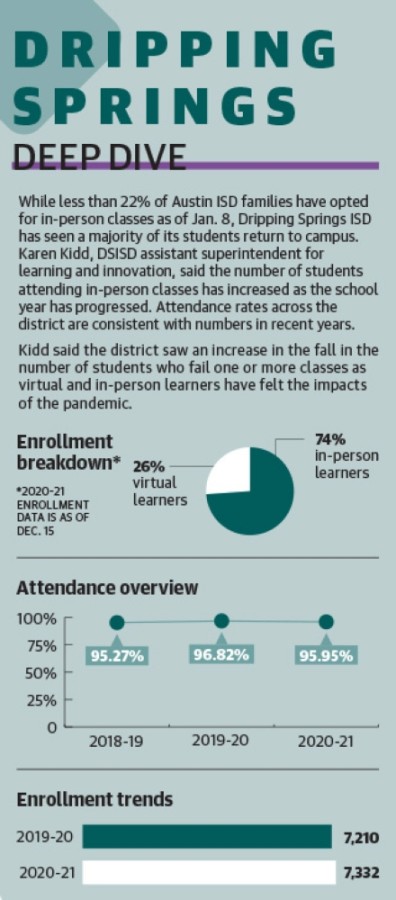 Karen Kidd, DSISD assistant superintendent for learning and innovation, said earlier this month that about 74% of the district's 7,332 students are taking in-person classes while 26% continue with remote learning.
She said Dripping Springs High School has the highest number of remote learners of any campus in the district with 44% of students still learning off campus. To contrast, some elementary school campuses have less than 13% of students utilizing online learning, she said.
DSISD teachers have been instructing in-person and virtual students simultaneously this year. Kidd said by keeping classes together, she believes it provides consistency to students. As more students return to school over time, the need for Zoom in some classes may even go away for some teachers, she said.
"Compared to the first nine weeks, we're seeing more and more students coming back in person," she said. "We're having less and less showing up on Zoom, which I think the teachers like."
Kidd said the district did see an increase in students failing one or more classes this fall, but that number does not seem to correlate with the number of students learning remotely. Instead, it could be due to the overall stress of learning in 2020 and 2021 due to the pandemic.
"While we're seeing some more students failing, it is even between remote and in person, so the root cause is a little in question for us right now," she said.
Attendance rates across the district are consistent with numbers in recent years, showing that kids have been participating in classes both online and in person. About 95.95% of students are attending class on average, compared to 95.82% in the 2019-20 school year.