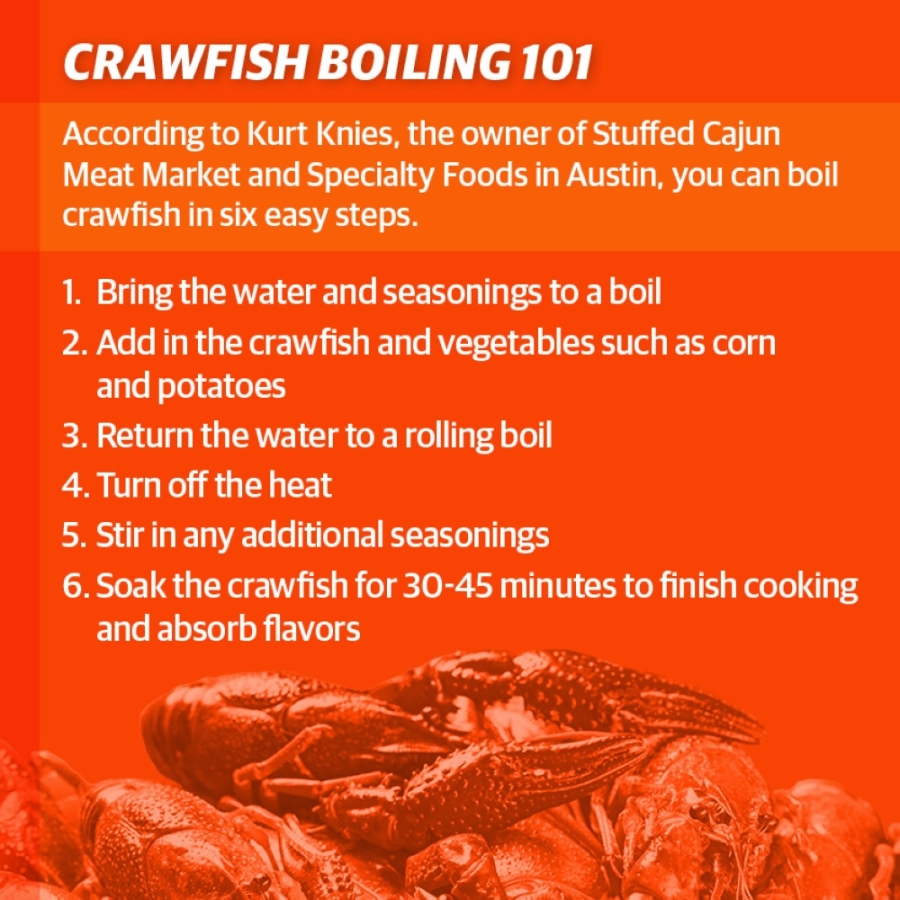 Brian Howe, the general manager of Shoal Creek Saloon in Central Austin, said the coronavirus pandemic could not have hit at a worse time for his business.
"Crawfish season is our Black Friday," Howe said. "We save our profits from the season and often operate at a loss the rest of the year in order to keep our employees working."
In Central Texas, spring is historically a time when local restaurants, breweries and venues host crawfish boils, during which large quantities of crawfish are boiled with vegetables and spices and served ready to eat. Crawfish—more scientifically called crayfish and known lovingly as mudbugs—are harvested annually in Louisiana each year from March to June.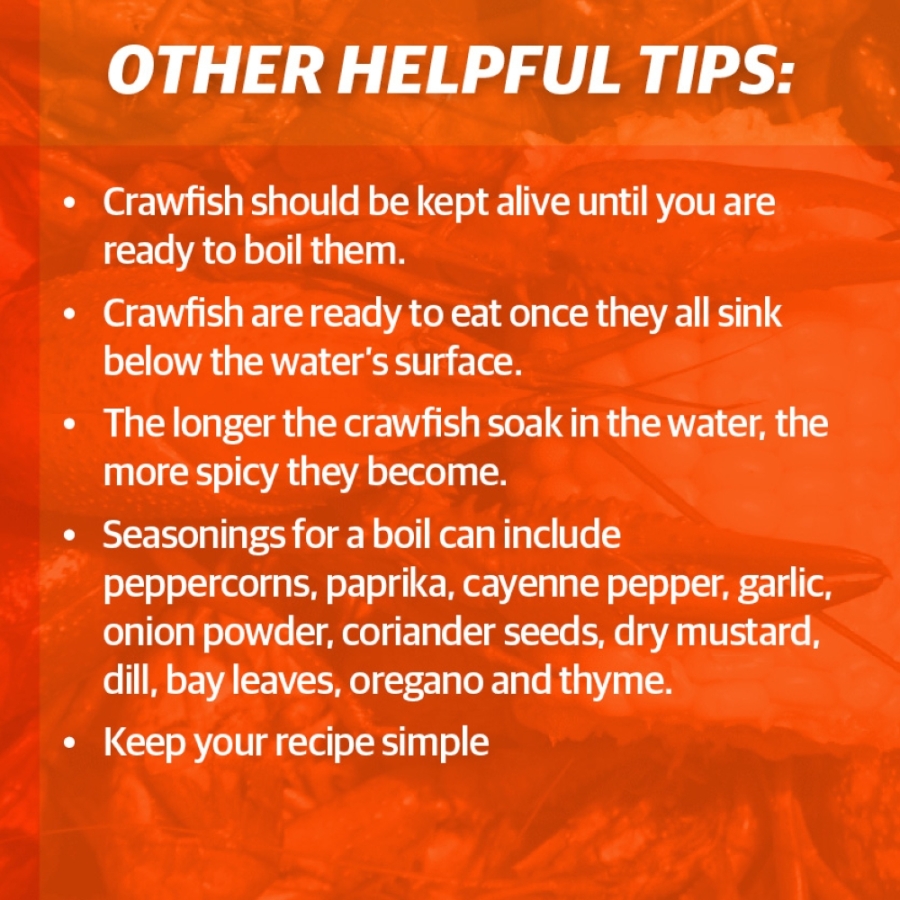 Many business owners such as Howe, however, have proceeded with boiling crawfish daily. Although not the same as a traditional crawfish boil event—which could include live entertainment, drinking and other activities for those attending to partake in for an afternoon—some local restaurants are offering boiled crawfish, potato and corn dishes for curbside pickup or delivery.
Waterloo Ice House hosted its first ticketed curbside crawfish boil on April 4, as a replacement for its biggest annual event, the Crawfish Crawl. According to Waterloo spokesperson Jena Karam, about 350 tickets to the event were sold. Despite the rain and unseasonably cold weather, she said the event was a success.
"We put this together to operate like a drive-thru and sold tickets for a certain time for pickup to space out how many people were there at once," she said. "It's been pretty cool to see the support from the community."
Waterloo will hold a second curbside boil at its location at the intersection of Capital of Texas Highway and RM 2222 on April 11. Tickets sales closed 11:30 p.m. April 8.
At Stuffed Cajun Meat Market and Specialty Foods, owner Kurt Knies said his company has been fortunate enough to remain busy over the past month. Although Stuffed has a restaurant component, he said the business is primarily a market for specialty Cajun grocery products, including crawfish, stuffed chicken and pork, and Andouille sausage.
Since local grocery stores began running low on supplies, Knies said the market has remained busy filling curbside and delivery orders. In the first week after the stay-at-home order was implemented, Knies said he even had to hire additional help to meet the demand for orders, including for boiled crawfish.
"We're still boiling crawfish seven days a week, and we're selling more boiled crawfish this year than we ever have in our 10 years," Knies said. "The number of orders for our live crawfish sales has been pretty similar to past years also."
However, he said the average order size for live crawfish has substantially decreased, dropping from an average of 75 pounds per order last year to only 15 pounds per order this year. He said the change is likely a result of people trying to cook crawfish for their close family while staying at home, instead of ordering for a larger weekend gathering or event.
"What we're seeing now is a lot of people are buying these 5-10 pound amounts to boil on the stove in their kitchen for their family," he said. "It's impossible to do a 60-pound boil at home, but they don't have to go out and spend the money on the big equipment when you're cooking for four or five people."
Looking to get your crawfish fill during the stay-at-home order? These Austin-area restaurants are still offering boiled crawfish, crawfish dishes and other Cajun classics. This list is not comprehensive.
Doc's Backyard
5207 Brodie Lane, Sunset Valley
www.eatdrinkdocs.com
Doc's Backyard in Sunset Valley will be hosing a backyard crawfish boil April 18 from 11 a.m. to 3 p.m. Those interested should
place orders online in advance to pick up
a meal of crawfish, corn, potatoes. Orders can be placed through April 15 at 11:30 p.m.
Baton Creole
1016 E. Sixth St., Austin
512-986-3834
www.batoncreole.com
Offering to-go service, Baton Creole serves gumbo, crawfish etouffee, beignets and unique Cajun-themed dishes. The food trailer is also giving a plate of food to a service industry or medical worker for every $10 contribution it receives through its #PayItForwardPlate campaign.
Cherry Creek Catfish Co.
5712 Menchaca Road, Austin
512-440-8810
11840 Old FM 2243, Bldg. A, Leander
512-259-1000
www.cherrycreekcatfish.com
Open for takeout, Cherry Creek Catfish Co.'s menu includes shrimp and crawfish gumbo, catfish, chicken, fish tacos, po'boys and crawfish baskets.
Crawfish Shack & Oyster Bar
2013 Wells Branch Parkway, Ste. 106, Austin
512-252-7556
9500 I-35, Austin
512-280-0816
www.crawfishshackatx.com
The restaurant is open for takeout and to-go orders, as well as delivery through Favor. The restaurant serves gumbo, boudin balls, boiled crawfish, crawfish etouffee, jambalaya, poboys and other seafood dishes.
Cypress Grill
4404 W. William Cannon Drive, Ste. L, Austin
512-358-7474
www.cypressgrill.net
Cypress Grill began delivering during the stay-at-home order through Favor and is also offering curbside pickup. Crawfish boils by the restaurant have been suspended, but the menu does include crawfish po'boys, crawfish etouffee and battered crawfish. Other Cajun menu items include jambalaya, red beans and rice, other po'boys, catfish, blackened fish plates and muffulettas.
Evangeline Café
8106 Brodie Lane, Austin
512-282-2586
www.evangelinecafe.com
Evangeline Café is open for takeout orders over the phone and has a full menu of Cajun dishes, including po'boys, etouffee, gumbo, crawfish tails, alligator and other seafood dishes.
Fish City Grill
1019 W. University Ave., Ste. 1025, Georgetown
512-864-7400
https://fishcitygrill.com
With a menu that includes boiled crawfish by the pound, the national chain is offering pickup, curbside and delivery at its Georgetown location.
French Quarter Grille
13000 I-35, Ste. 600, Austin
512-832-9090
www.frenchquartergrilleaustin.com
The grille is open for takeout, with crawfish dishes including fried crawfish, gumbo, etouffee,and shrimp and crawfish pasta. The menu also includes other Cajun dishes.
The Original New Orleans Po-Boy and Gumbo Shop
1806 E. 12th St., Austin
512-406-9237
www.theoriginalneworleanspoboygumboshop.com
The shop reopened April 8 for pickup orders only and delivery though app services, offering boiled crawfish, po'boys and baskets.
Sawyer & Co.
4827 E. Cesar Chavez St., Austin
512-531-9033
www.sawyerand.co
Pickup and delivery is available from Sawyer & Co., which has a menu of Southern comfort food and Cajun dishes.
Shoal Creek Saloon
909 N. Lamar Blvd., Austin
512-474-0805
www.shoalcreeksaloon.com
Pickup orders can be placed online from the menu, including boiled crawfish every day, crawfish boudin balls, crawfish fritters, crawfish etouffee, gumbo and po'boys.
Stuffed Cajun Meat Market
12226 N. RM 620, Austin
512-918-1600
www.stuffedcajun.com
While the dine-in area is closed, Stuffed is offering curbside pickup and delivery of boiled crawfish daily, as well as other specialty items, including live crawfish; boudin; sausage; and stuffed chicken, pork, quail, duck and alligator dishes. Stuffed also sells frozen gumbo and etouffee.
Turf N' Surf Po Boy
11420 Rock Rose Ave, Ste. 100, Austin
512-662-2154
407 Lavaca St., Austin
512-276-2763
3121 S. Lamar Blvd., Austin
512-276-2763
Turf N' Surf Po Boy is still offering takeout orders of tacos, salads, plates and po'boys, including with crawfish, catfish, shrimp and oysters.
Y'all's Café
2000 S. I-35, Austin
512-243-8014
www.eatatyalls.cafe
Offering takeout service, Y'all's Cafe has a classic Cajun menu with fried shrimp, fish plates and po'boys.
Waterloo Ice House
6203 N. Capital of Texas Hwy., Austin
512-418-9700
9600 Escarpment Blvd., Austin
512-301-1007
8600 Burnet Road, Austin
512-458-6544
Southpark Meadows
9600 S. I-35, Austin
512-292-7900
www.waterlooicehouse.com
Although not a Cajun restaurant, Waterloo is hosting its second curbside crawfish boil on April 11, with a hurricane cocktail kit available to go. The boil will be at the Capital of Texas Highway location, and tickets are required to pick up an order. The local chain is also offering takeout, curbside and delivery through Favor of its standard menu, which includes catfish bites, sliders and tacos, and nonseafood items such as burgers, tacos and sandwiches.