The St. Elmo district—a 2-square-mile rectangle south of W. Hwy. 290, between South Congress Avenue and I-35—has added more than 50 new businesses and 160 multifamily units in just four years.
A group of like-minded development teams has brought mixed-use developments to the area historically zoned for industrial use, hoping that the increase in new local businesses, creative spaces and living units can create a connected, walkable district in the future.

The wave of new development began in 2016 when plans came together for four separate projects: The Yard, The Ten-0-Five, Public Lofts and St. Elmo Public Market, according to Brandon Miller, who markets the Public Lofts and was a consultant on the project.
Each project was backed by its own team of developers. Matthew Roy, one of the developers for the under-construction St. Elmo Public Market, said the relationship between the teams has been complementary, as they try to develop projects that are the right fit for the district.
Miller said once the public market aspect opens—which could take place later this year—he believes the St. Elmo district will turn into its own neighborhood of residents, visitors and business owners.
"You don't see a lot of people walking around St. Elmo now, but you will see more when the public market and other developments come online," Miller said.
The Yard, a mixed-use retail development, was the first to open in 2017. St. Elmo Brewing Co. co-owner Bryan Winslow said the area has grown in popularity since.
"It's been really cool to see the change," he said. "When we first opened, no one had ever come over to this neighborhood to do anything. It's a scene now, which is really fun."
Roy said that a balance of preserving some of the older structures still in the St. Elmo district and complementing them with new development that looks to the future could create a unique character for the district.
"There is development activity in the district all the way down to I-35," Roy said. "It's pretty exciting to see where we're going with it all, and the responsible projects that have been coming into the district has made me enthusiastic."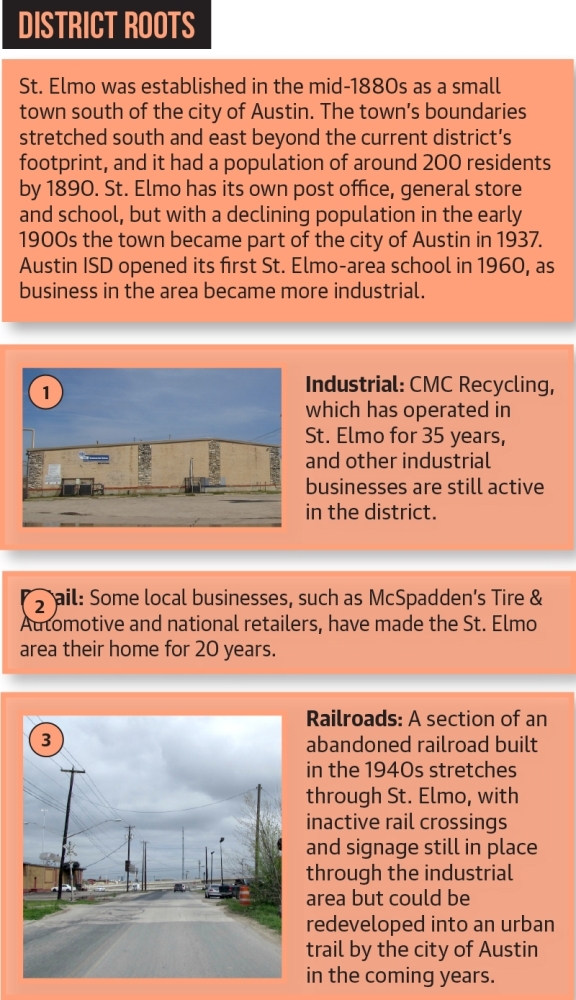 Ripe for development
Roy said that in the early 2010s he saw that new development was heading south along Congress Avenue. With its proximity to I-35 and W. Hwy 290, St. Elmo represented a good location that would be easy to access near the other growth in South Austin.
According to Miller, the city has always seen South Congress as a mixed-use corridor. However, he said St. Elmo's industrial zoning stood out as an area that could become something more.
"There was this funny little area called St. Elmo that was an industrial district right in the middle of the path of growth on a major corridor," Miller said.
Miller said through his past experiences in other areas of the country, such as Brooklyn, New York, he had seen light-industrial areas converted into profitable, modern neighborhoods. He said the areas were rejuvenated by creative communities of businesses, locals and artists.
Similarly, with available development space being brought up in East Austin and prices increasing, he said the St. Elmo area was one that caught his eye as an opportunity, with large properties that were available.
"There were bigger tracts of land to do mixed-use projects, so there were a lot more opportunities for development to make an impact," he said.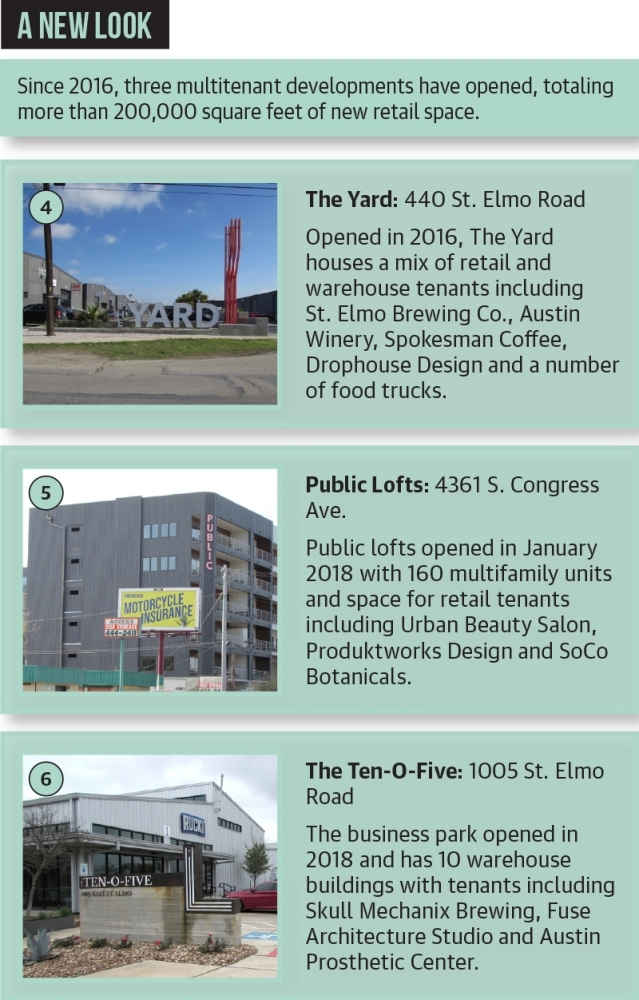 Preserving history
While the projects being built are slowly changing the face of the St. Elmo area, both the St. Elmo Public Market and The Yard are redevelopment projects of spaces that already existed. Roy said preserving the area's history was important to his team.
"I was touring a prospect [retailer] and she was getting a kick out of how in this district you still have these old stone buildings that are now offices next to big warehouses," he said. "There are these little gems that have stood through time."
St. Elmo Public Market will be located inside one of these "gems," a bus manufacturing building that was built in the mid-20th century and that, prior to 2016, had been an Office Furniture Now store. Roy said the development team has stripped off many steel expansions that had been added to the structure over time, exposing the original brick building. They are now working to retrofit the interior for the market concept.
For The Yard, about 135,000 square feet of existing warehouse space built in the 1970s as a rail yard was redeveloped to create office and modern retail spaces for companies to sell and produce products.
Ross McLauchlan, the owner of Austin Winery at The Yard, said that he appreciates that the new growth in the St. Elmo district has embraced the infrastructure and structures that existed, rather than "wiping the slate clean."
"When you have new apartments and high-rise developments like on Rainey Street, where you go from small house bars to big complexes, it actually changes the culture and feel and the type of businesses that can afford to be in that area," he said.
The city of Austin and the Capital Area Metropolitan Planning Organization also plan to redevelop the abandoned railroad tracks that cut through the district into an urban trail. Called the Bergstrom Spur, the project—which is still being studied and does not have a estimated start date—could connect South Austin to the Austin-Bergstrom International Airport.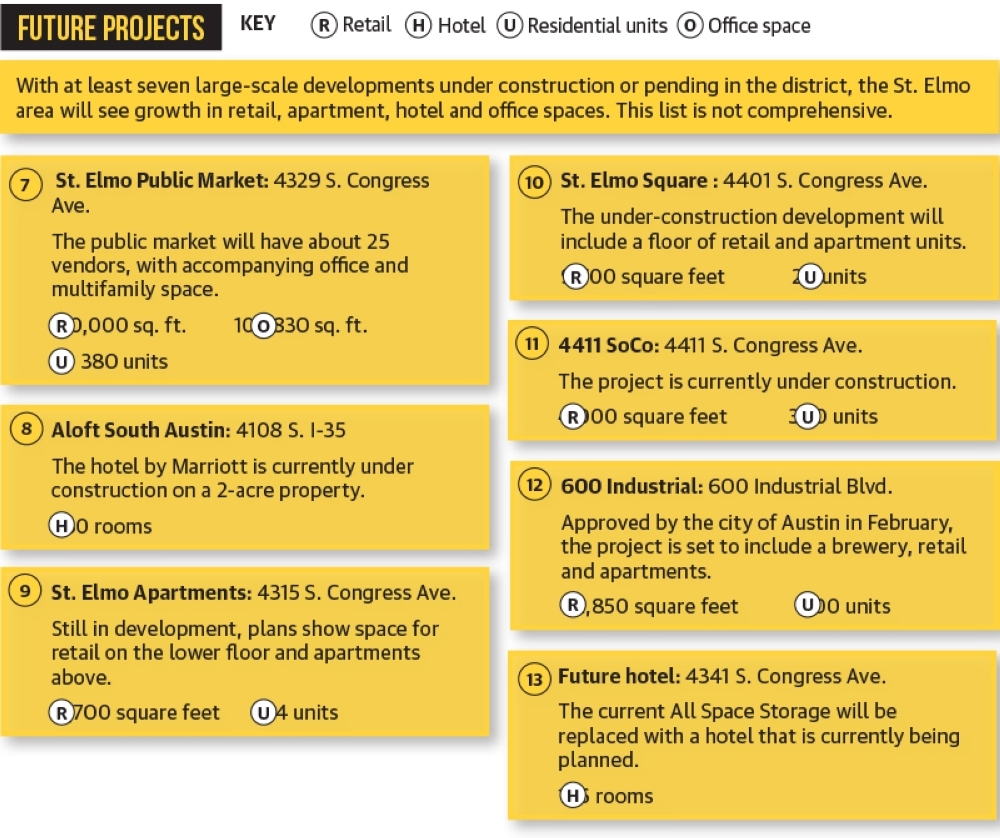 More still to come
When the public market is fully leased, Roy said it will have about 25 vendors. Already, the market has named seven tenants, including Greater Goods Coffee; Fire Dance Pizza; Mignette, a bakery and modern diner; a butcher shop by Salt & Time; a retail location for Texas Hill Country Olive Co.; a Lick Honest Ice Creams dessert concept; and Family Business Beer Co.
"St. Elmo Public Market is a massive undertaking, and we understand that the public is eager for this project to progress," St. Elmo Public Market developer Brandon Bolin said in January. "We've painstakingly taken the past two years to create a space for like-minded tenants and to create a market for people to gather, shop, and dine."
St. Elmo Public Market also plans to break ground on the property's apartment community in April, with a planned office building and parking garage to follow.
Two new multifamily developments are currently under construction at the corner of St. Elmo Road and South Congress Avenue, which will combine for 328 units when built out. At least two others—including a 400-unit apartment building with a retail component on Industrial Boulevard—are being planned for the district currently.
Similarly, two new hotels are planned for the area. An Aloft by Marriott is currently under construction at the corner of Ben White and I-35 and could open by the end of 2020. The second hotel is still in development, but it will be located along South Congress with 156 rooms planned. Those who stay at the hotels will likely shop, dine and explore the district's businesses.
"I'm always really encouraged when we can have new people move in," McLauchlan said. "I love a walkable area because we spend so much time in cars here [driving in Austin] that you don't get to know your neighbors. I think it's cooler when you're meeting new people and rubbing elbows at a local bar."