Austin Public Health plans to hold a press conference May 28 to address what the response of APH, the city of Austin and Travis County will be if the area soon sees a rise in hospitalizations, as is currently projected by APH.
The discussion follows Austin-Travis County interim Health Authority Mark Escott's May 26 statements to Travis County Commissioners Court that
instances of positive coronavirus tests were increasing
several weeks after public health restrictions were loosened by the state. Escott said in his briefing to commissioners that APH is monitoring for a rise in hospitalizations within the next 7-10 days, which could indicate a new local surge in COVID-19 cases.
Increased hospitalization usually lags around a week behind increased case numbers, according to Escott, and is important data for gauging the severity of the coronavirus crisis.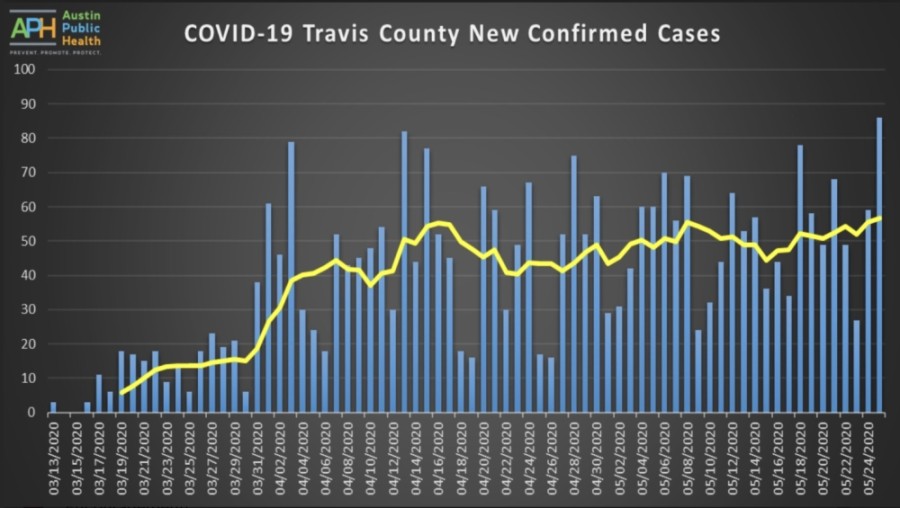 "[Hospitalization rate] is utilized because it is less amenable to variations in the amounts of testing being done, so that is a relatively fixed ratio, a fixed indicator. It also points to the chief concern that we have: overwhelming our healthcare system," Escott said at May 27 press conference.
As indicated by Escott, increased testing can lead to a greater number of confirmed cases. APH has increased its testing capacity to around 1750 free tests per day through its public enrollment system.
However, APH representatives said at the May 27 press conference that the public is not coming forward in full force to seek testing. APH is currently administering around 200-350 tests per day through its partner, Community Care. In fact, the number of administered tests decreased from around 1100 from the period of May 13-19 to less than 700 during the period of May 20-26, as the trend of new confirmed cases moved upward, according to APH.
Partly based on these trends, Escott said APH is bracing for a June surge in cases.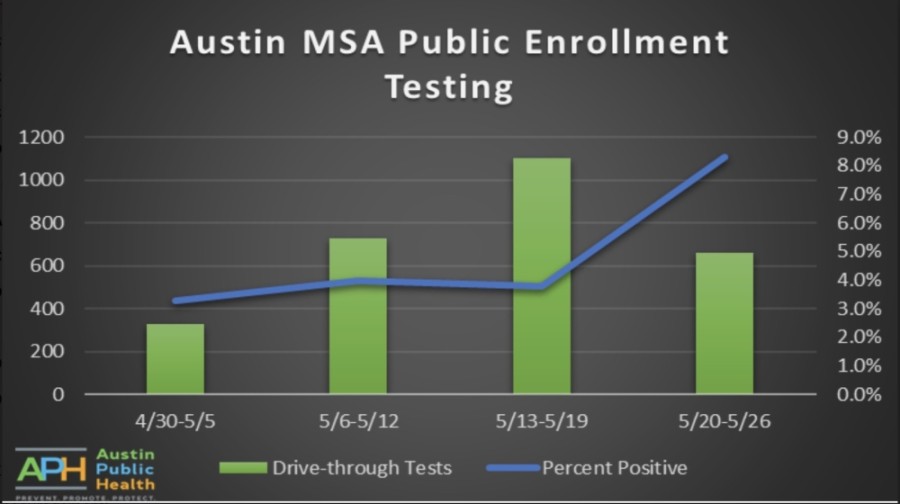 "UT models and other models are all suggesting that in mid-June and towards the end of June we may see a significant increase in the number of cases and hospitalizations," Escott said. "These models are based on assumptions, and part of those assumptions are that people are going to be more risk-taking. More risk-taking means more cases, and more cases means more hospitalizations and deaths."
In anticipation that increased positive tests may be the precursor to increased hospitalizations, Escott and other local leaders will outline contingency plans in another press conference May 28. In the meantime, Escott said the public should continue to take social distancing and other public health measures seriously to prevent unnecessary viral spread.
"The models aren't predicting the absolute future, and it's important to remember that we as a community can change what that future looks like. It is based on our social distancing, our personal practices, the masking in public. It's up to us," Escott said.