Through the month of April, Southwest Austin and Dripping Springs residents were ordered to stay home and stay safe to limit the spread of the coronavirus in local communities. With many businesses closed, residents working from home and public interaction limited, many used the time to help support others, spread encouragement and have fun while staying safe. Here are six ways those in the Southwest Austin community helped and supported one another this past month.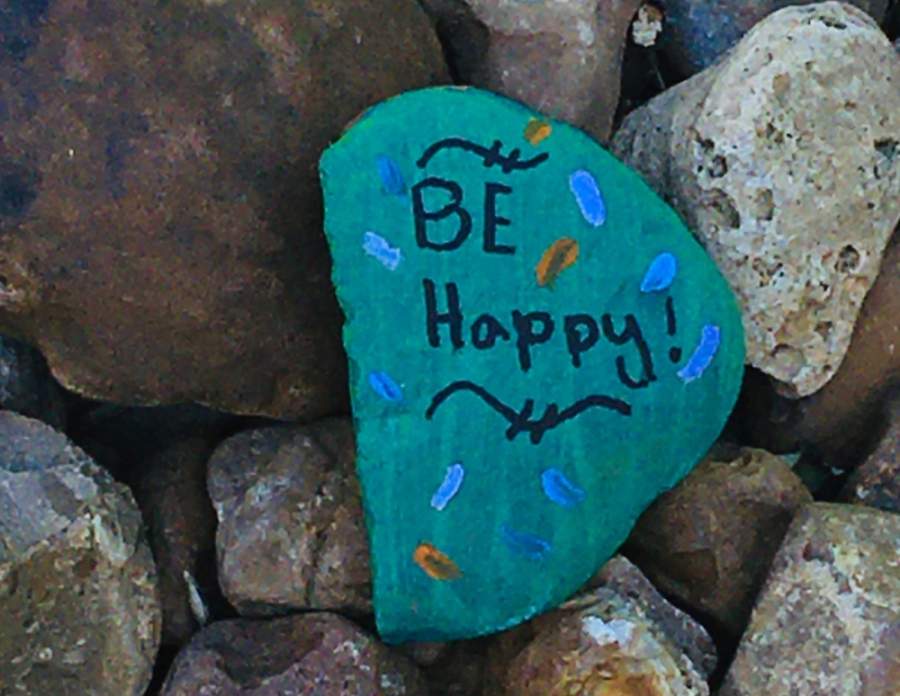 Brightly painted stones highlight neighborhood strolls
Residents across Southwest Austin have been painting and decorating small, smooth stones and rocks to hide around their communities. The rocks, which feature inspirational messages, art and bright colors, are a way to scatter good feelings and add excitement to walks through neighborhoods.
Car parade thanks St. David's South Austin medical staff
South Austin's Bannockburn Church organized a Hero Care Car Parade on April 20, honoring the medical professionals who work at the local St. David's South Austin Medical Center. About 150 families decorated their cars with balloons, banners and posters showing their support for employees.
To see more pictures, click here.
Southwest Austin residents and businesses create medical masks for residents, heath care professionals in need
Businesses from Austin's Couch Potatoes to ZIPS Dry Cleaners on South Lamar and Hill Country Bridal and Alterations in Dripping Springs have produced handmade medical masks over the past month.
Many resident groups in Dripping Springs and South Austin have also began making masks at home. A group of Circle C residents is making masks to give to any Circle C-area residents in need as well as workers in health care and other essential workers throughout Austin.
Make-A-Mask Austin, an organization that provides masks to Austin-area health care works, was also formed. Click here to learn more about the efforts.
Bears and chalk art help children during stay-at-home orders
While some residents have enjoyed searching for wildflowers along public trails, others have stuck to the familiar, walking along similar neighborhood sidewalks each day. In some Southwest Austin and Dripping Springs neighborhoods, residents have been decorating sidewalks, lawns and windowsills so neighbors have something different to look at each day as they walk.
At some homes, stuffed animals, toys or holiday decorations have been put on display to catch the eye. Other homes display chalk art on their driveways, with art drawn by children that include uplifting messages or fun visuals.
Click here to see more photos of local decorations.
Dripping Springs students perform porch concerts for neighbors
Band students from
Sycamore Springs Middle School
and other Dripping Springs ISD schools have taken to their front porches to play concerts in the evenings this month. Dripping Springs students join band students throughout the United States who take to their instruments at the same time each evening, using the hashtag #MusicConnectsUs to share their concerts on social media.
Learn more here.
Austin residents show up to foster animals in need
Local animal shelters, including Austin Pets Alive, the
Austin Animal Center and the Austin Humane Society, have reported record numbers of foster applications and pet adoptions during the ongoing coronavirus pandemic. Animal shelters have continued to operate during the ongoing stay-at-home order, and as Travis County residents were urged to begin staying indoors and working from home, thousands reached out to local animal shelters to either adopt a pet or sign up as a future foster owner. Learn about what local shelters have been doing and their current need here.